Fisker PEAR Extreme: cheap EV set to get high-performance variant
We get a closer look at the £30,000, 300 mile electric hatchback with six seats and a vanishing boot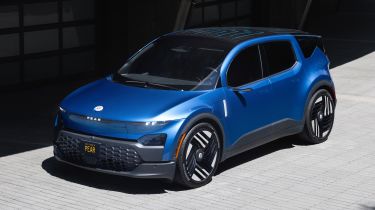 Production of the all-new Fisker Ocean electric SUV only began recently, yet the American carmaker is already gearing up to launch its second EV: the PEAR crossover. With a target price of under £30,000 when it arrives in the UK before 2025, we've had a chance to talk with the brand's CEO, Henrik Fisker, about what we can expect from the PEAR and its high-performance 'Extreme' variant.
As you can expect, the PEAR's sub-£30k billing is likely to be a big draw when it arrives in the UK; it will be Fisker's smallest model at the more affordable end of a class that includes cars such as the MG4 EV, Volkswagen ID.3 and Renault Megane E-Tech, as well as some of the smaller zero-emissions SUVs on the market such as the MG ZS EV and Hyundai Kona Electric.
The Fisker PEAR will be produced by one of Fisker's partners, Foxconn, whose experience with consumer technology such as smartphones, is one of the factors in keeping the PEAR's price down. The PEAR is said to use 35% fewer parts than like-for-like rivals – best highlighted by clever touches such as the same armrest design being used on each passenger door.
Base PEAR models costing under £30k will almost certainly get the smaller of the two battery sizes set to be offered. Fisker says this will still provide a range of up to 198 miles on the WLTP tests – more than what's possible in a Kia Soul EV Urban.
Cars with the larger of the two battery packs will boast an increased range of up to 348 miles, which surpasses that of the world's best-selling electric car, the Tesla Model Y. Single and dual-motor variants of the Fisker PEAR will be available, with dual-motor cars able to reach 62 mph in just 6.8 seconds. 
Not fast enough? Well, Fisker has now confirmed that the PEAR crossover will also be available in high-performance 'Extreme' guise. The larger Fisker Ocean Extreme can reach 62mph in as little as 3.9 seconds, so with a similarly-powerful electric motor setup, it's reasonable to expect the smaller and lighter PEAR to match or perhaps even topple this figure.
In terms of the design, the PEAR shares some cues with the existing Ocean, including the model's name across the nose, wide plastic grille panel, steeply raked windscreen and extremely short overhangs at the front and rear. But the PEAR also features a much sharper nose and relatively small bonnet compared to the Ocean. At the rear there is a riot of intersecting lines and shapes, and a ring of tail lights that encircle the rear window.
Speaking to DrivingElectric back in 2022, Fisker said about the PEAR's styling. "I wanted to have an exterior design that was very recognisable, and did not look at all like anything else." Adding, "In the PEAR, I think it will be very hard for anybody to say it kind of looks like something else, because it looks so different and I think it has a very iconic shape. It's very clean, very simple and, I think, very futuristic."
Partnership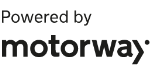 Need to sell your car?
Find your best offer from over 5,000+ dealers. It's that easy.
Fisker has previously said the PEAR will measure in at roughly 4.5 metres long – about the same length as a Kia Sportage family SUV. While most cars in the class are five-seaters, the PEAR will offer room for six, in two rows of three. The front seats can be folded flat in a 'Lounge Mode'; Fisker says you'll even be able to sleep in the car.
Like all of Fisker's cars, the PEAR will have at least four unique features, the first being a 'Houdini' trunk as opposed to a regular hatchback. Henrik Fisker demonstrated the design at the event, showing how the window first retracts into the tailgate, before the tailgate itself then retracts into the rear bumper. That means no door opening upwards or sideways, which could be handy in a tight spot.
The launch event also gave us a proper glimpse at the PEAR's interior, which has a typically modern and pared-back (no pun intended) look, but stops short of the kind of extreme minimalism you get from, say, the Tesla Model 3's cabin. The PEAR's driving position appears fairly upright behind a two-spoke steering wheel, while there's a central touchscreen handling both driver information and media. 
While the A-pillars look chunky, the windscreen's semi-wraparound design may help here – "It gives a giant panoramic view when you're driving in the city", says Fisker. The show car features a two-tone colour scheme that reflects the exterior paintwork.
Fisker added: "We have a few other surprises in the vehicle as well that we're not quite ready to talk about." He also revealed that some of the PEAR's unique features will allow it to be used by food-delivery or ride-hailing services.
Production is set to begin in 2024, with the first UK cars arriving in the first half of 2025. Foxconn is targeting a minimum production volume of 250,000 cars a year from its facility in Ohio. Fisker is currently taking $250 deposits for the PEAR, with over 3,000 people already making a reservation.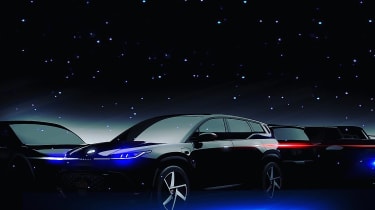 Future Fisker electric cars
Alongside the Fisker PEAR, the maker also revealed the Fisker Alaska pickup truck and Fisker Ronin – a four-door convertible sports car that is said to have over 1,000bhp and a 600-mile range. The flagship Tesla Roadster rival will be capable of 0-60mph in close to two seconds – thanks to a combination of three electric motors – while offering space for four adults and their luggage.
Speaking to DrivingElectric in 2022, CEO Henrik Fisker said these future models would be "radically different" and that the company doesn't want to make "just another small hatchback, or another small crossover. Every vehicle will definitely be very unique."
MINI Cooper Electric: pricing and specs for British-built electric supermini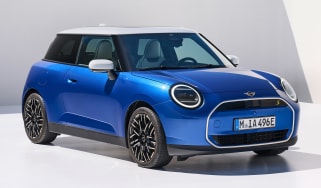 MINI Cooper Electric: pricing and specs for British-built electric supermini
Electric Renault 5: prices, 2024 launch date and teaser images of the MINI Cooper rival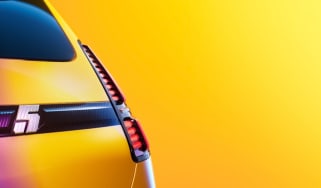 Electric Renault 5: prices, 2024 launch date and teaser images of the MINI Cooper rival
DrivingElectric Awards 2024: the winners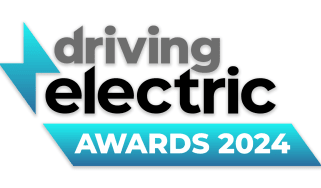 DrivingElectric Awards 2024: the winners
We celebrate the very best products in the EV world
Tesla Cybertruck: pricing and specs for Elon Musk's electric pickup truck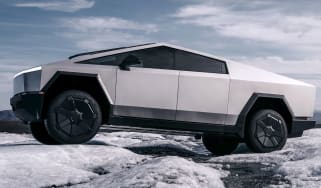 Tesla Cybertruck: pricing and specs for Elon Musk's electric pickup truck
The Tesla pickup truck is now on sale, with a range of up to 340 miles and a starting price of just over $60,000