2021 Skoda Enyaq iV electric SUV: prices, specification and on-sale date
The all-new Skoda Enyaq iV SUV is on sale now, including the SportLine variant
The new Skoda Enyaq iV, the brand's first electric SUV, is now on sale in the UK. After the UK plug-in car grant (PiCG) has been applied to the price, the entry-level Enyaq iV costs from £31,995.
The Enyaq iV is available with two different battery options, 62kWh or 82kWh (called '60' and '80' respectively in the line-up). The latter, which is more expensive, has a longer 333-mile range, and the former can drive for 256 miles on a single charge. There are options for two or four-wheel-drive and a range of trim levels.
Skoda has also announced a SportLine version of the car, which costs from £42,900 and is therefore not eligible for the plug-in grant. This model comes with lower suspension – 15mm lower at the front and 10mm lower at the rear – to improve handling, while adaptive suspension is available as an option, letting you adjust the stiffness of the suspension using the drive mode selector in the car. Other features of the SportLine include black trim details and sports seats, plus 20-inch alloy wheels.
Rivals for the Enyaq iV include the closely related Volkswagen ID.4, the Ford Mustang Mach-E and more premium offerings like the Mercedes EQA. The car builds on the styling of the Skoda Vision iV concept of 2019; its name was announced in February 2020. Skoda says 'Enyaq' is derived from the Irish name Enya, itself taken from the Gaelic name Eithne, which means 'essence, spirit or principle'. The Enyaq is the first Skoda to use a new naming convention whereby its electric cars will begin with the letter E.
Skoda Enyaq iV prices and specifications
The range starts with the £31,995 Enyaq 60, which uses the smaller 62kWh battery. Standard kit includes 19-inch alloys, a 13-inch infotainment screen and keyless entry. Standard safety and active driver assistance systems include autonomous emergency braking and road-sign recognition. 
The Enyaq iV 60 comes as standard with the lowest of four interior specifications, Loft, which brings cloth and artificial leather upholstery and brushed aluminium trim. An upgrade to Suite (£415) adds leather upholstery and piano-black trim, while Lounge (£365) brings grey leather and Ecosuite (£500) adds cognac leather.
The larger-battery Enyaq iV 80 model starts at £39,350 and comes as standard with a heated steering wheel, rear-view camera and multiple drive modes, plus satellite navigation. The same system of standard Loft and optional Suite or Lounge interiors applies here.
The Enyaq iV 80 drivetrain will also be available in SportLine specification, costing from £42,900. This styling is familiar from combustion-engined Skoda models like the Octavia and Superb. It consists of black exterior detailing, large allowed wheels and slightly lowered suspension.
Inside, there are sports seats with integrated headrests, a three-spoke sports steering wheel and carbon-effect trim. Both front-wheel-drive and four-wheel-drive versions of the SportLine will be available, with the latter wearing an '80x' badge and returning a slightly lower range (311 miles) than the front-drive model's 323 miles.
At the top of the range, the Enyaq iV 80 Founder's Edition gets 21-inch alloys, 125kW charging, an illuminated grille and LED matrix headlights, plus unique interior leather. It's priced from £52,995.
A new Lease&Care finance option allows buyers to choose a single monthly payment that includes things you'd usually be charged extra for. Like a normal lease deal, you choose the initial deposit and that informs the monthly payments thereafter, but you can also now add in Small, Medium or Large packages. The first of those includes servicing and access to a concierge service. Medium adds extra cover for repairs to things like suspension, and the Large package includes tyres and wheel alignment.
For example, an entry-level Enqyaq iV 60 Nav Loft model costs £393 a month with an initial payment of £2,358 and the Small package included – that's for a lease over 48 months and an allowance of 10,000 miles a year. Skoda is also offering money off home charging if you switch to Octopus energy for your home.
Technology, performance, battery and charging
The Enyaq iV 60 uses a 62kWh battery and a 178bhp electric motor, with power fed to the rear wheels. Total claimed range is 260 miles. Along with all other Enyaq models, its standard maximum charging speed is 50kW; the 60 can be upgraded to 100kW as an option, while the 80 can be upgraded to 125kW.
Enyaq iV 80 cars use an 82kWh battery and 201bhp electric motor, again driving the rear wheels as standard. Skoda claims a range of 323 miles. In four-wheel-drive '80x' form, there are two electric motors for a total output of 262bhp and a driving range of 311 miles.
The Skoda Enyaq iV can be charged from a domestic 230V supply, or a 7kW home wallbox; Skoda claims a time of six to eight hours for the latter, depending on battery size. Skoda also claims that the Enyaq iV 80 can rapid charge from 10 to 80% battery capacity in 40 minutes when upgraded to 125kW charging capability.
Skoda has used the Volkswagen Group's MEB electric-car platform to develop the Enyaq iV, making it a sister model to the Volkswagen ID.4 family SUV. The new car is the Czech manufacturer's second pure-electric vehicle, after the Citigo-e iV city car, and will be the first MEB car to be built outside of Germany, with production taking place at the Czech brand's main factory in Mladá Boleslav.
Design and interior
Skoda says that the Enyaq iV "ushers in a new era of Skoda interior design" – highlights include a large 13-inch infotainment screen and a strong trim line across the middle of the dash.
The Enyaq measures in at just under 4.7 metres long and a shade under 1.9 metres wide; Skoda claims that the interior is spacious thanks to a lack of intrusions from the car's running gear. A flat-floored interior maximises passenger space, while the boot measures in at 585 litres with the seats up.
Skoda Enyaq iV police, fire and ambulance conversion to be offered from July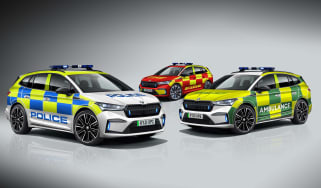 Skoda Enyaq iV police, fire and ambulance conversion to be offered from July
Skoda Enyaq iV Coupe: new variant of electric SUV spotted testing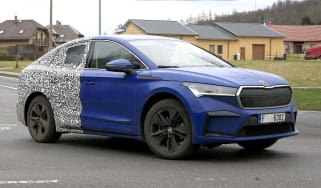 Skoda Enyaq iV Coupe: new variant of electric SUV spotted testing
Top 7 best hybrid and electric sports cars 2021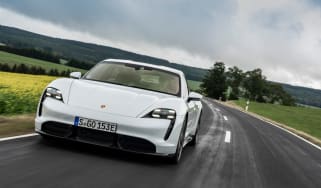 Top 7 best hybrid and electric sports cars 2021
Bringing thrills and performance with their powerful electric motors, these are the best electric and hybrid performance cars to buy in the UK in 2021
Are electric cars expensive to insure?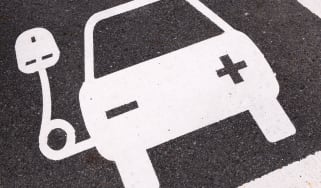 Are electric cars expensive to insure?
Everything you need to know about insuring an electric car, including how expensive it is and why
2021 Audi Q4 e-tron and Q4 e-tron Sportback: specs and prices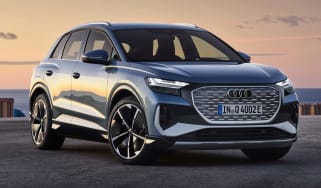 2021 Audi Q4 e-tron and Q4 e-tron Sportback: specs and prices
The pure-electric Audi Q4 e-tron and Q4 e-tron Sportback are on sale now, with prices starting from £40,750 for the regular SUV and £42,250 for the Sp…