Ford Mustang Mach-E vs Tesla Model 3: range and charging
Despite different battery sizes, these models have similar range and charging figures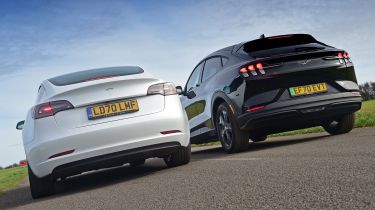 The Ford Mustang Mach-E's 75kWh battery is larger than the Tesla Model 3's 55kWh unit, and the car is also also heavier – the Ford weighs 1,993kg and the Tesla 1,825kg. The usable battery sizes of the Mustang and Model 3 are 68kWh and 50kWh respectively, so it's the weight – and aerodynamics – of the respective models that account for their similar driving ranges.
Officially, the Mustang can manage 273 miles in Standard Range form, which we're testing here, while the Tesla Model 3 Standard Range Plus can go 278 miles. There are longer-range variants of both models if you need more than 300 miles of range from a single charge. Read more about those in our in-depth Ford Mustang Mach-E and Tesla Model 3 reviews.
Yet because we managed an average of 3.5 miles per kWh in the Ford, its actual range was around 238 miles. The 3.4 miles per kWh result from the Tesla works out at a real range of 170 miles because of the car's smaller usable battery capacity.
Charging
Charging is pretty evenly matched with the two cars here. The maximum charging rate of this Mach-E is 115kW, which will top up the battery to 80% in 38 minutes, while the 120kW charging tops up the Tesla's battery in 34 minutes.
Tesla's Supercharger network has better motorway coverage than the public charging points you'll rely on with the Ford, but that'll change in the coming years. 
If you have an 11kW-capable home wallbox, the Ford takes seven-and-a-half hours to charge up at home overnight, while the Tesla takes five-and-a-half hours at the same speed, because of its smaller battery. Using a three-pin plug the gap is even bigger: the Tesla takes 16 hours and the Ford nearly 22.