Ford Mustang Mach-E vs Tesla Model 3: running costs and warranty
Both electric cars are cheap to tax and won't cost much to charge at home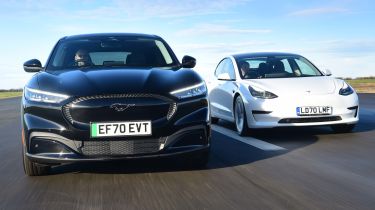 You'll really benefit from using an electric car as a company car, because in 2021/22 Benefit-in-Kind tax is levied at just 1% on zero-emissions models like the Mustang Mach-E and Tesla Model 3. In 2022/23 this rises to 2%, but it's still a massive saving compared to a petrol or diesel car.
Private buyers can save a huge amount on fuel, too. On an average home electricity rate of 16.3p per kWh, a full charge costs £12.20 for the Ford and £8.15 for the Tesla. That's about £559 or £575 per year respectively if you do 12,000 miles.
At the time we tested them, the Tesla was around £90 per month more expensive to buy on a PCP finance deal, or a total of £3,140, which isn't to be sniffed at – it makes a big difference because the cars are so well matched in most other ways. The Tesla is more expensive to buy outright as well.
Still, the Model 3's residual values are strong, at 57% after 36,000 miles or three years (it's 54% for the Ford, according to our experts). We returned better efficiency from the Ford, which pointed to a better real-world range, although the Tesla Supercharger network being better than most normal public chargers works in the Model 3's favour here and makes long trips far easier.