Ford Mustang Mach-E vs Tesla Model 3: performance and handling
The Tesla is quick in a straight line, but the Ford is more fun in corners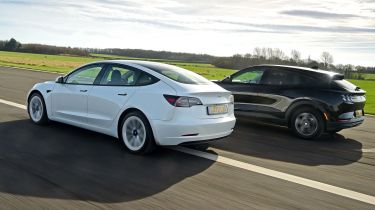 Thanks to the strong electric motors in both of these family cars, they're powerful and fast in a straight line. The Ford has 265bhp and the Tesla 271bhp, so there's not too much difference between them there, but the Mustang is heavier, so it's not as fast.
The 0-62mph sprint takes 6.9 seconds for the Mach-E, and 5.6 seconds for the Model 3. This shows the difference between them clearly; the Tesla feels much faster when you put your foot down. Its punchy performance is fun and it's noticeably more urgent off the line.
In both cars there's a typical electric-motor whine as you accelerate, but otherwise they're very quiet inside. You can hear the suspension working hard in the Tesla on rough roads as it struggles to contain the car's weight, and the large wheels thud into bumps, but it's comfortable on the motorway.
The Ford is a lot better than the Tesla in this area. While the ride is on the firm side, it does a better job of taking the edge off of bumps in the road, and there's also less body roll in the Mustang – it feels more like the sports car its name hints at than you might expect.
The steering in the Ford is more communicative than the Tesla's, and the Model 3 also suffers from feeling a bit too darty during fast changes of direction – the Ford is more composed and secure. The Ford is more enjoyable to work with as you go through corners, if you're a keen driver.