Ford Mustang Mach-E vs Tesla Model 3: verdict and specifications
These electric family cars are both excellent, but key factors like price and ride quality put the Ford ahead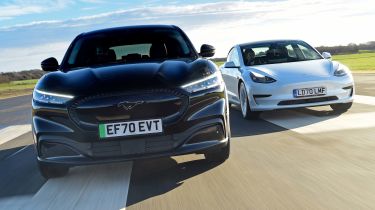 The Ford Mustang Mach-E is nothing like the Ford Mustang sports car in a lot of ways, which means fans of the 'pony car' have been outspoken about the Mach-E. Yet if you ignore the name, it's a superb electric family car with plenty of practicality, good handling and an impressive range.
The Tesla Model 3 led the way with its affordable price and long range, and was first to go on sale. But as big brands like Ford arrive on the electric scene, some of its drawbacks become more apparent. 
1st: Ford Mustang Mach-E
The Mustang Mach-E is good to drive, with better handling and comfort than the Tesla, yet it's just as practical, charges very quickly and has better real-world range than its rival. It's heavy and its ride quality isn't perfect, but the Mustang's lower price and impressive amount of standard kit means it's our favourite of the two.
2nd: Tesla Model 3
When it first arrived, the Tesla Model 3 proved that you could have a long-range electric car without spending close to £100,000. Yet it's now looking like a more expensive choice than newer rivals such as the Mach-E, especially as it wasn't as efficient as its opposition on our test, nor as well equipped. It's still good to drive, looks smart and the Supercharger network is superb, so despite coming second it's still a top choice, especially for company car buyers.
Specifications
| Car | Ford Mustang Mach-E Standard Range | Tesla Model 3 Standard Range Plus |
| --- | --- | --- |
| List price/total as tested | £37,305 / £37,305 | £40,490 / £43,860 |
| Engine | Single electric motor + lithium-ion battery | Single electric motor/lithium-ion battery |
| Transmission | Single-speed auto / rear-wheel drive | Single-speed auto / rear-wheel drive |
| Battery capacity (total/usable) | 75 / 68kWh | 55 / 50kWh |
| Power/torque | 265bhp / 430Nm | 271bhp / 404Nm |
| 0-60mph | 6.9s | 5.6s |
| Top speed | 112mph | 140mph |
| Charge time (socket/wallbox/rapid) | 21hrs 45mins / 7hrs 30mins / 38mins | 16hrs / 5hrs 30mins / 34mins |
| Claimed/predicted range | 273 / 238 miles | 278 / 170 miles |
| Road tax / BiK rate  | £0 / 1% | £0 / 1% |
| Length / width / height / wheelbase | 4,713 / 1,881 / 1,625 / 2,984mm | 4,694 / 1,933 / 1,433 / 2,875mm |
| Boot capacity (seats up) | 402 Iitres | 425 litres |