Ford Mustang Mach-E vs Tesla Model 3: interior and infotainment
The Tesla looks more modern, but the Ford has stronger build quality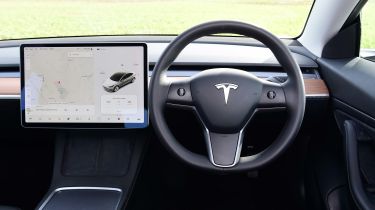 Both of these modern-feeling electric cars have an interior dominated by a gigantic touchscreen display right in the centre of the dashboard. It's a design feature that first appeared on Tesla models, and Ford has clearly taken inspiration from its competitor for the Mach-E's interior design.
In the Mustang, the screen is portrait-oriented and is joined by a 10.2-inch digital dial display behind the steering wheel, while the screen stands alone in the Model 3, with driving data such as your speed displayed at the side of the main display (so glancing at it is a little harder).
The main 15.5-inch screen in the Ford is easy to use and responds reasonably well, but some sections are slow to load. It gets Android Auto and Apple CarPlay plus wireless charging, which is great, but we don't like how far away some of the buttons are, simply because the screen is so big. The physical dial at the bottom is good to have as well as it makes it easier to use.
The Tesla's 15-inch screen is packed with features and is really responsive, but there's no smartphone connectivity like with the Ford and small things like adjusting the mirrors are annoying to have to use the screen for, as you need to dive into sub-menus to do this.
Materials in the Ford are good, although there are some areas that don't feel as upmarket as we might expect in a car costing this much. However, build quality is as good as you'd expect from a major manufacturer, which is to say it's better than the Tesla, which feels slightly shoddy in some places - although as the years go on, Tesla is improving in this area.
For example, it has replaced the cheap-feeling centre console found in earlier Model 3s with a wireless phone-charging pad, while the previous tacky-looking black plastics have been replaced with a more tasteful grey set. Both cars get free over-the-air software updates, which means there's the potential for upgrades and improvements without you having to take your car to the dealer.