Twin test: Ford Mustang Mach-E vs Tesla Model 3
Ford's first modern electric car, the Mustang Mach-E, takes on the Tesla Model 3 in our comprehensive twin test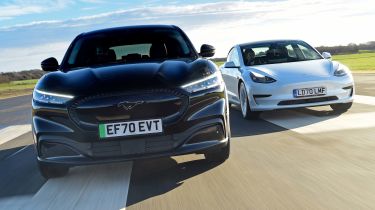 The Ford Mustang Mach-E is one of the most exciting new models from the carmaker for years, as not only does it create a new sub-brand using the Mustang name, it's also the brand's first proper go at an electric car that has true mainstream appeal.
Ford is one of the biggest brands in the car world, so it says a lot that it's going up against a relative newcomer, the Tesla Model 3. Tesla is a young company, but has already established itself as a maker of extremely competitive electric cars that have lots of brand appeal. Ford isn't leading the charge here, as Tesla got there first.
Yet it's not just about being first when it comes to being the best electric car – it's about being the best, which is what we aimed to find out with our twin test. Read on to find out everything you need to know about these two electric family cars – and which is our favourite.
Ford Mustang Mach-E
Pros: Practical, good to drive, well equipped
Cons: Not as fast as its rival, slightly firm ride
Tesla Model 3
Pros: Strong performance, modern interior, Supercharger network
Cons: Build quality, expensive, not as good to drive as the Ford
Both cars here are aimed at families, and are around the same size as typical company-car choices such as the BMW 3 Series. The Mach-E has a more SUV-like look, while the Tesla is more of a saloon car – yet they're similar in many ways. Read on to find out more…