Ford Mustang Mach-E vs Tesla Model 3: space and practicality
Both cars use platforms designed for electric power only, which boosts cabin space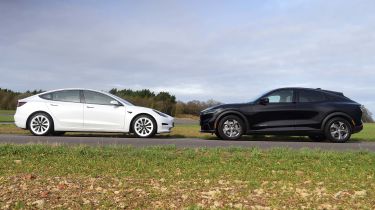 The Tesla and Mach-E were both designed from the start as electric-only models, so designers didn't have to include space for a combustion engine or even an exhaust pipe. This means there's more room inside than in a traditional car of a similar size.
For example, the floor in the back of the Ford is flat; there's no transmission tunnel. This means you can fit three passengers back there without trouble, and there's plenty of headroom inside as well.
The Tesla has a similar amount of passenger space, although the large sunroof means it feels more airy inside as there's lots of light. You don't sit as high up, which some will prefer and some won't. There's also extra storage in the front of each model, usually referred to as the 'frunk' (front trunk). It's big enough for a couple of small bags in both cases.
The Tesla does have a larger boot on paper than the Ford, but we reckon they're pretty equal here as well, because the shape of the opening and the space itself is more useful in the Ford despite being a bit smaller. There's 402 litres in the Mustang and 425 litres in the back of the Model 3. There's extra storage under the boot floor to keep your charging cables, which is always handy.