Renault Trafic electric previewed by 'Hippie Caviar Hotel' luxury campervan concept
Elaborate concept for Dusseldorf Caravan Salon is based on upcoming electric Renault Trafic E-TECH, which will arrive in 2022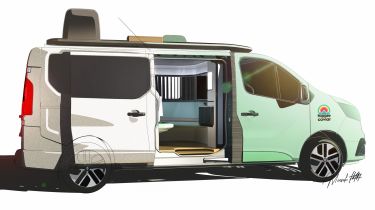 Renault has confirmed a fully electric 'E-TECH' version of its mid-size Trafic van and minibus model will arrive in 2022. The French brand has released sketches of a luxury campervan concept called the 'Hippie Caviar Hotel', which will preview the electric Trafic at the upcoming Caravan Salon show in Dusseldorf, Germany.
The fully electric Trafic will fill a gap in the middle of Renault's electric light commercial vehicle line-up, which currently consists of the compact Kangoo E-TECH and large Master E-TECH. The Trafic E-TECH will be a rival for the Citroen e-Dispatch, Peugeot e-Expert, Toyota Proace Electric, Vauxhall Vivaro-e and other mid-size electric vans.
A minibus version of the model is also likely, targeting the same buyers as the Citroen e-SpaceTourer, Peugeot e-Traveller and Vauxhall Vivaro-e Life. No details as to battery capacity or other under-the-metal technology have been revealed, but the Trafic E-TECH could get the same 44kWh battery and 75kW charging speed as the second-generation Kangoo E-TECH.
Renault says the Hippie Caviar Hotel concept is inspired by five-star hotel rooms. It incorporates a wicker-effect dashboard and extensive use of materials such as exotic wood, natural fibres (linen and wool) and plant-based foam.
There's also a bench seat that can be converted into a bed, which can be positioned outside or inside the van. Elsewhere, a rooftop terrace, complete with a coffee table and two removable backrests can be accessed using a ladder.
Another element of the concept is a 'logistics container' encompassing a shower, bathroom and electric charging point, which Renault envisages being delivered to the location where you camp for the night.
The concept will be revealed in full on 27 August at the Caravan Salon in Dusseldorf, Germany, with the unveiling of the production version of the electric Trafic coming later.
Electric Renault 5: prices, 2024 launch date and teaser images of the MINI Cooper rival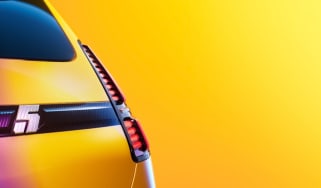 Electric Renault 5: prices, 2024 launch date and teaser images of the MINI Cooper rival
New Fisker Ocean Sport washes up in the UK: £36k for a 288-mile range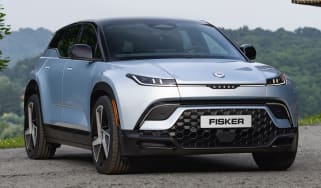 New Fisker Ocean Sport washes up in the UK: £36k for a 288-mile range
American EV startup Fisker has just launched its entry-level Ocean SUV in the UK, with a range of up to 288 miles
Big price cut: Electric Renault Megane prices slashed in time for Christmas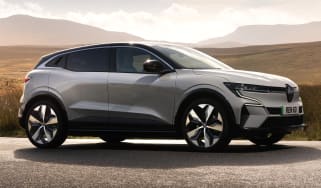 Big price cut: Electric Renault Megane prices slashed in time for Christmas
Renault Megane E-Tech gets a price drop of up to £3,500, bringing the starting price to just £34,495