Peugeot iOn (2010-2018) running costs
The Peugeot iOn is now cheap to buy on the used market and will cost very little to run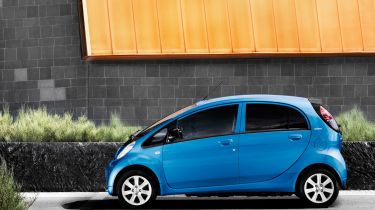 | Insurance group | Warranty | Service intervals | Road tax |
| --- | --- | --- | --- |
| 28 | 3yrs / 60,000 miles | 1yr / 12,500 miles | £0 |
Once upon a time, the iOn was almost comically expensive, but by the time it went off sale, it was listed at just over £20,000, including the £3,500 grant from the government for plug-in vehicles. When its maximum claimed range was reduced under the WLTP testing programme, it was no longer eligible for the grant and Peugeot withdrew it from UK sale.
Not many iOns were sold in the UK new, but as of late 2019, you could still find the odd one on classified sales websites for around £6,000 to £8,000. The iOn has very low running costs thanks to its zero CO2 emissions. For instance, it's exempt from the London Congestion Charge and road tax. On top of that, some places offer free or cheaper parking for electric cars.
Peugeot iOn insurance group
The single version of the iOn sits in insurance group 20, which looks pretty steep for such a cheap car. The latest Renault ZOE is in groups 19-23 and even the more expensive BMW i3 is in groups 28-29.
Warranty
The iOn was covered by the same three-year/60,000-mile warranty as every new Peugeot. That's identical to the cover you get on a Volkswagen e-up!, and the only difference between the Peugeot cover and what you get on a Nissan Leaf or BMW i3 is the mileage limit.
Servicing
When the iOn was on sale, Peugeot had a network of specialist electric-car dealers, rather than the whole network being able to sell and service electric models as is the case now.
An iOn needs servicing every year, which is very much par for the course with electric cars. There isn't much to service, so it can work out cheaper than a petrol or diesel. Peugeot offers fixed-price servicing packages for cars three or more years old.
Road tax
One of the simplest things about running an iOn is the annual bill for VED. Because this is a zero-emissions electric car, it costs nothing in road tax. That immediately saves you £135 over even a hybrid.