Peugeot iOn (2010-2018) interior & comfort
The Peugeot iOn is fine for the people in the front, but the rear seats are best left for kids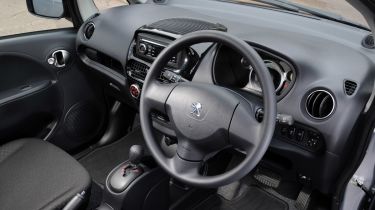 As with so many of our comments about the iOn, how comfortable the car is depends on where you drive it. Around town, it's near-silent, but the faster you go, the more you become aware of noise, both from the motor and from general road noise.
Inside, anyone in the front will be comfortable, with the tall body giving particularly good headroom. The driving position is decent, too, with the high-set seat and big windscreen giving a good view of the road ahead. There's even a 'cold package' included as part of the standard specification, and that includes a heated driver's seat.
However, legroom is a bit tight for adults in the back, while the narrow body can force adults to rub shoulders rather more than is comfortable. Last but not least, no matter where you sit, you can't escape the effects of the uncomfortable ride.
Peugeot iOn dashboard
The iOn is an old design and the dashboard is one of the places where that's most obvious. Compared to more modern cars, it looks pretty simple and some of the plastics feel decidedly low-quality.
Some may think the instruments have a certain charm, but they look very basic, even with digital displays for the speedometer, remaining charge and range. If you're used to the touchscreens and wheel-mounted controls of most more recently designed cars, you'll feel very short-changed by the lack of both in the iOn.
Equipment, options and accessories
The iOn range is so simple that it was basically 'take it or leave it' for buyers when it was sold new. There was just one trim level, which included plenty of equipment, but very few options.
Among the standard equipment was remote central locking, four electric windows, DAB radio, climate control and six airbags. There were also relative luxuries, such as a heated driver's seat and leather trim on the steering wheel and gear selector, plus 15-inch alloy wheels.
Among the options were metallic or pearlescent paint (available at no cost) and a remote-control package, which allows you to set the climate control to pre-heat the interior for 30 minutes before you drive off, as well as pre-set a time to charge the battery.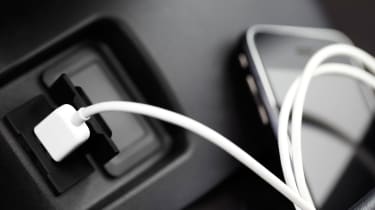 Infotainment, apps & sat nav
When it comes to infotainment, it's very much the same story as with the dashboard: the iOn is an old design it's obvious. Yes, buyers got DAB radio and Bluetooth connectivity, but there's no Apple CarPlay or Android Auto, and no sat nav either. So, if you want to stream music from your phone, you either have to use Bluetooth or plug it in through the USB socket.