Used Nissan Leaf Mk1 buying guide
All you need to know about buying a secondhand example of the 2011–2017 Mk1 Nissan Leaf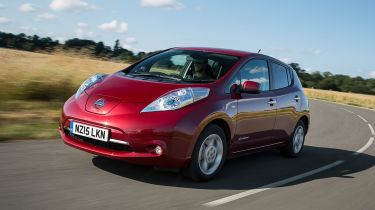 The first-generation Nissan Leaf was, in some ways, the people's electric car. It made electric cars more accessible for the masses when it launched back in 2011, helping to convince many conventional petrol and diesel drivers to make the switch to electric. A used Mk1 Nissan Leaf is now a good choice as an affordable second-hand electric car.
The current Mk2 version of the Nissan Leaf is still a competitive EV and built on the success of the Mk1. It's a great option as a new electric car, and there are enough now also available on the used market to make it an option worth considering. However, the Mk1 is still a better choice for those after a cheaper used electric car.
The same punchy performance and useful practicality that made the Leaf an attractive buy as an everyday car when it was new, is still part of its appeal as a low-priced used buy – although prices are rising. 
Admittedly, its range is limited when compared to modern electric cars, but for shorter trips around town it's ideal. That said, with modern charging infrastructure more widespread than it was before, it should be even easier to charge a Nissan Leaf while out and about, than when the car was new.
For many, buying an electric car is all about saving money on fuel and tax, but opting for a brand new electric car is still expensive. Alternatively, if you have a few thousand pounds saved, you could spend it on a used Leaf and immediately start saving money.
The Leaf was the first electric car to sell in big numbers, which means there are enough to choose from at the right price. If you're concerned about battery life on a used Leaf, the good news is that some cars have proven themselves to last past 200,000 miles on the original battery – so this shouldn't be an issue.
Admittedly, you're unlikely to choose the original Leaf because it looks great or it appeals to your heart. It's all about buying with your head; the Leaf is perfect as a car to get from A to B in comfort and without ever having to buy petrol or diesel fuel again.
It is possible to buy a FLEX model – whereby you lease the batteries rather than own them outright – if you're looking to offset some of the purchase price, but the proven batteries and low costs of privately-owned versions means it's probably not worth it. With a battery lease, you pay a monthly fee, on the agreement that Nissan will replace the batteries if anything goes wrong.
Expect to get around 70 miles from a charge on the earliest Leafs, while updated 2013 cars will do around 100 miles in real-world driving. The 30kWh Leaf tops the lot if you're concerned about driving range, with 120 miles achievable in ordinary use - about the same as what you can expect from a new MINI Electric.
Of course, your actual range will vary depending on how you drive, but also on the outside temperature and whether you need to use the air-conditioning, lights and other ancillaries. Charging from 0 to 100% takes 10 hours from a household socket or four and a half hours from a 7kW home wallbox. An 80% charge from a rapid charger takes just 30 minutes.
Partnership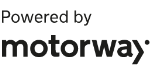 Need to sell your car?
Find your best offer from over 5,000+ dealers. It's that easy.
If the Mk1 Nissan Leaf isn't for you, check out our list of the best second-hand electric cars for some other options.
History
The original Nissan Leaf went on sale in the UK in March 2011. It was built in Japan, and can be identified by a cream-coloured interior that's really good at showing up dirt. Two years later, the British-built version went on sale with a raft of improvements, including an increased official driving range from 109 to 124 miles.
The interior of these cars is darker in colour, immediately making it more family-friendly. When this model launched, the line-up was expanded from one trim level to three: Visia, Acenta and Tekna. In 2015, an Acenta+ model joined the range, featuring a 6.6kW on-board charger as standard (it was previously an optional extra) allowing owners to charge the battery from empty to 100% in four hours via a wallbox. Importantly, 2015 also saw the introduction of a model with a 30kWh battery that gave the Leaf an official range of 155 miles between charges. It was available in Acenta and Tekna trims.
Regardless of the model you choose, there's only one 107bhp motor, and while the earlier models had a 24kWh battery, it's worth seeking out those later models that got a useful boost to 30kWh if you're at all concerned about the car's range. The Mk1 Nissan Leaf's swansong was the Black Edition, launched in March 2017. It was based on the Acenta trim, but with a black styling treatment.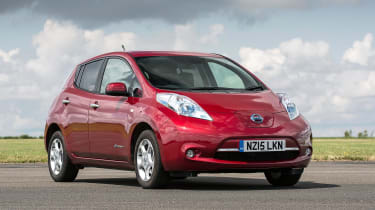 Which one should I buy?
This depends largely on your budget and how you'll use the car. The original 2011 model records a range of 109 miles and the 2013 version 124 miles. The vast majority of buyers won't need more and if you're one of those people, then you're in luck, as they're also the cheapest to buy.
Unless you really need the 30kWh version with its 155-mile official range, you're better off saving your money. It's worth trying to find a version with the 6.6kW on-board charger, which was offered as an option to earlier cars, as it halves the charging time to four hours.
As far as trim levels go, we'd avoid the earliest cars, as their light-coloured interior gets grubby very quickly. Even so, they come with most features you could reasonably want, including sat-nav, climate control and 16-inch alloy wheels. There's no Apple CarPlay or Android Auto as standard on most Leafs, so make sure the sat-nav is up-to-date if you're planning to rely on it. Metallic paint was an option, as was a solar panel fitted to the rear spoiler. Most owners agree it doesn't do much other than keep the car's 12v battery charged.
Models built from 2013 started with Visia trim, which we'd avoid, as it lacks alloy wheels and an infotainment screen, which makes it harder to access some of the car's features. More importantly, there's no fast charging and the heater isn't terribly efficient.
Acenta models received alloy wheels, sat nav, an energy-saving heater and a CHAdeMO socket, which gives you the ability to use many public rapid chargers. Tekna models add leather trim, LED headlights, a Bose audio upgrade and larger alloy wheels.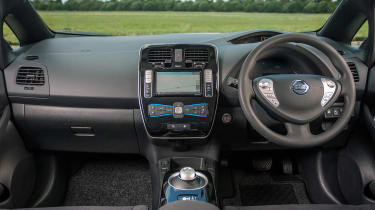 Used Nissan Leaf alternatives
There are few electric cars to rival the cheapest Nissan Leafs. The closest is the Mk1 Renault ZOE, which is a little smaller, but still remarkably practical. Its battery can be leased or bought outright, so it's important to understand the arrangement before you buy. The ZOE also comes in two versions with different battery outputs.
The BMW i3 is a handsome and upmarket rival to more expensive used Leafs. Unlike the Leaf, the i3 was available with a small petrol 'range extender' engine that works as a generator should the battery become depleted, as well as in more popular fully electric form.
Other affordable options are the small and rare Mitsubishi i-MiEV, and its near-identical sister models the Peugeot iOn and Citroen C-Zero. They're cheap to buy, but feel quite dated and have a very limited range.
What to look for
Battery: We've yet to hear widespread reports of Leaf batteries failing, so it's reasonable to say they're well up to the job. The instruments indicate the battery condition and will show you if the maximum capacity (and therefore driving range) has reduced over time. Nissan offered a five-year/60,000-mile battery warranty on the original Leaf, and eight years/100,000 miles on the 30kWh version.
Drive: The Leaf is as easy to drive as any other automatic car. The regenerative braking system charges the battery when you slow down, and there's a mode to increase the strength of this. Early cars had an electronic handbrake, later cars a foot pedal. Which you prefer will be personal preference, but neither is hard to use.
Charging: The majority of Leafs have two sockets under a flap behind the Nissan badge on the nose. One is a Type 1 connector for slow and fast charging, and the other is a CHAdeMO for swifter rapid charging from the kind of chargers you'll find at most service stations.
Boot space: Early cars have smaller boots than later models. The high-spec Tekna version of later models has audio equipment mounted in the boot, which robs some of the luggage space.
Interior: The very earliest, Japanese-built cars have a cream interior that doesn't look that great and shows up dirt very easily; British-built cars have a darker interior and are more desirable.
Infotainment: Much of the infotainment is powered by an SD card. They're expensive to replace, so ensure any car you're buying is equipped with one.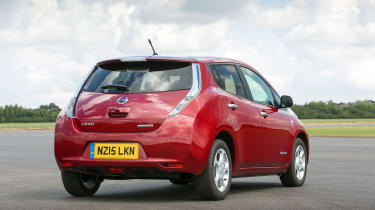 Running costs
Like most electric cars, the Leaf should be affordable to run. That's because when it comes to service and maintenance, there are far fewer things to go wrong. As such, its 18,000-mile service intervals are more widely spaced than most petrol or diesel alternatives, although regardless of your mileage, it'll need an annual service.
It's likely you'll need to take it to a Nissan dealer, as few independent garages are geared-up to service electric cars. Main-dealer services alternate between minor and major, costing £150 or £200, although the inclusion of 12 months' free breakdown cover (worth £95) softens the blow.
Recalls
Given the Leaf was built using technology that was relatively unproven, just three recalls since launch is pretty impressive. The first concerned a steering column clip fitted to 2013 and 2014 cars, and the second affected cars built between September 2013 and January 2014, which could develop a fault with their start button. The last was to check the automatic headlight aim on cars built in February and March 2017.
Owner satisfaction
The Mk1 Nissan Leaf last featured in the Driver Power ownership satisfaction survey in 2018, where it finished in 38th place out of the top 75 cars – not bad considering it was a seven-year-old model up against plenty of newer cars by this point. 
Remarkably, 96% of owners said they'd had no issues with the car, and the few problems that were reported were down to on-board electrics as opposed to the drivetrain itself, suggesting the car was otherwise very reliable. 
Unsurprisingly, low running costs and great efficiency were praised by owners, as well as the car's smooth, quiet and punchy electric motor. The car did fail to impress buyers with its unattractive styling, interior quality and visibility, however.
A further testament to the Leaf's reliability came in October 2020 when warranty provider Warrantywise released data that showed just two examples required repairs out of all the Leaf models covered by the firm. Warrantywise stated that one issue was with a door mirror assembly, the other an electrical fault.
Top 10 cheapest electric cars 2023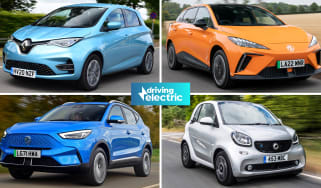 Top 10 cheapest electric cars 2023
Top 10 best used electric cars 2023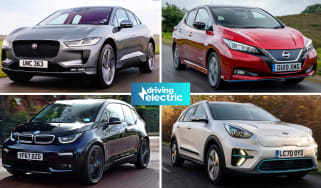 Top 10 best used electric cars 2023
Vauxhall Frontera to arrive as Crossland EV replacement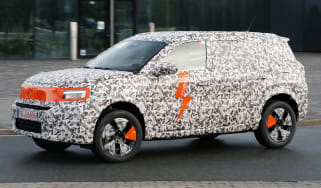 Vauxhall Frontera to arrive as Crossland EV replacement
The Vauxhall Mokka Electric will soon be joined by a chunkier, yet cheaper sibling that's set to revive a classic nameplate
New electric cars coming in 2023 and beyond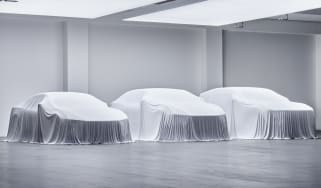 New electric cars coming in 2023 and beyond
With electric cars making up an ever-increasing proportion of sales, the industry is working flat out to launch new models – here's what's on the way …
Formula E-inspired Nissan Concept 20-23 previews hot electric Micra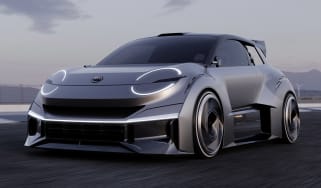 Formula E-inspired Nissan Concept 20-23 previews hot electric Micra
Nissan's latest concept car comes in the form of a high-performance version of its upcoming city EV