Citroen C-Zero (2010-2018) review
The Citroen C-Zero is affordable and more spacious than you might think, but it's severely limited compared to more modern electric cars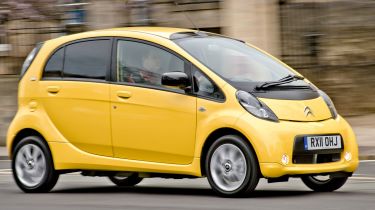 Pros
Quick from 0-30mph
Ideal for city driving
Surprisingly spacious
Cons
Poor real-world range
Slow to reach top speed
Rivals offer more value
| Car type | Official range | Wallbox charge time | Fast charge time |
| --- | --- | --- | --- |
| Electric | 93 miles (NEDC) | 7hrs (0-100%, 3.3kW) | 30mins (10-80%, 50kW) |
The Citroen C-Zero was introduced way back in 2010 as part of a joint project between Citroen, Mitsubishi and Peugeot. The end result was a trio of small electric runabouts, including the C-Zero, the Peugeot iOn and the Mitsubishi i-MiEV. Unsurprisingly, they all have the same top speed and 0-62mph time, and all three have been off sale in the UK for several years now, so they're only available secondhand.
When new, Citroen quoted a range of 93 miles (derived from the now-discontinued NEDC test) from the C-Zero's 14.5kWh battery, but in the real world you should expect around 65 miles at most. Citroen also said the C-Zero could be charged from flat to 80% capacity in just 30 minutes at a dedicated fast-charging station. But be aware that a full charge from a normal household socket will take between six and 11 hours.
The C-Zero came with two charging connectors: a standard one that plugs into a port on the driver's side of the car and a quick-charging one located on the passenger side. Producing 66bhp, the Citroen has a top speed of 81mph and will do 0-62mph in 15.9 seconds. These figures are quite leisurely, but at town speeds – the 0-30mph region – the C-Zero is actually quite brisk. That makes it ideal for urban driving.
While the C-Zero might be sprightly around town, it's not what you'd call agile. The steering is vague and the body leans in corners, so you have to make turns at quite sedate speeds. Nor was there much choice for the initial owners when it came to specification. There was only one trim level, and only one optional extra: remote-control heating/cooling and charge programming were bundled together.
Standard kit included automatic headlights and 15-inch alloy wheels, while a leather steering wheel, a 12V socket and camel-cloth-finished seats can be found inside. A DAB digital radio is fitted, and Bluetooth is available for smartphone connectivity. A USB port is also provided for in-car charging. Thanks to its tall roof, the C-Zero is deceptively spacious and will comfortably seat four adults while carrying a week's shopping in the boot. However, there are none of the driver aids that have become common in recent years, such as autonomous emergency braking, lane-keeping assistance or even a reversing camera.
When new, the Citroen C-Zero counted the likes of the Volkswagen e-up! and Smart EQ ForFour among its rivals, while the Renault ZOE offered a much more grown-up take on the small electric car (and has since been further improved). The original e-up! offers more range – up to 99 miles on a charge, while the BMW i3 delivers around 124 miles of real-world range. You could also consider the Renault Twizy, which delivers nearly as much range, but misses out on the C-Zero's boot and four-seat layout.
Despite its low price and low running costs (a full charge will likely cost around £2), the C-Zero is hard to recommend. Its 60-mile range is a big hindrance, even for occasional use, and more recent arrivals on the electric-car market are far more capable than the Citroen. It might work in a two-car household for weekly shops, the school run and perhaps a short commute, provided you can charge it regularly. For a more detailed look at the Citroen C-Zero, read on for the rest of our in-depth review...