Nissan e-NV200 van (2014-2022) running costs, insurance, warranty & tax
A competitive price and decent range make the Nissan e-NV200 a tempting proposition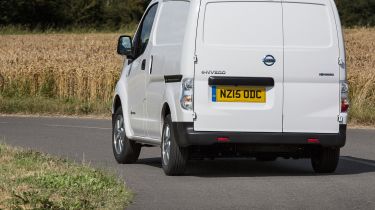 All versions of the e-NV200 have the same efficiency, so adding alloy wheels doesn't have an adverse effect on electric range. The Nissan scores an advantage with that range. Thanks to its 40kWh battery – 7kWh larger than the Renault Kangoo Z.E.'s – the e-NV200 has a claimed range of 187 miles at city speeds, and you'll easily manage more than 120 miles in a day without resorting to energy-saving techniques.
Electric vans are exempt from road tax, while Benefit-in-Kind costs for businesses are favourable compared to those for diesel models. However, the costs will rise over the coming tax years, although still not as high as their diesel equivalents. In addition, electric vans like this are exempt from low-emissions zones.
Nissan e-NV200 insurance group
The 40kWh version of the Nissan e-NV200 doesn't have any insurance group ratings against it. The last model was in group 8, which is a slightly higher than applies to rivals such as the Peugeot Partner Electric.
Warranty
Nissan offers its five-year/100,000-mile warranty on the e-NV200, while the dedicated electric components are covered for the same time period, but are limited to a total distance of 60,000 miles. Nissan also offers breakdown cover for five years/100,000 miles.
On top of that, the battery is guaranteed against loss of capacity (where the battery doesn't charge up higher than nine bars out of 12 on the digital display) for eight years/100,000 miles. Unlike other models in the Nissan commercial vehicle range, Nissan doesn't offer extended warranty coverage for the e-NV200.
Servicing
Nissan's network of dealers is set up to handle aftersales on electric models, and service plans are handled by dealers, rather than having a country-wide service scheme.
Road tax
ALL electric vans currently qualify for free road tax.