Nissan e-NV200 van (2014-2022) performance, top speed & motor
There's reasonable power on offer, but the Nissan e-NV200 is designed for function rather than fun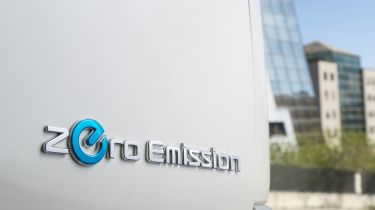 While the latest Nissan Leaf has evolved under the metal, the e-NV200 is based on an older platform that's shared with cars such as the Nissan Juke, Nissan Note and Nissan Cube. Combine this platform with the van's tall body, and the e-NV200 doesn't deliver much fun, but it's safe and secure. Light steering means it's easy to manoeuvre at low speeds.
There's decent power from the electric motor, although again the Leaf's more powerful motor hasn't been carried over. However, the large-capacity battery means you don't need to resort to eco-driving techniques to help prolong the van's range.
Nissan provides four different driving modes in the e-NV200: D, Eco, B and B/Eco. These settings adjust the power delivery of the motor and B mode boosts the regenerative braking offered when you lift off the throttle. It's not quite as strong as the E-Pedal mode available in the Nissan Leaf, but you still find yourself driving for as long as possible without hitting the brakes.
The tall driving position gives a good view of the road ahead, and the e-NV200 is easy to place on the road. A sound generator lets other road users know about the van's presence; otherwise the e-NV200 runs silently.
Nissan e-NV200 electric motor, 0-62mph and acceleration 
The latest e-NV200 comes with an 80kW electric motor which makes 107bhp, so it delivers reasonable acceleration rather than searing pace. A 0-62mph time of 14 seconds isn't particularly quick, but it's still faster than the Renault Kangoo Z.E., and a top speed of 76mph means you can at least keep pace with motorway traffic if you need to. Remember you'll be hammering the battery range if you do this, though.
Handling
A high centre of gravity means the e-NV200 tends to lean around corners, while the light and vague steering doesn't have much in the way of feedback. It does make the e-NV200 manoeuvrable around town, though. A steel bulkhead separates the cab from the load area, so there's reasonable refinement when you're on the move, although wind and road noise does start to intrude at higher speeds. Unlike the Leaf, the e-NV200 doesn't come with any of Nissan's latest semi-autonomous driving technology, such as ProPilot.