Nissan e-NV200 van (2014-2022) reliability & safety rating
It's an ageing design, so while the Nissan e-NV200 is a better electric van than before, safety kit is lacking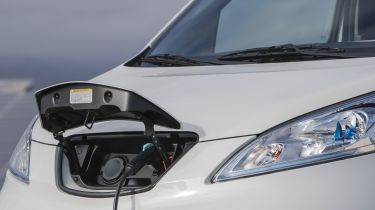 The e-NV200 is based on an older Nissan platform and shares everything bar its electric running gear with the standard NV200 diesel van. This model was introduced in 2009, so the technology on board is at least a decade old, which means safety kit isn't up to the latest standards. However, that's not to say it's unsafe, just lacking some useful safety items.
Nissan e-NV200 reliability & problems
The e-NV200 is proving to be a reliable machine. How do we know? Because there's a Cornish taxi firm that running an e-NV200 Combi on its fleet, and it has passed more than 100,000 miles without a hitch. C&C Taxis in St Austell, Cornwall, started running an e-NV200 Combi in 2014, and has since converted its whole fleet to electric vehicles, after running the passenger van without a hitch for two years. If something does go wrong, there's comprehensive warranty coverage, with a five-year warranty on the van and eight years of cover for the electric running gear.
Safety
Euro NCAP hasn't crash-tested the e-NV200 van, but it has assessed the passenger carrying Combi variant. It conducted its tests in 2014, and the model earned a three-star rating. That's not great, and it's worth bearing in mind that the Euro NCAP test is tougher now than it was in 2014, so the e-NV200 would score even lower if it was re-tested. The Combi earned a 75% score for adult occupant protection, while passenger and side airbags are only offered on Acenta and Tekna models.
Electronic stability control is standard on all models, as are tyre pressure monitors and ABS with brake force distribution, but Nissan's latest ProPilot autonomous tech hasn't migrated over from the Leaf along with its bigger battery. If you want any driving assistance, the best you're going to get is cruise control with a speed limiter on Acenta and Tekna models.