New Genesis GV60 electric coupe-SUV: specs and details
Hyundai luxury spinoff brand's latest electric car shares underpinnings with Hyundai Ioniq 5 and Kia EV6; prices to be revealed closer to 2022 launch
This is the Genesis GV60: the second electric car from the Hyundai group's fledgling luxury brand. It uses the same underpinnings as the Kia EV6 and Hyundai Ioniq 5, and will take on the likes of the Tesla Model Y, Audi Q4 e-tron and top-spec versions of the Ford Mustang Mach-E when it arrives in 2022. 
Three versions of the GV60 will be available: an entry-level, rear-wheel-drive model; another with all-wheel drive; and a performance model, also with all-wheel drive. All versions use a 77.4kWh battery, which is the same unit you'll also find in all Kia EV6s sold in the UK.
Genesis is a newcomer to the UK car market, having arrived only during 2021, but it has promised three electric models will be on sale within 12 months of its debut. The already-revealed G80 saloon is one and this GV60 is the second. Trim level and pricing information has yet to be released; more details will be disclosed closer to the car's 2022 on-sale date.
Genesis GV60 battery, range and performance
The entry-level rear-drive GV60 gets a single electric motor producing 225bhp and 350Nm of torque and a range of around 280 miles, according to Korean-market testing procedures. If you go for the all-wheel-drive model, power is boosted to 314bhp and 605Nm of torque, but range is simultaneously cut to just under 250 miles.
Again, that figure was calculated using the Korean testing procedure, not the WLTP cycle used for most UK-market cars. WLTP figures will be confirmed closer to the GV60's launch, and we expect those numbers will be closer to what we've already seen for the equivalent EV6 and Ioniq 5 models.
At the top of the GV60 range is a performance version: Genesis' equivalent to the Kia EV6 GT and the forthcoming Hyundai Ioniq 5 N. It also features a dual-motor setup, pumping out a healthy 429bhp, with torque unchanged at 605Nm. However, in what Genesis is calling 'Boost' mode, the performance model will produce 482bhp and 700Nm of torque – but only for 10 seconds.
With Boost activated, 0-62mph will reportedly take under four seconds, while range is reduced again to under 230 miles. There's also Drift mode, which optimises power distribution to the rear axle for more playful handling.
Charging and technology
The GV60 shares the EV6 and Ioniq 5's 800v charging hardware, allowing a top up from 10-80% in just 18 minutes from a 350kW ultra-rapid charger. Maximum speed from a home wallbox is 11kW.
Like the Hyundai Ioniq 5, the Genesis supports V2L (Vehicle-to-Load) charging, allowing you to power other electronics, such as a laptop or projector, using the car's battery. The GV60 also features active noise cancelling to improve refinement, as well as a system called Road Preview, which uses data from the car's cameras and navigation system to adjust suspension settings on the move for extra comfort.
Genesis seems to have focused a lot on doing away with the old-fashioned key fob, because the GV60 is also equipped with facial recognition and fingerprint scanners. The 'Face Connect' system uses a camera in the B-pillar to identify you, and will then unlock the door when you pull the handle. According to Genesis, the system will work in a variety of conditions, including cloud or darkness, thanks to an infrared camera.
When you're successfully recognised by the car, the system automatically loads your pre-saved seat and mirror positions, as well as your infotainment and head-up display preferences. Similarly, the GV60's 'Fingerprint Authentication System' allows you to start the car without a key. The car can also receive over-the-air (OTA) software updates from Genesis.
It also features numerous safety systems, including lane-keeping assistance, driver attention warnings, high-beam assist, navigation-based smart cruise control, highway driving assistance and a surround-view monitor, among others.
Design and interior
The distinctive styling of the GV60 is designed to maximise the car's efficiency, but still features design cues from other Genesis models, such as quad headlights and a large grille. The GV60 is also the first Genesis to feature a clamshell bonnet.
Inside, the GV60 has a dual-screen dashboard – the same as found in the EV6, Ioniq 5 and some of Kia's other new models – and a head-up display. However, unlike those cars, the Genesis also gets cameras and separate screens in place of traditional side mirrors; something already seen on the Audi e-tron SUV and Honda e, among others. There's also a 'floating' centre control that houses the gear selector and other controls.
Top 10 best luxury electric cars 2022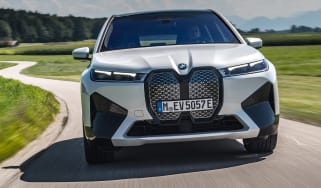 Top 10 best luxury electric cars 2022
From Audi to Tesla, here are our top picks of the most luxurious zero-emissions motoring options on the market right now
Top 9 best small electric cars 2022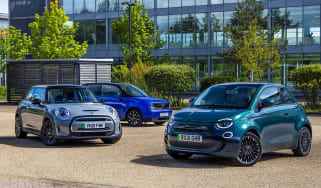 Top 9 best small electric cars 2022
Small electric cars make a lot of sense for commuting, city life and saving big on running costs. We pick out the best ones to buy in the UK right now
How much is the Benefit-in-Kind company-car tax on an electric car?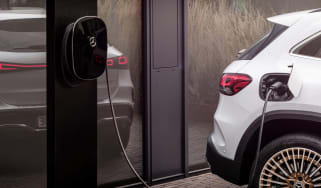 How much is the Benefit-in-Kind company-car tax on an electric car?
The company-car tax, or BiK, on electric cars is 1% during the 2021/22 financial year and will rise to just 2% in 2022/23, making a zero-emissions veh…