Mercedes EQE review
The Mercedes EQE impresses with its endless array of in-car tech, but falls bafflingly short of rivals in several other areas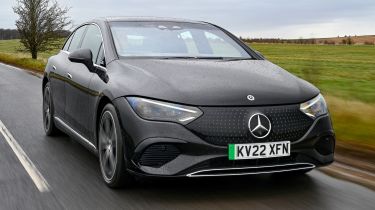 Pros
Long electric range
Class-leading technology
Strong standard equipment
Cons
Disappointing build quality
Firm ride
Poor rear headroom and visibility
| Car type |  Range | Wallbox charge time | Rapid charge time |
| --- | --- | --- | --- |
| Electric | 376 miles | 14hrs 30mins (0-100%, 7.4kW) | 31mins (10-80%, 170kW) |
Mercedes EQE verdict
A follow-up to the impressive EQS flagship, the Mercedes EQE boasts a huge electric range in non-AMG guise, with straight-line performance across the lineup ranging from adequate to absurd. Even the base EQE has an interior that tech fans will nerd out over, although interior quality appears to be lacking for something costing over £70k. Add into the equation an unsettled ride and a disappointing amount of rear headroom and you have an electric E-Class that struggles to tick many of the necessary executive car boxes.
Details, specs and alternatives
The E-Class has long been the quintessential Mercedes-Benz and while the now-30-year-old nameplate is set to live on, its replacement is already upon us in the form of the fully-electric Mercedes EQE.
The Mercedes EQE confusingly shares its name with the Mercedes EQE SUV, however it sits much lower (as you'd expect for a saloon) and acts as a rival for other premium EVs such as the Genesis Electrified G80, Audi e-tron GT and the newly-revealed BMW i5.
Alongside its larger EQS sibling, the EQE is the most aerodynamically-efficient new car on sale, with a drag coefficient of just 0.20. Peel away the svelte bodywork and you'll find all EQE models are powered by the same 90kWh battery, which provides a range of up to 376 miles – although this is dependent on exact spec and wheel size.
The entry-level Mercedes EQE 300 utilises a single 245bhp electric motor at the rear and gets from 0-62mph in 7.3 seconds. Boosting power to 288bhp and cutting the 0-62mph time to 6.4 seconds, the EQE 350 model is only marginally more expensive and is our pick of the lineup.
If you're looking to trouble a Tesla Model S Plaid at the lights, you'll instead want to look at the range-topping Mercedes-AMG EQE 53. This adds another motor, this time on the front axle, to provide four-wheel-drive and a combined output of 617bhp. The sprint to the 62mph benchmark takes just 3.5 seconds. If you're interested, we've reviewed this model separately.
While the AMG-tuned EQE is available in Night Edition and Touring variants, the standard EQE 300 and 350 can be configured in both AMG Line and Exclusive Luxury guises, with the former also offered with Premium and Premium Plus equipment packs. 
Even the standard array of kit is strong; LED headlights, adaptive suspension, heated fake-leather seats, a panoramic sunroof and a reversing camera. All EQE models come equipped with Mercedes' latest MBUX infotainment system at no extra cost; Premium Plus cars can upgrade to the huge 43-inch Hyperscreen for around £6,500. This is a bit expensive though – our ideal spec would be the aforementioned EQE 350 in base AMG Line guise as this has all the bells and whistles most owners could ever need.
Range, battery size & charging
| Model |  Range | Wallbox charge time | Rapid charge time |
| --- | --- | --- | --- |
| EQE 300 | 376 miles | 14hrs 30mins (0-100%, 7.4kW) | 31mins (10-80%, 170kW) |
| EQE 350 | 376 miles | 14hrs 30mins (0-100%, 7.4kW) | 31mins (10-80%, 170kW) |
| EQE 53 | 280 miles | 14hrs 30mins (0-100%, 7.4kW) | 31mins (10-80%, 170kW) |
Electric car battery technology has advanced greatly over the past few years, with early EVs being constrained to the city limits due to their short ranges. Not so with the Mercedes EQE; with a range of up to 376 miles, the zero-emissions E-Class is amongst the longest-range electric cars you can buy. The EQE 300 and 350 offer identical range figures, although opting for models with larger wheels can reduce range to 337 miles.
Partnership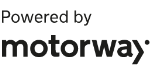 Need to sell your car?
Find your best offer from over 5,000+ dealers. It's that easy.
While Mercedes leads the pack in regards to outright range, its cars don't offer the fastest charging. For example, the Hyundai Ioniq 6 can charge at speeds of up to 233kW, while the Porsche Taycan can even touch 270kW rates if you plug it into a fast enough charger. The EQE, on the other hand, has a maximum charging speed of 170kW. Find a compatible public charger and it's possible to top-up the electric Merc from 10-80% in around half an hour. 
Using a standard 7.4kW home wallbox will take substantially longer; with a usable capacity of 89kWh, we calculate it'll take over 14 hours to charge the EQE fully at this rate. It is compatible with 11kW AC charging for a nine-and-a-half-hour charge, but most homes don't have the three-phase electric required to charge the EQE at this speed.
Running costs & insurance
Bristling with the latest in-car tech and powertrain technology, the Mercedes EQE is far from the cheapest electric car on the market. In fact, starting from almost £75,000, it's more expensive than nearly all of its competitors. 
Things don't get much better when you consider how much it'll cost to charge the electric Merc's huge battery pack; at the current average rate of electricity (30p per kWh), a full charge will set buyers charging at home back around £27. While this is less than filling up an equivalent petrol car, using a public rapid charge could cost just as much.
Things aren't all bad, though; like all EVs, the EQE slots into the low 2% Benefit-in-Kind tax bracket for lucky employees and business owners. It's also exempt from road tax (VED) until 2025, and can enter London's Congestion Charge and Ultra-Low Emissions (ULEZ) zones without incurring a fee.
Performance, motor & drive
| Model |  0-62mph | Top speed | Driven wheels | Power |
| --- | --- | --- | --- | --- |
| EQE 300 | 7.3s | 130mph | Rear | 245bhp |
| EQE 350 | 6.4s | 130mph | Rear | 288bhp |
| EQE 53 | 3.5s | 136mph | Four | 617bhp |
While the BMW 5 Series has long been the go-to executive car option for the keenest of drivers, the Mercedes E-Class has instead been the option if you're looking for a comfortable and serene ride. The Mercedes EQE carries this mantle into the electric age, but only to an extent. You see, while the EQE is exceptionally quiet (no doubt thanks to its slippery shape) and the adaptive suspension system (top-end cars get air springs) manages to iron out the majority of the bumps, it can feel a little too floaty at times and tends to bounce along the road as a result.
It's not that much fun to drive, either; all models accelerate with the same gusto as most EVs, but only the range-topping AMG models provide any outright thrills. While the base EQE 300 is fine generally getting up to motorway speeds, the acceleration does taper off at the top end, making overtakes a little more tedious than you might expect in a car of this calibre. We'd upgrade to the punchier EQE 350 if you can afford it.
The steering is lacking quite a bit in feel, but the EQE is easy to place on the road nonetheless. We also like how configurable the levels of regenerative braking are, with five settings allowing you to find your ideal sweet spot. 
Interior, dashboard & infotainment
Mercedes has become famous for the cutting-edge technology found in its car interiors, and the electric EQE is no exception. There are two infotainment setups to choose from: the base MBUX layout would be considered top-of-the-range on most cars and comprises a 12.3-inch digital instrument cluster, alongside a 12.8-inch OLED touchscreen. The latter is incredibly vivid and responds almost instantly to your inputs like the latest of smartphones. Apple CarPlay and Android Auto functionality comes built-in and while the climate controls are annoyingly relegated to the screen as well, they are at least a permanent fixture.
On AMG Line Premium Plus cars only (as well as both AMG specs) you can step up to the futuristic 43-inch Hyperscreen. This is actually made up of three separate displays mounted under one large glass panel and while it's certainly a party piece, we're not really sure whether it adds anything other than wow-factor. The amount of screen real estate, along with the reflections on the glass, can be a bit distracting while you're driving, too.
The rest of the EQE's interior is a bit of a mixed bag. As you'd expect, there are plenty of luxurious materials, but build quality is far from exceptional. A few too many scratchy bits of plastic have made their way into the cabin, which is fine in a £40k C-Class, but not really acceptable on the EQE. With a high windowline making the Merc's interior feel rather claustrophobic, we think the Genesis Electrified G80 is a much more pleasant place to spend time in.
Boot space, seating & practicality
| Length | Width | Height | Boot space (seats up/down) |
| --- | --- | --- | --- |
| 4,946mm | 1,906mm | 1,503mm | 430/820 litres |
Measuring almost five metres long, the Mercedes EQE isn't all that much shorter than its bigger brother, the EQS. With this in mind, you may be surprised to learn that the mid-size electric Merc's interior doesn't feel quite as spacious as the numbers may suggest. We've already mentioned the high windowline, but what we haven't yet covered is the lack of headroom in the rear; while there's acres of legroom for passengers in the back, the EQE's sloping roofline and a very upright seating position mean taller passengers may struggle to get comfortable.
The Mercedes EQE's boot measures 430 litres, which is rather small for a car of this size. Unlike the larger EQS, the EQE has a traditional saloon bootlid rather than a hatchback opening, meaning it's more difficult to get larger items inside. The load lip is quite high too, although you can fold the rear seats 40:20:40 to expand space to 820 litres.
Reliability & safety rating
Electric cars are thought to be more reliable than their petrol predecessors as they possess fewer moving parts to go wrong. That's a good thing in the case of the EQE as Mercedes as a brand could only muster a 25th-place finish out of 32 manufacturers in our 2023 Driver Power customer satisfaction survey. Over 28% of owners reported a fault within the first year of ownership, which is far above average – BMW and Audi owners reported less faults overall.
That being said, the Mercedes EQE should be very safe at least. Euro NCAP gave it a full five-star safety rating, with the EQE scoring 95% and 91% in the Adult and Child Occupant Protection categories respectively. All EQE models come loaded with safety kit including autonomous emergency braking (AEB), lane-keep assist, blind-spot monitoring, a reversing camera and a centre airbag.