BMW i4 vs Tesla Model 3 vs Polestar 2: running costs and warranty
Each EV here has its merits when it comes to running costs, but the Model 3's extremely high insurance rating is something potential buyers need to be aware of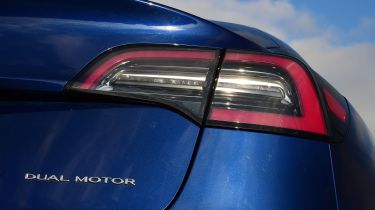 While none of the cars in this test can quite match the Kia EV6's seven-year/100,000-mile warranty, the BMW i4's three-year/unlimited-mileage cover will certainly appeal to those looking to have their next company car for that length of time. The Tesla, meanwhile, is covered by a four-year/50,000-mile guarantee, with the Polestar also getting three years of coverage, but a fairly standard 60,000-mile cap.
The next big consideration in this area is insurance, which is where the Tesla falls on its face. The Model 3 Long Range lands in the highest possible group there is – 50, versus 35 for the Polestar and 36 for the BMW. That's despite the i4's higher starting price, and as a result, even though the Model 3 is cheaper than the i4 eDrive40 we tested, those savings will be significantly by the cost of insuring the Tesla. 
At least, like all electric cars, the i4, Polestar 2 and Model 3 make ideal company cars because of their extremely low 2% Benefit-in-Kind (BiK) tax rates. That means 20% taxpayers will fork out just £214 a year to run an i4 eDrive40, or £200 for a Model 3 Long Range. However, the Polestar undercuts them both in this department, with an annual company-car tax bill of just £172 for a version like ours. Go for the entry-level model and that figure is slashed to just £80 a year.
They're also exempt from road tax (VED) for the time being, as well as the London Congestion Charge and other fees for entering some of the UK's clean-air zones. Plus, service intervals for this trio are also longer than equivalent petrol or diesel-engined models, bringing maintenance costs down.
When it comes to efficiency, the Tesla leads the pack, as it returned 4.4 miles per kWh (mi/kWh) during our time with it. That means it'll cost about £518 a year to charge up for 12,000 miles of driving, at an energy cost of 19p per kWh. That's compared to the BMW and Polestar, which achieved 3.8 and 3.5 mi/kWh respectively. As a result, it'll cost you around £600 a year to cover 12,000 miles in the i4 on the same tariff, or £651 in the Polestar.
BMW does throw in a 12-month subscription to the Ionity rapid-charging network with the i4, as well as a host of other charging companies throughout Europe, which helps take the edge off relying on public chargers if you're doing lots of miles (at least for the first year of ownership). Polestar has a tie-in with the Plugsurfing app that lets users pay for many networks through one account and offers a discounted rate at Ionity stations for the first year. While Tesla doesn't give Model 3 owners special rates, exclusive access to the reliable and widespread Supercharger network is an appealing benefit for lots of drivers.