BMW i4 vs Tesla Model 3 vs Polestar 2: verdict and specifications
The BMW i4 effortlessly claims victory in this company thanks to flawless build quality, flagship-worthy technology and superb handling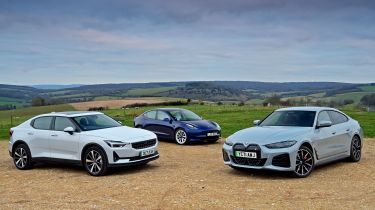 1st: BMW i4 – 4.5 stars
No EV short of the Porsche Taycan handles as well, or is as engaging behind the wheel, as the BMW i4. Taken together with brilliant infotainment, plentiful boot space, standout practicality and flawless build quality, it's hard to argue that the German brand's first electric sports saloon doesn't deserve to claim the top spot in this test. It costs a little more than the Model 3 and isn't quite as efficient, but otherwise the i4 isn't just a brilliant EV, it's an excellent car – full stop. Read our full review for more.
2nd: Tesla Model 3 – 4.0 stars
It's easy to understand why the Tesla Model 3 is one of the best-selling electric cars in the UK, thanks to its exceptional efficiency, appealing monthly finance figures that make it great value for money and the fact that even the mid-tier Long Range version offers jaw-dropping performance. Access to the industry-leading Tesla Supercharger network only sweetens the deal. However, the arrival of the i4 has shone a spotlight on chinks in the Model 3's armour that can't quite be overlooked. Read our full review for more.
3rd: Polestar 2 – 4.0 stars
While it comes in third place here, the Polestar 2 is still a very likeable EV. It doesn't quite offer the exhilarating driving experience of the BMW, nor can it compete with the Tesla's efficiency or charging network, and the single-motor versions aren't as quick as either. But it features great Google-powered technology and handsome styling that's sure to catch many people's eyes. Plus, many of its shortcomings are offset by the fact that it's the cheapest car here in the first place. Read our full review for more.
Specifications
| Car | BMW i4 eDrive40 M Sport | Tesla Model 3 Long Range | Polestar 2 Long Range Single Motor |
| --- | --- | --- | --- |
| List price/price as tested | £53,405 / £63,200 | £49,990 / £58,080 | £42,900 / £49,900 |
| Engine | Single electric motor | Dual electric motors | Single electric motor |
| Transmission | Single-speed, rear-wheel drive | Single-speed, all-wheel drive | Single-speed, front-wheel drive |
| Battery capacity (total / usable) | 83.9 / 80.7 kWh | 82 / 75 kWh | 78 / 75 kWh |
| Power / torque | 335bhp / 430Nm | 434bhp / 493Nm | 228bhp / 330Nm |
| 0-62mph | 5.7 seconds | 4.2 seconds | 7.0 seconds |
| Top speed | 118mph | 145mph | 100mph |
| Annual electricity cost (12k/20k miles @ 19p per kWh) | £600 / £1,000 | £518 / £863 | £651 / £1,086 |
| Charging speeds | 7.4 / 11 / 205kW | 7.4 / 11 / 190kW | 7.4 / 11 / 150kW |
| Charging times | 13h / 8h 45min / 31min (10-80%) | 12h / 8h 15min / 34min (10-80%) | 12h / 8h 15m / 32 min (10-80%) |
| Official range | 365 miles | 374 miles | 336 miles |
| On-test efficiency / range | 3.8mi/kWh / 307 miles | 4.4mi/kWh / 330 miles | 3.5mi/kWh / 273 miles |
| BiK rate (2022-23) / total for 20% taxpayer | 2% / £214 | 2% / £200 | 2% / £172 |
| Length / width / height / wheelbase | 4,785 / 1,852 / 1,448 / 2,856mm | 4,694 / 1,933 / 1,443 / 2,875mm | 4,606 / 1,859 / 1,479 / 2,735mm |
| Boot capacity (seats up/down) | 470 / 1,290 litres | 425 litres | 440 / 1,095 litres |