BMW i4 vs Tesla Model 3 vs Polestar 2: range and charging
We can't but applaud the performance and efficiency of the Model 3 Long Range, while exclusive access to the Supercharger network makes long journeys simpler and less stressful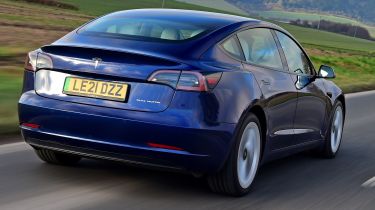 The i4 is the only car here offered with one size of battery – 80.7kWh – however, depending on which version of the BMW you go for, range does differ. The eDrive40 we're driving here can cover up to 365 miles on a charge, but opting for the top-of-the-range M50 with 537bhp and all-wheel drive cuts that figure to 318 miles. 
Then there's the Polestar 2, which is available in three guises: Standard Range Single Motor, Long Range Single Motor and Long Range Dual Motor. According to Polestar, our Long Range Single Motor model will cover up to 336 miles on a charge, while neither the entry-level or top-of-the-range version can crack the 300-mile mark.
Meanwhile, the Tesla Model 3 is similarly offered in three forms: Standard Range Plus, Long Range and the range-topping Performance. The single-motor, entry-level car gets a range of just over 300 miles, while the Performance boasts a 340-mile range. However, it's the mid-range Long Range that leads our triple test with a 374-mile range, despite also featuring a dual-motor setup and 346bhp.
What's more, the Model 3 was also the most efficient of the three, returning 4.4 miles per kilowatt hour (mi/kWh) – well up on the BMW's 3.8mi/kWh and Polestar's 3.5mi/kWh figures. That works out at a real-world range of around 330 miles for our Model 3 Long Range, 307 miles for the i4 and just 273 miles for the Polestar 2.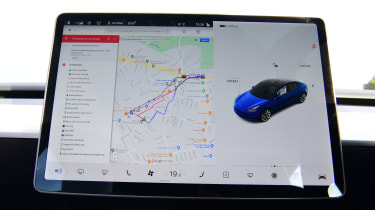 Charging
Things are fairly evenly matched in this test when it comes to rapid charging, with all three capable of topping up from 10-80% in just over half an hour from an appropriately fast charging point. But one of the most appealing parts of Tesla ownership is exclusive access to the Supercharger network, which will be particularly handy for those who regularly do long journeys. It's set to open up to other EV drivers eventually, however, it still stands head-and-shoulders above any other operator for price, charging speed and ease of use, as well as the location, reliability and the number of units on the network. 
Plug the Model 3 Long Range into one of the latest V3 Tesla Superchargers (which can reach up to 250kW) and you can charge the battery from 10-80% in as little as 30 minutes. Meanwhile, the BMW can reach up to 205kW, meaning you can add 102 miles of range in 10 minutes like ours. Filling up from 10-80% takes 31 minutes. 
Then there's the Polestar 2. Entry-level cars can charge at up to 125kW from a fast enough point, but the Long Range gets up to 150kW. Regardless, the same 10-80% top up is complete in just 32 minutes for both Polestars.
However, the majority of the time you'll probably be plugging into a 7.4kW home wallbox to replenish the battery overnight, where there are much bigger differences between these cars. Because it has the smallest battery, fully recharging the Tesla Model 3 Long Range from flat takes just over 11 hours. The same task is done in 12 hours for the Polestar 2, and 13 hours for the i4 with its 80.7kWh battery.