New 2021 Honda HR-V hybrid SUV to be revealed on 18 February
A new generation of Honda HR-V is in the works, and like the Jazz hatchback, it'll be offered with hybrid power only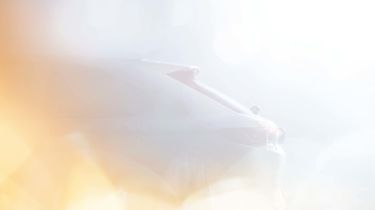 Honda has confirmed that the next generation of its HR-V family SUV will be unveiled on 18 February, and that it'll come as standard with the company's 'e:HEV' petrol-electric hybrid drivetrain, just like the latest Honda Jazz supermini.
The new HR-V is expected to go on sale in the UK in late 2021, and Honda has now revealed a teaser image (above) showing the hatchback roofline of the new car. This corresponds to sightings of camouflaged prototype versions of the car that have been photographed testing on public roads (see gallery below).
This will be the third generation of HR-V, replacing the current second-generation model that has now been around for almost eight years. It's set to join the Honda range at around the same time as an all-new Civic, and both cars will make extensive use of Honda's latest hybrid technology. This 'e:HEV' drivetrain is already available in the current Honda Jazz supermini (which is hybrid-only) and Honda CR-V large SUV (which is becoming hybrid-only in 2021).
Honda's hybrid system pairs a 1.5-litre four-cylinder turbocharged petrol engine with a pair of electric motors and a small battery. With this system, the engine can drive the wheels directly, or it can be used to power the electric motors, while the battery can also send power to the motors to drive the wheels. The battery can also be topped up by the engine, or by energy harvested using a regenerative braking system.
The HR-V hybrid is likely to have a power output somewhere between the smaller Jazz's 108bhp and the larger CR-V's 184bhp. On the outside, the prototype in our images reveals a tougher and more upright front end than the outgoing car, sporting a bigger hexagonal grille, an inverted V-shape bonnet and sharper-looking front lights.
At the sides, the windows are larger, while the straighter roofline suggests better visibility and headroom for rear-seat passengers than in the somewhat cramped current HR-V. At the rear there's a very raking screen giving a sporty coupe look, along with what'll probably be a sleeker set of rear lights than those found on the current car.
We haven't seen any clues as to what the new HR-V's interior will look like yet, but it's expected to get quite a radical overhaul, making much more use of minimalist design, large touchscreens and digital dials than the now quite dated-looking current version.
New BMW i4 2021: specs, range and on-sale date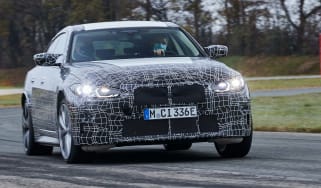 New BMW i4 2021: specs, range and on-sale date
The new pure-electric BMW i4 is coming soon, with the final phase of testing before its reveal currently underway
Best electric motorbikes 2021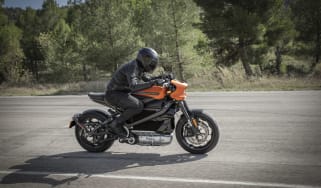 Best electric motorbikes 2021
More and more brands are getting in on the electric motorcycle action. Here's our pick of what's out there right now
Dacia electric car: new 2021 Dacia Spring production model revealed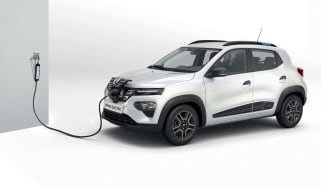 Dacia electric car: new 2021 Dacia Spring production model revealed
Cut-price Renault-based electric city car is set to be the cheapest zero-emissions model in Europe