Hyundai Kona Hybrid review
The Hyundai Kona Hybrid is efficient and visually distinctive, but falls behind class leaders in some key areas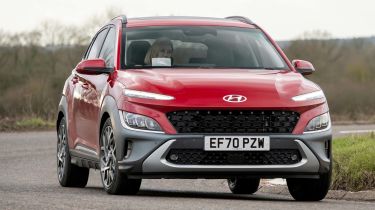 Pros
Great fuel economy
Quiet at steady speed
Stylish design throughout
Cons
Not fun to drive
Not hugely practical
Noisy when you accelerate
| Car type | Fuel economy  | CO2 emissions |  0-62mph  |
| --- | --- | --- | --- |
| Hybrid | 55-58mpg | 112-115g/km | 11.0-11.3s |
The Hyundai Kona Hybrid is one of many electrified Hyundai models, combining low emissions with a practical SUV bodystyle. It's not a plug-in model, so regenerative braking and power from the small petrol engine charge the small battery, rather than mains electricity. Alternatives include the hybrid Kia Niro and Toyota C-HR, and while the Kona Hybrid was updated recently with new technology, it'll always be overshadowed by its sibling, the excellent Kona Electric.
There are also mild-hybrid petrol versions of the Kona, but if you can't make the electric model work, this 'full hybrid' version is probably the best option for low running costs. It uses a 1.6-litre petrol engine with a 43bhp electric motor for a combined 139bhp, so performance isn't a strong point – although we don't mind that too much in this kind of car.
There's a small 1.56kWh battery, and while the Kona Hybrid can run on electric power alone for short periods, it's mainly used to make driving in traffic more efficient. The computer automatically turns the engine on and off to achieve this, and it does so seamlessly. The automatic gearbox means it's really easy and relaxing to drive in traffic.
Official figures suggest that the Kona Hybrid will return between 55 and 58mpg, depending on which model you go for (the higher-spec models are less efficient). We found that these numbers aren't unrealistic in real-world conditions, although they're not class-leading. Low CO2 emissions of 112-115g/km mean it's a good company-car option and will be cheaper to tax than petrol versions.
The Kona likes to be driven in a relaxed manner. It's hardly fast, as 0-62mph takes over 11 seconds, but it's mainly the automatic gearbox at fault. It tends to react slowly to your inputs, and brings revs up to a loud drone when you do want to accelerate, so it's best to use a light throttle and keep things relaxed. The Kona leans into corners and the steering is light and doesn't have much feedback, so it's not one for keen drivers. There's a hot petrol-only Kona N if that's more your thing. Yet even on models on 18-inch alloy wheels, it's comfortable over bumps, which reinforces the idea that this car is more about relaxation than fun.
Inside, the interior styling lives up to the promise of the sharp, appealing exterior. Although the doorbins are a bit small, there's plenty of storage space otherwise and a comfortable driving position with good visibility is easy to find. Large families may be disappointed with the practicality, however. With the front seats pushed back, legroom is only really suitable for small children, while the 374-litre boot is far from the largest in the class (although not far off the Toyota C-HR). For a more detailed look at the Hyundai Kona Hybrid, read on for the rest of our in-depth review...