Twin test: Audi e-tron GT vs Porsche Taycan 4S
They use a lot of the same technology under the metal, but which of these sleek four-door coupes is the better electric performance car?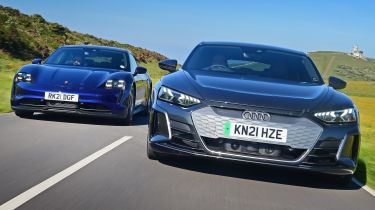 Electric cars have truly come of age in the last few years, and we now have models that can take on city commutes, family motoring and long-distance trips with ease. But there's one area where there's still some doubt as to whether zero-emissions models can truly match the capability of their combustion-engined predecessors, and that's sports cars.
Enthusiasts will often rave about a characterful engine, satisfying gearchange or sonorous exhaust note, and claim there's no substitute for the thrills of petrol power. But electric drivetrains are here to stay, with the government's 2030 ban on the sale of new purely combustion-engined cars edging ever-closer. So it'll be good news for the environment and enthusiasts alike if car manufacturers can unlock the formula for enjoyable electric driving.
Porsche and Audi are two premium brands with a long line of renowned high-performance models to their name, and both have now launched their first serious efforts at a zero-emissions sports car: the Taycan and the e-tron GT. The two VW Group brands worked together to develop the technology underpinning both models, but the end products are still subtly different, reflecting the character of each marque.
Both have already impressed us individually, but now it's time to bring them together for a head-to-head comparison to truly highlight each contender's strengths and weaknesses – and decide which of them is the better electric performance car overall.
Audi e-tron GT quattro Vorsprung
Pros: Looks great inside and out, high-tech interior
Cons: Poorer residuals, lower owner satisfaction
Porsche Taycan 4S Performance Battery Plus
Pros: Incredible handling, beautiful interior
Cons: Expensive options, cramped in the back
There's little to separate them on paper, then, but our job here is to find out how they differ from behind the wheel – and how each stacks up as a long-term ownership prospect. Read on for the rest of our comparison test to find out…