Audi e-tron GT vs Porsche Taycan 4S: running costs and warranty
Low running costs, strong warranties and impressive residual values mean it's good news all round here, save for high insurance groups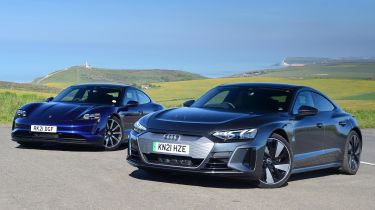 For both cars, charging at home on the average UK domestic electricity rate (roughly 14p per kWh), translates to spending just under £1,000 per year to cover 20,000 miles. To match that in a petrol car with fuel costs of £1.35 per litre, you'd need a model capable of returning 123mpg. If you're running either the Audi or Porsche as a company car, you're quids-in, as both attract a Benefit-in-Kind (BiK) rating of just 1% during the 2021/22 financial year, rising to 2% in the two subsequent years.
The news is also good when it comes to residual values: both the Taycan and e-tron GT retain their value exceptionally well compared to similarly priced petrol-engined luxury cars. After three years and 36,000 miles, the Taycan 4S is expected to retain nearly 75% of its over £84,000 asking price, although adding expensive options at the point of ordering will chip away at that figure.
The e-tron GT isn't quite as impressive in this respect; it's expected to be worth just over 60% of its new value after the same period. But that's a lot better than equivalent combustion-engined Audis: the RS 7 Sportback holds on to about 50% of its new price, while the A8 and S8 do even worse, retaining just 45 and 32% respectively.
Those strong residual values will translate to lower monthly finance payments on both cars, further driving down ongoing costs. The one area where you probably won't save money with the Porsche or Audi is insurance: both cars are in high insurance groups from 48 to 50, so cover won't be cheap.