Audi e-tron GT vs Porsche Taycan 4S: interior and infotainment
Both cars offer extremely high-quality interiors packed with the latest in-car technology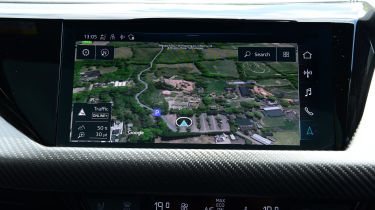 The Audi's interior feels more futuristic and concept-car like than the Porsche's, which has more of the traditional premium sports-car air about it. It has just as much up-to-date on-board technology to play with, however, and both cars boast stunning build quality and premium finishes throughout.
There's a large diamond-shaped housing behind the steering wheel for the 'Virtual Cockpit' digital dials, another large screen in the upper middle of the dashboard and then a stack of physical climate-control buttons just above the air vents. The absence of a large gearstick gives an uncluttered feel to things, and there are two big cupholders in the centre console.
Unlike in some rivals, the Audi's two screens don't blend together to appear as one large display stretching across the dashboard. The brand's 'MMI navigation plus' suite is standard on all e-tron GTs; this incorporates real-time traffic data as well as destination suggestions based on previously driven routes when it's generating sat-nav directions. A range of 'Audi connect' online services is also offered, including emergency calls; remote control of the locking system, charging and climate control; online traffic information; and Google Earth navigation.
In the Taycan, touchscreens are the order of the day: there are just four physical controls on the entire dashboard, namely the ignition switch, gear selector, park button and hazard-warning button. There's a beautiful curved display behind the steering wheel showing essential driving information, a larger screen in the middle of the dashboard for infotainment and a second screen below that to operate the climate control. You can even add a fourth screen, ahead of the front-seat passenger, as an optional extra.