Audi e-tron GT vs Porsche Taycan 4S: verdict and specifications
A slightly more enjoyable driving experience just shades it for the Porsche, but both models are great examples of how good an electric performance car can be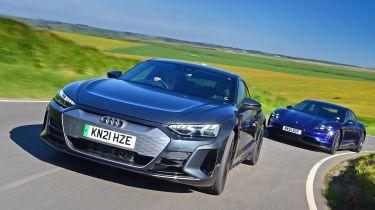 As you can see from the star ratings below, this comparison is a very close-run thing and it really is splitting hairs to pick a favourite from the Porsche and the Audi. But if the criterion is 'best electric sports car', then the nod has to go to the Taycan. It's just ever so slightly sharper and more agile than the Audi it shares so many parts with. But either model will prove enormously satisfying to anyone looking for a sporty, luxurious and premium zero-emissions car.
1st: Porsche Taycan 4S – 4.5 stars
The Taycan is simply one of the most convincing all-round electric cars to have gone on sale to date. This mid-range 4S model will probably offer more than enough for most buyers; it's so good, it almost makes the significantly more expensive Turbo and Turbo S variants seem redundant. With brilliant handling, a fantastic interior, top-notch infotainment and minuscule running costs, there really are no downsides – as long as you can afford it, of course.
2nd: Audi e-tron GT – 4.5 stars
The Audi's second place only reflects the fact that the Taycan is a marginally more entertaining driver's car. In almost every other respect, there's little, if anything, to separate the pair. So the Audi is also one of the best electric cars you can buy, and it may even be more appealing than the Porsche to those who favour comfort over agility and sportiness. We prefer its more futuristic interior and infotainment setup, but better predicted residual values mean the Porsche will have slightly cheaper monthly payments, and owners rate its dealer network higher than Audi's as well.
Specifications
| Car | Porsche Taycan 4S Performance Battery Plus | Audi e-tron GT quattro Vorsprung |
| --- | --- | --- |
| On-the-road price / total as tested | £87,936 / £105,391 | £107,300 / £108,250 |
| Engine | Dual electric motors | Dual electric motors |
| Transmission | Two-speed auto, four-wheel drive | Two-speed auto, four-wheel drive |
| Battery capacity (total / usable) | 93.4 / 83.7kWh | 93.4 / 83.7kWh |
| Power / torque | 563bhp / 650Nm | 523bhp / 640Nm |
| 0-62mph | 3.8 seconds | 4.1 seconds |
| Top speed | 155mph | 155mph |
| Charge time (wallbox/rapid) | 9hrs (0-100%) / 23mins (10-80%) | 9hrs (0-100%) / 23mins (10-80%) |
| Official range | 283 miles | 298 miles |
| On-test efficiency / predicted range | 2.9 miles/kWh / 243 miles | 2.9 miles/kWh / 243 miles |
| Road tax / BiK rate  | £0 / 1% | £0 / 1% |
| Length / width / height / wheelbase | 4,963 / 1,966 / 1,379 / 2,900mm | 4,989 / 1,964 / 1,396 / 2,900mm |