Audi e-tron GT vs Porsche Taycan 4S: performance and handling
Both cars are seriously impressive to drive, but the Taycan just has the edge for sheer responsiveness and agility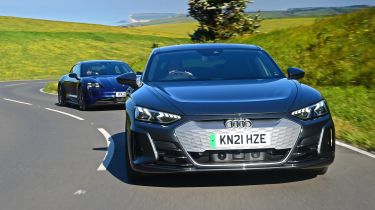 The Audi e-tron comes as standard with two electric motors: one on the front axle driving the front wheels and one on the back axle driving the rears. Unlike most electric cars, it has a two-speed transmission: second gear is used for most normal driving, while first comes into play when you need strong acceleration off the line.
With 523bhp and 650Nm of torque on tap, the car can get from 0-62mph in 4.1 seconds, but if that's not fast enough for you, there's always the more expensive RS e-tron GT version, which can do the same sprint in 3.3 seconds. The Taycan also offers a choice of variants: our 4S test car makes 563bhp and will do 0.62mph in 3.8 seconds, but the range-topping Turbo S drops that to 2.8 seconds courtesy of its massive 751bhp output.
Adaptive dampers are standard on the e-tron GT, with regular suspension springs. Our test car was in Vorsprung trim, which adds air suspension, but also rode on 21-inch alloy wheels, which are not actually available on UK-spec examples. Overall it was the smoother-riding of the two cars, despite the Taycan having smaller 20-inch wheels.
It's a close-run thing, however, and in truth both car's excellent ride quality is extremely impressive for such sporty models. In its 'Normal' driving mode, the Taycan feels almost as comfortable as the Audi, but flick it into 'Sport' or 'Sport Plus' and it hunkers down, sharpens up and does its best impression of a 911 or Cayman.
There's a bigger difference when it comes to steering. Our e-tron GT had four-wheel steering fitted, but while you'd expect that to make the Audi feel more agile, we actually prefer the more linear response and more confidence-inspiring weight Porsche has engineered into the Taycan. The e-tron GT is not exactly far off, though; in fact, for steering precision it matches or betters the brand's petrol-engined R8 supercar, which is high praise indeed.
Both cars grip extremely well, which is a big part of why they feel much lighter than their two-tonne-plus weights would suggest when you're tackling a twisty road. You're reminded of that figure when you hit the brakes, though; the discs and tyres can definitely be felt working hard to scrub off momentum.