Citroen e-C4 X review: Citroen's strangest new model?
If you prefer the saloon bodystyle, the supremely comfortable Citroen e-C4 X makes a strong case for itself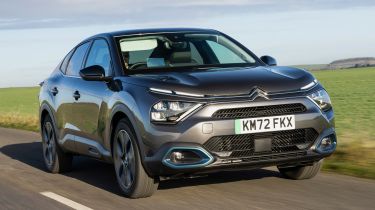 Pros
Comfortable and refined
Plenty of passenger space
Same price as e-C4
Cons
Rivals more fun to drive
Awkward styling
Tight boot opening
Citroen e-C4 X verdict
The introduction of the Citroen e-C4 X is a bit of an odd move for the French brand. Ultimately, it's not a car best suited to British buyers; we tend to favour hatchbacks and SUVs rather than saloons. And yet in many ways, it makes the standard e-C4 seem a bit redundant. Just like that car, the e-C4 X offers a comfortable ride thanks to Citroen's patented 'Hydraulic Cushion' suspension, plus all versions get a heap of standard equipment, and a strong range figure for the price point. It's got a big boot, too – it may not be as accessible as the e-C4's hatchback, but the overall capacity and increased rear legroom means that for some it'll be the pick of the pair and a sound choice if you're looking for a budget electric family car.
Range details, specs and alternatives
The traditional family saloon is rapidly becoming a thing of the past and what we're left with is models like the Citroen e-C4 X: an electric saloon that's attempting to capitalise on the current SUV craze with a jacked-up ride height and slightly rugged styling cues.
Under the metal, the e-C4 X shares many of its parts with the e-C4 which – no thanks to sharing almost 90% of the e-C4 X's name – makes it very easy to get confused between the two. The main difference is where the e-C4 has a hatchback tailgate, the e-C4 X is around 240mm longer and instead features a more traditional saloon-style boot.
There are no other electric saloons available at this price point, with the equivalent Tesla Model 3 costing over £10,000 more than the Citroen. Therefore, the e-C4 X must instead go toe-to-toe with other mainstream electric family cars such as the Volkswagen ID.3, Renault Megane E-Tech and Kia Niro EV. We mustn't forget the Ora Funky Cat and the MG4 – the latter of which comes in at around £5,000 less than the Citroen. 
When it launched, the e-C4 X (and its e-C4 sibling) was fitted with a 50kWh battery and a 134bhp electric motor – providing a range of up to 222 miles. However, from mid-2023, Citroen has offered an optional larger 51kWh battery and punchier 154bhp motor; performance figures haven't been confirmed, but Citroen claims a far greater 262-mile maximum range.
You still get 100kW DC rapid charging as standard across the range, but both versions can top up from 10-80% in half an hour when connected to a compatible public rapid charger.
Citroen has revised the e-C4 X's trim line-up for 2024, with buyers now choosing from three specifications: YOU!, MAX and e-Series. Starting at just over £32,000, the entry-level Citroen e-C4 X YOU! isn't exactly cheap, but thankfully it comes fully loaded with kit including a 10-inch touchscreen with Apple CarPlay and Android Auto connectivity, LED headlights, 18-inch wheels, dual-zone air conditioning, Citroen's Advanced Comfort seats, plus a range of safety and driver assistance features including autonomous emergency braking (AEB), lane-keep assist and rear parking sensors.
Stepping up to the mid-spec MAX model costs around £3,000 extra, but nets you some luxuries like an upgraded touchscreen with built-in sat-nav, a head-up display, heated Alcantara seats, a heated steering wheel, blind-spot monitoring and a reversing camera. Given the huge step up in price, we only think it's worth the extra if you plan to spend a lot of time in the e-C4 X.
Partnership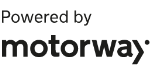 Need to sell your car?
Find your best offer from over 5,000+ dealers. It's that easy.
If you want to go on long journeys frequently, you'll likely want to opt for the top-of-the-range e-Series model as this is the only way to get the larger 51kWh battery pack. Also available with the smaller 50kWh battery, e-Series cars get an exclusive two-tone paint scheme as well as light grey interior upholstery and gloss black alloy wheels. We're not sure if it's worth the £1,000 premium over the MAX car, though, unless you're willing to spend even more and go for the bigger battery.
Range, battery size & charging
| | | | |
| --- | --- | --- | --- |
| Model | Range | Wallbox charge time | Rapid charge time |
| 50kWh | 222 miles | 7hrs 30mins (0-100%, 7.4kW) | 30 mins (10-80%, 100kW) |
| 51kWh | 262 miles | 7hrs 30mins (0-100%, 7.4kW) | 30 mins (10-80%, 100kW) |
From mid-2023, Citroen e-C4 X buyers were given a choice of 50kWh or 54kWh batteries – the latter capable of up to 260 miles on the WLTP test cycle. During our drive of the smaller battery car, we easily managed over 200 miles – compared with up to 222 miles in official tests. This is similar to what we achieved in the smaller Vauxhall Corsa Electric, which also shares the e-C4 X's powertrain. 
The Citroen e-C4 X comes as standard with 100kW ultra-rapid DC charging capabilities. This is faster than the 77kW speeds possible in the Kia Niro EV, and will charge both versions of the Citroen from 10-80% in 30 minutes. It's worth keeping in mind, though, that many rapid charge points in the UK top out at 50kW, meaning the same charge will take around an hour at this lower speed.
Unless you're planning to go on longer journeys frequently, most of the time you'll likely be charging the e-C4 X via a 7.4 kW home wallbox – a full charge will take around seven-and-a-half hours at one of these. If you're really in a pinch, you can always use an old-school three-pin plug, although this can take up to a day to charge the car fully.
Running costs & insurance
At face value, the Citroen e-C4 X costs quite a bit more than a petrol-powered C4 and C4 X, which start at around £22,000. However, like all electric cars, the e-C4 X is exempt from road tax (VED) until 2025 and also slots into the low 2% Benefit-in-Kind (BiK) tax bracket for company car drivers.
Plugging-in an electric car at home to charge can also be cheaper than filling up a traditional petrol or diesel car at a fuel station, too – especially if you have an EV-specific energy tariff. However, it's worth remembering that making use of public rapid chargers frequently can be just as expensive – sometimes even more so – than paying for petrol.
The e-C4 X should be pretty cheap to insure, as well. Falling into groups 21 and 22 depending on spec, it actually sits one or two groups lower than the e-C4 hatch on which it is based.
Performance, motor & drive
| | | | |
| --- | --- | --- | --- |
| 0-62mph | Top speed | Driven wheels | Power |
| 9.5s | 93mph | Front | 134-154bhp |
Straight off the bat, it's worth mentioning the Citroen e-C4 X doesn't offer the same mind-boggling acceleration as some electric cars; it certainly feels punchy enough around town, but with a 9.5-second 0-62mph time, the e-C4 X's power delivery can be described as smooth, rather than scintillating. 
In mid-2023, the e-C4 X was tweaked with an upgraded 154bhp motor – offered alongside the 134bhp version in the launch car. Having driven the more powerful model we'll be the first to admit that there's very little difference between it and the standard car in terms of acceleration. In fact, the only way to 'unlock' the extra 20bhp on tap is by switching the car into its sportiest setting which does at least feel a little punchier than the e-C4 X's otherwise leisurely powertrain.
The e-C4 X uses the French marque's 'Progressive Hydraulic Cushions' suspension setup that includes hydraulic bump stops to soak up imperfections in the road. The soft damping means there is a noticeable amount of body roll when cornering, but to us it's a fair trade-off for the smooth ride. Refinement is great, too, further contributing to the relaxing driving experience we expect from modern Citroens.
Overall, if you're after an EV that's fun to drive, you're better off looking at something like an MG4 or Cupra Born. Otherwise, the e-C4 X is ideal if you spend the majority of your time cruising around town and want something that deals well with the multitude of speed bumps and potholes that litter our streets.
Interior, dashboard & infotainment
Inside, the cabin is identical to the regular e-C4. It's certainly not as quirky as some Citroens of old, but many will appreciate the logical layout and solid build quality, if not the chunks of hard plastics dotted around the place. The highlights of the cabin are Citroen's 'Advanced Comfort' seats, which feature special 15mm high-density foam pads for additional comfort. After many hours spent driving the car, we can confirm that they work.
Citroen's infotainment systems have never been the best around, and it's the same story here. This latest interaction is a step in the right direction, but there's room for improvement. One very odd quirk is that the software doesn't allow you to move the sat-nav map around or pinch zoom with your fingers. Thankfully, all models come equipped with Apple CarPlay and Android Auto.
All cars get a 10-inch central touchscreen as standard, though from the mid-spec MAX upwards this is upgraded to the firm's My Citroën Drive Plus system. It's a higher-resolution unit, and while most buyers will be happy with the standard setup, it's definitely sharper – and helps provide a clearer picture for the reversing camera.
The screen is coupled with a small, simple digital instrument cluster and, on higher spec cars, a head-up display. It's not an augmented reality system or one that's projected onto the windscreen, instead it uses a transparent piece of plastic that rises out of the dashboard. It's effective, just a bit behind the times in 2023.
Boot space, seating & practicality
| Length | Width | Height | Boot volume (seats up/down) |
| --- | --- | --- | --- |
| 4,600m | 1,834mm | 1,525mm | 510/1,360 litres |
To create the e-C4 X, Citroen extended the e-C4's wheelbase (the distance between the front and rear wheels) by 240mm. This means there's much more space in the rear, with passengers able to stretch out thanks to plenty of legroom and the reclined back seats. With a grand total of 16 cubby holes, there's also plenty of places to tuck valuables and other items away.
The e-C4X's boot measures at 510 litres, which is 130 litres larger than the standard e-C4. It's also much larger than what's offered in the Ora Funky Cat or Nissan Leaf. If you need to carry longer items, the Citroen's rear seats can be folded flat to expand the cargo area to 1,360 litres.
The main issue is the e-C4 X's traditional saloon bootlid, which can make it difficult to fit larger items inside such as prams and suitcases. If you plan to carry items like this often, the regular Citroen e-C4 with its hatchback tailgate, or even the MG5 EV estate, should be much easier to live with in this regard.
Reliability & safety rating
Good news for prospective Citroen e-C4 X buyers; its sister car, the e-C4 was rated the best car to own in our 2024 Driver Power customer satisfaction survey, with owners praising their cars' reliability and safety features. In fact, Citroen as a brand also did commendably well in our brand survey, coming 11th out of 32 manufacturers. Around 14% of owners reported a fault with their car within the first year of ownership, which is quite a bit below average, while many were impressed by the low running costs and level of comfort associated with Citroen models.
The standard Citroen C4 underwent safety testing by Euro NCAP in 2021, with its four-star rating also applying to the mechanically-similar e-C4 X. While this is not quite a perfect score, the e-C4 X should be very safe, with all models coming as standard with autonomous emergency braking (AEB), lane departure warning with lane-keep assist, and speed limit information. Higher-spec cars also get night-time and cyclist detection for the AEB system, blind-spot monitoring, automatic high beams and traffic sign recognition.