BMW i8 Coupe (2014-2020) range, MPG, CO2 & charging
Despite the BMW i8 Coupe's performance, it delivers comparable range to many more conventional plug-in hybrid family cars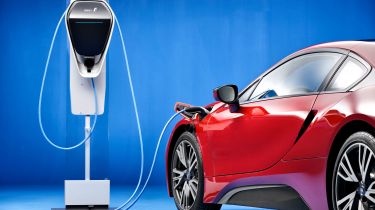 | Fuel economy | CO2 emissions | Electric range | Wallbox charge time |
| --- | --- | --- | --- |
| 123mpg | 49g/km | 23 miles | 3hrs (3.7kW) |
The i8 range consists solely of this Coupe and the Roadster, but due to some differences in their construction and therefore weight, the Coupe is slightly more efficient. That means no matter what specification and options you choose, you don't pay a penalty when it comes to fuel economy, CO2 emissions, range or charging times.
BMW i8 Coupe range, MPG & CO2
We've already mentioned the i8 is in a class of one, but compared with its hybrid rivals listed above, the German machine's claimed fuel economy of 123mpg and CO2 emissions of just 49g/km are extremely impressive. Of course, that's assuming you plug the car in regularly to keep the battery topped up. Otherwise, you're carrying around a heavy battery pack and electric motor that's not really supplying much thrust – with just the 1.5-litre petrol engine to supply power, this saps efficiency.
The battery pack will never be fully depleted though, as the car's systems will recharge it on the move – either by using the engine as a generator to top it up or by harnessing energy when braking that would otherwise be wasted. That front-mounted electric motor works in reverse here to force energy back into the battery.
Even if you don't plug the car in religiously, you'll still get around 40mpg average fuel economy – compare this to other hybrid sports cars like the Honda NSX or conventionally powered petrol performance machines, such as the Porsche 911, and the BMW's real-world efficiency is certainly impressive.
Charge time
The i8 comes as standard with a five metre three-pin charging cable to connect it to a conventional home socket, as well as a Type 2 cable for faster charging from a wallbox. If your only option is to plug into a conventional socket, then from empty it'll take less than four and a half hours to fully charge the 11.6kWh battery.
The Type 2 cable can pump energy at a faster rate when connected to a fast charger, which will charge the car fully in less than three hours. BMW's 360 Electric programme offers a number of different charging options for your home with its different i Wallbox options, starting from £570 (a government grant can cover most of this cost).
Of course, you can charge the battery on the move as well. In Sport mode, more energy is forced into the battery than in Comfort or Eco Pro, while you can also hold the state of battery charge for use when you get to a built-up area.