BMW i8 Coupe (2014-2020) reliability & safety
The i8 uses conventional technology where possible and mixes this with advanced engineering to deliver strong reliability and safety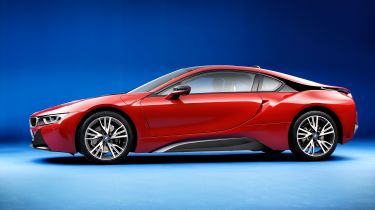 Despite the advanced nature of the i8's chassis and engine, we've not heard of any reliability problems with the car. The 1.5-litre turbocharged petrol engine is shared with sister brand MINI, and although it's in a higher state of tune than in the small British-built hatchback, it's a reliable unit.
BMW i8 Coupe reliability
BMW didn't perform too well in our sister title Auto Express' Driver Power owner-satisfaction survey in 2018, finishing 25th out of 30 brands, but the i8 takes much from more conventional cars such as the 3 Series so, where possible, it uses tried-and-tested technology.
One thing that's worth noting is that the carbon-fibre passenger cell is difficult and expensive to repair if it's damaged in an accident, so the i8 is easier to write off than conventionally constructed rivals. 
Safety
Euro NCAP hasn't crash-tested the BMW i8, but due to that strong carbon safety cell, the car should offer plenty of protection in a crash. There are a lot of safety measures fitted to hopefully stop that happening. Stability control and anti-lock brakes are standard, while the £5,100 laser headlights improve visibility at night.
The standard Driving Assistant package adds Approach Control Warning to help avoid collisions, high-beam assistance, a rear-view camera and speed-limit info. There's also pedestrian detection and, for £85, an eDrive sound emitter that warns pedestrians you're approaching in towns and cities by emitting a noise.