BMW i8 Coupe (2014-2020) interior & comfort
The BMW i8 reflects its futuristic powertrain with a high-quality and advanced interior that comes loaded with kit as standard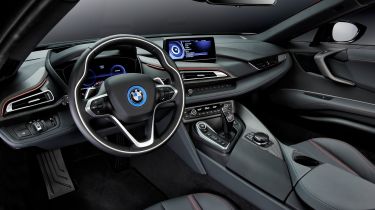 When you swing the i8's scissor door open you're greeted by an interior lined with leather and high-quality materials. It's matched by the standard kit you'd expect from a car costing more than £100,000.
BMW i8 Coupe dashboard
You sit low in the i8, and the driving position means you're left in no doubt as to the BMW's sportiness. However, while this layout might not look the most practical, on the whole the ergonomics are good so it's a usable space.
The climate controls and infotainment system will be familiar to anyone who's sat in a BMW before. The ventilation buttons are located in front of the gearlever at the base of the centre console, while perched on top of the dash is an 8.8-inch infotainment screen controlled by the rotary iDrive wheel on the transmission tunnel.
There's plenty of adjustment in the seat and the steering wheel, so you get a great view of the digital dashboard ahead of you, which gives plenty of information. If this isn't enough, there's also a head-up display in your eyeline that projects sat-nav directions, speed and revs on to the windscreen. The whole interior is lined with leather and feels well built.
Equipment, options and accessories
As there's just one i8 trim available, all cars get the same great level of standard equipment. This includes cruise and climate control, front and rear parking sensors, LED headlights, electric heated front seats, an 8.8-inch infotainment system with sat nav and BMW ConnectedDrive services, including apps and real-time traffic info, DAB, Bluetooth, a Harman Kardon stereo and adaptive dampers.
Options you might want to consider include different exterior and interior trim and colour combinations, as well as features such as laser headlights for improved safety at night. However, be prepared for the already high price to rise steeply from here if you delve into the options list.
Infotainment, apps & sat nav
The i8's infotainment system is an evolution of BMW's multimedia setup and works with beautiful simplicity. The screen's graphics are good and it's placed in the right position on the dash. The control interface is one of the best on the market and the menu layout makes it easy to navigate around different areas of the system.
On top of this, it's easy to hook your smartphone up to the Apple CarPlay function, while the sat nav is easy to programme. We also found the real-time traffic info accurate and the overlaid charging points on the map very useful – you can also search for the closest one to your position or your destination, as well as points along your chosen route. The resolution of the rear-view camera could be sharper, though.