Honda NSX review
The NSX feels futuristic, is great fun and savagely rapid, but it's really no more efficient than a non-hybrid supercar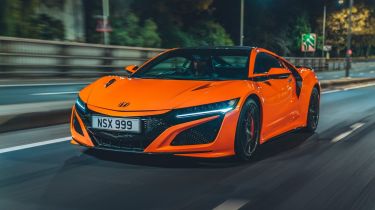 Pros
Looks spectacular
Hi-tech throughout
Unintimidating yet stupidly fast
Cons
Doesn't sound fantastic
Non-hybrids are as efficient
Not as practical as some rivals
| Car type | Fuel economy | CO2 emissions | 0-62mph |
| --- | --- | --- | --- |
| Hybrid | 26mpg | 242g/km | 3.3s |
Several manufacturers, like McLaren, have gone down the hybrid supercar route since, and others like Porsche are focusing on high-performance electric cars. But the Honda NSX remains the original eco-conscious sports car.
When launched, it was a direct rival to the now-discontinued plug-in hybrid BMW i8 Coupe and other sports cars like the Audi R8 and Porsche 911 Turbo. There's no mistaking the NSX as anything other than a top-end sports car; given its 3.3-second 0-62mph time and rather punchy £148,000 price tag, some might even call it a supercar. 
The styling certainly helps the NSX sell itself as a supercar, with the low roof, precise creases, aggressive stance and gaping air intakes all declaring the NSX to be the speed machine of the future. The interior styling flair also doesn't disappoint.
Power is in plentiful supply, with 573bhp streaming from a 3.5-litre twin-turbocharged V6 petrol engine (which accounts for 500bhp on its own) and three electric motors – one on each front wheel and one on the rear axle – to provide four-wheel drive. Of course, there are a number of driving modes that can alter the car's character to suit the occasion, from whisper-quiet commuter to face-bending supercar thriller.
That said, the NSX is a heavy car by the standards of its peers, and that shows with handling that's invigorating, but not quite as playful and adjustable as that of a McLaren. Still, it's up there with the Porsche 911 and Audi R8 for fun and handling character, which is no small compliment.
We'd like the NSX to make a bit more noise about that savage performance, as it doesn't have quite the rebellious, howling soundtrack that you expect of a car that so clearly puts fun first on the agenda. Nevertheless, the NSX still features on our list of the best hybrid and electric supercars, and for a more detailed look at the Honda NSX, read on for the rest of our in-depth review...