BMW i8 Coupe (2014-2020) engines, drive & performance
The BMW i8 Coupe only has a small petrol engine, yet delivers sports-car performance for shoestring running costs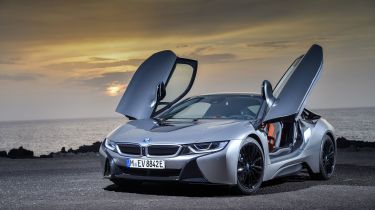 | 0-62mph | Top speed | Driven wheels | Power |
| --- | --- | --- | --- |
| 4.4s | 155mph | Four | 364bhp |
Sound is almost as big a part of a sports car's character as performance, but despite a small three-cylinder engine, the BMW delivers a muscular soundtrack to match its startling performance and agility.
BMW i8 Coupe hybrid engine, 0-62mph and acceleration
There's only one powertrain option in the BMW i8. It's a 1.5-litre three-cylinder turbocharged petrol that it shares with the MINI Cooper (MINI is owned by BMW and produces its own plug-in hybrid models), only here it's been tuned to produce 228bhp. It works with a 141bhp electric motor that drives the front wheels, giving a total output of 364bhp.
With a kerbweight of 1,535kg – not bad for a car with a big battery pack – this is enough to propel the i8 from 0-62mph in 4.4 seconds. That's helped by four-wheel-drive capability off the line, so the BMW delivers strong grip to help acceleration and puts all that power to the road effectively. It has to be pointed out that the i8 is simply not as fast as its rivals, so while it feels exhilarating by any standard, a Porsche 911, Audi R8 or McLaren 570S are all quicker.
Still, the i8 can reach a top speed of 75mph on electric power alone – this means zero-emissions running even on the motorway is possible. The gearbox's shifts aren't quite as fast as a modern dual-clutch box, but it's competitive and around town it manages the switch between petrol and electric power seamlessly, so there's no nasty jerking or clunking.
In Sport mode, the engine growls as its sound is enhanced inside, but the three-cylinder unit has a pleasant burble that befits the techy nature of the i8's powertrain – it's overlaid by a futuristic whine from the front electric motor on full throttle, while you can hear the motor sending power back to the battery under braking. It's worth mentioning the i8's braking performance, too, as when you're slowing down the electric motor helps to shed speed, acting in reverse to help charge the battery. While the brakes are good the feel isn't great due to this element of the regenerative braking.
Handling
Part of BMW's approach to the i8's design included relatively narrow tyres to keep resistance down and therefore CO2 emissions and fuel consumption low. This means that there isn't quite as much grip as in more conventional rivals, but you'll only ever really notice this if you take your i8 to a track.
As all the i8's weight is kept low down in the body to keep the centre of gravity low, on the road the BMW changes direction with a rewarding degree of responsiveness. There's not much feel through the steering though, so you might find it difficult to judge when the grip will run out. Push too hard into a roundabout and you will find the limit, but the BMW feels benign and doesn't bite you if you get a little too exuberant.
No matter what speed you're at, the i8 feels stiff. It's a sports car, so to contain lean the suspension is on the harder side – and riding on 20-inch wheels if you hit a bump in town or on a faster A-road it can occasionally send a thud through the car's structure. However, with adjustable suspension dampers fitted as standard it doesn't get too crashy or jarring, and for such a rigid, performance-focussed car it's well controlled and more than comfortable enough for daily use.