Top 5 best hybrid sports cars 2023
Hybrid power can make a sports car faster and more fuel-efficient; we rank the best models on sale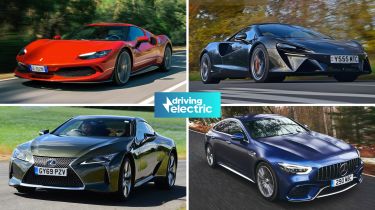 A decade ago, most hybrids were relatively sedate family cars that were all about keeping running costs as low as possible – think the likes of the Toyota Prius and Mitsubishi Outlander PHEV.
However, in recent years, manufacturers have discovered that adding hybrid power to a car not only makes it more fuel-efficient, but can also vastly increase a car's performance, too. The almost-instant torque provided by an electric motor can virtually eliminate issues such as turbo lag, while simultaneously increasing a car's total power output. Some models can even be driven on hybrid power alone for short distances, making the thirstiest of sports cars less expensive to run than you might expect.
Of course, while there are now several attainable hybrid-powered performance cars out there, such as the Mercedes C 63 S E-Performance and Volkswagen Golf GTE, there are still very few affordable hybrid sports cars, aside from the most expensive supercars, like the now-discontinued Polestar 1 flagship. 
Our list summarises the very best hybrid sports cars on sale today. If you'd rather skip hybrid power altogether and are looking for something fast that still runs on electricity, why not check out our other list of the best electric sports cars you can buy? If you're only interested in the best of the best, we also have a list of the fastest electric cars in the world.
For now, read on for our top hybrid sports car picks…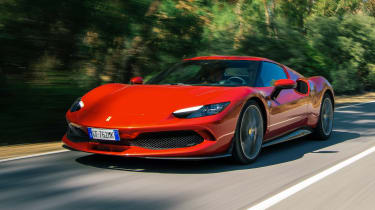 1. Ferrari 296 GTB
You may be surprised to hear that even Ferrari has succumbed to lowering its overall emissions by making a hybrid, but the 296 GTB is a brilliant example of how adding electric power can benefit performance, without sapping any kind of driver enjoyment. The 296 sits below the also-hybrid SF90 Stradale in the Prancing Horse's lineup and offers up to 15 miles of pure-electric range. 
Despite weighing in at around 1.5 tonnes, the 296 feels incredibly nimble and responsive and is surprisingly easy to drive fast. Just be ready to empty your wallet, as at over £240,000, the hybrid V6 sports car is by far the most expensive model on this list.
Read our full Ferrari 296 GTB review to find out more.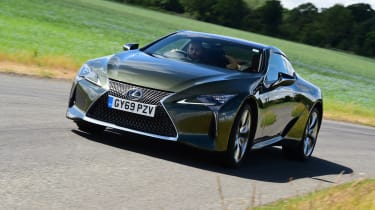 2. Lexus LC 500h
It's fair to say Lexus makes some of the most striking-looking cars on sale right now, and the LC 500h coupe is perhaps the most jaw-dropping of them all. While many hybrid sports cars use their electrified engines to benefit performance, the LC 500h instead prioritises fuel economy; Lexus says its hybrid flagship will return almost 35mpg on the combined WLTP test cycle. 
Performance hasn't been totally forgotten, though, as the LC 500h will still get from 0-62mph in 4.7 seconds. A petrol V8-powered model with no hybrid assistance is offered if you want to sacrifice efficiency to go even faster, while the LC is also available as a soft-top Convertible for all the eco-friendly sun chasers out there.
Read our full Lexus LC 500h review to find out more.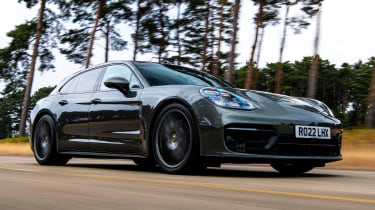 3. Porsche Panamera
The original Panamera proved that Porsche could provide a sports car-like driving experience in a practical four-door package. The latest model only improves things further and can also be specified with a plug-in hybrid powertrain. 
Partnership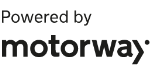 Need to sell your car?
Find your best offer from over 5,000+ dealers. It's that easy.
Entry-level Panamera 4 E-Hybrid models produce 456bhp, whereas the range-topping Turbo S E-Hybrid outputs a monstrous 690bhp and gets from 0-62mph in just 3.2 seconds. As you'd expect from a Porsche, the Panamera feels incredibly luxurious and well-built, plus it comes loaded with some of the latest infotainment tech. Go for the family-friendly Sport Turismo estate and you'll even have room for the kids.
Read our full Porsche Panamera review to find out more.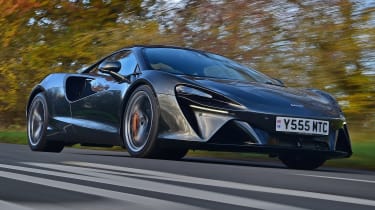 4. McLaren Artura
The McLaren Artura may not be the British brand's first hybrid supercar – that honour goes to the now-legendary P1 – but it's certainly impressive, nonetheless. Packing a 7.4kWh battery, the plug-in hybrid Artura is able to travel up to 19 miles on electric power alone. If you decide to fire up its V6 engine, the Artura produces an impressive 671bhp and will get from 0-62mph in just three seconds. 
What truly makes the Artura stand out, however, is its communicative steering and surprisingly comfortable ride for a supercar, which almost makes it possible to drive every day – if you can live with the low ride height and lack of storage space, that is.
Read our full McLaren Artura review to find out more.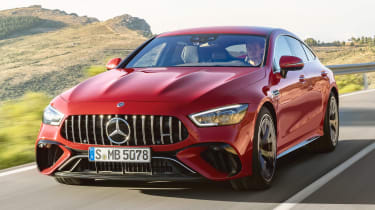 5. Mercedes-AMG GT 63 S E-Performance 4-Door
In strong contention for the 'Most Convoluted Car Name' award, the Mercedes-AMG GT 63 S E-Performance 4-Door is marketed as a hybrid, four-door version of the AMG GT coupe. Despite sharing many of its parts with the Mercedes E-Class, the GT 4-Door feels like a model in its own right and offers sharp handling and blistering performance. 
While the addition of a battery and electric motor does make the E-Performance variant rather heavy, Mercedes has done well to disguise most of its bulk on a twisty road. Its absurd 831bhp output also means the hybrid GT 4-Door can embarrass many supercars at the lights, getting from 0-62mph in just 2.9 seconds.
Read our full Mercedes-AMG GT 4-Door review to find out more.
Top 5 best hybrid sports cars
Models coming soon…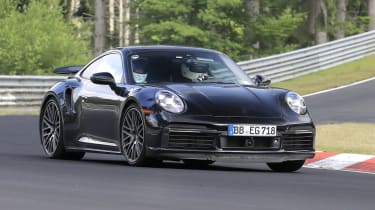 Porsche 911 Turbo S E-Hybrid
A facelift for the iconic Porsche 911 is coming this year and with it, a new top-of-the-range hybrid model. Likely badged the 911 Turbo S E-Hybrid, this is expected to offer similar performance figures to the hybrid-powered Panamera, producing around 700bhp.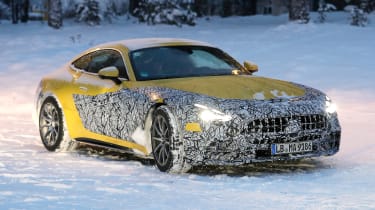 Mercedes AMG GT E-Performance
Mercedes is preparing to unveil an all-new version of its AMG GT Coupe. While this is expected to feature the German brand's tried-and-tested 4.0-litre bi-turbo V8 engine, a plug-in hybrid E-Performance model also looks to be in the works, likely sharing its powertrain setup with the hybrid-powered GT 4-Door.
BMW M5
Cover your ears BMW purists: the next-generation M5 will be a hybrid. There's no need to worry, though, as the new model – set to debut in the next year or so – will likely share its powertrain with the BMW XM flagship SUV. This utilises a petrol V8 alongside an electric motor to produce 644bhp. It's possible the M5 could be even more potent, however, potentially making it the most powerful BMW ever.
Top 10 slowest-depreciating electric and hybrid cars 2023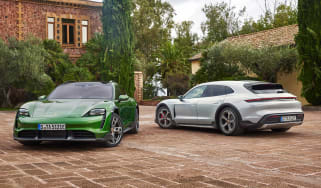 Top 10 slowest-depreciating electric and hybrid cars 2023
New electric cars coming in 2023 and beyond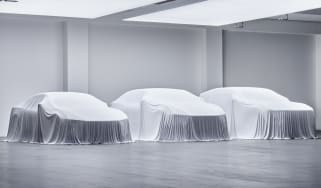 New electric cars coming in 2023 and beyond
With electric cars making up an ever-increasing proportion of sales, the industry is working flat out to launch new models – here's what's on the way …
New Toyota battery tech to deliver 500-mile EVs by 2026; 750-mile ranges to come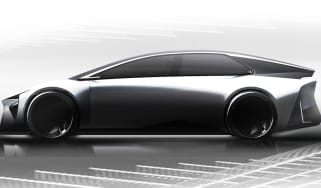 New Toyota battery tech to deliver 500-mile EVs by 2026; 750-mile ranges to come
Toyota has revealed details on its latest battery technology, set to underpin its next generation of EVs
New Fiat 600e SUV prices announced: £3,000 cheaper than a Jeep Avenger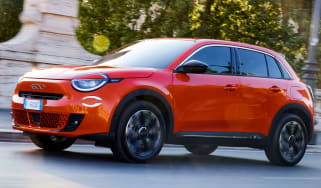 New Fiat 600e SUV prices announced: £3,000 cheaper than a Jeep Avenger
The larger sibling to the Fiat 500e gets a stylish SUV-like design and a 249-mile range