Top 10 best hybrid and electric sports cars 2022
Bringing thrills and performance with their powerful electric motors, these are the best electric and hybrid performance cars to buy in the UK in 2022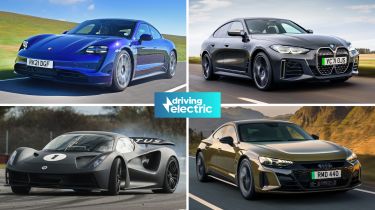 The early days of electric motoring saw a few laughs at the expense of models' feeble power outputs and limited driving ranges. Those days are now well and truly over, as not only are regular electric cars able to meet or beat their combustion-engined counterparts, but some of the best electric sports cars now have the power to worry almost any supercar.
These days even high-end supercar makers like Ferrari use batteries, electric motors and regenerative braking to boost their cars' performance, as well as add other benefits like lower running costs and better engine response. Hybrid technology means carmakers can continue to produce fun and exciting sports cars that don't emit nearly as much CO2 as models from just a few years ago.
In this article, we'll take a look at some of our favourite electrified (hybrid and fully electric) sports cars. We've covered models from all-out supercars to performance saloons, so if you're looking for a powerful and exciting car with an electric motor, read on – and don't forget to follow DrivingElectric on Twitter, Facebook,Instagram and YouTube for the very latest.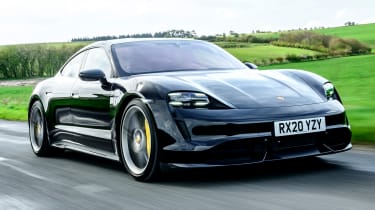 1. Porsche Taycan
The Porsche Taycan was the first pure-electric car from the prestigious German brand. It's fair to say it hit the ground running and continues to seriously impress. In its most powerful form – top-spec Turbo S – the Taycan can cover 0-62mph in just 2.8 seconds on its way to a dizzying top speed of 161mph. How? Two motors that combine to produce 751bhp in 'overboost' mode. The performance is especially impressive given that the Taycan weighs in excess of two tonnes. It's so impressive, in fact, that we've named the Taycan our 'Best Electrified Performance Car' for the past two years in succession. Read our full review here.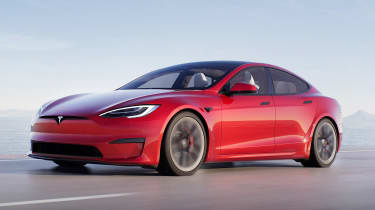 2. Tesla Model S Plaid
The Model S is classed as an executive car rather than a sports car and has been on sale in the UK since 2013. That said, it shows no sign of slowing down, either in popularity or speed. In the right settings, the Model S Plaid is capable of 0-60mph in a savage 1.99 seconds, en route to a top speed of 200mph. Its two electric motors combine to produce over 1,000bhp; more than from most supercars. True, it's not especially agile around a corner, but in a straight line, it's nothing short of astonishing. Read our full review here.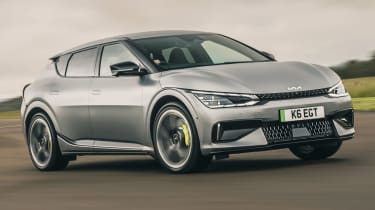 3. Kia EV6 GT
The standard Kia EV6 paved the way for the next generation of Kia's electric cars and immediately made a solid impression thanks to its strong range, overall sense of quality and composed driving experience. The EV6 is a sportier alternative to its sister car, the Hyundai Ioniq 5, and while standard EV6s are no slouches, the GT takes the sporting aspect to the next level. Its dual-motor, all-wheel-drive setup delivers 577bhp, which results in a 0-62mph time of just 3.5 seconds and top speed of 161mph. Read our review of the EV6 GT here.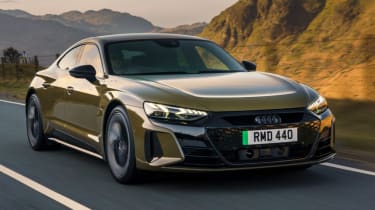 4. Audi RS e-tron GT
The RS e-tron GT is the top-spec version of Audi's Porsche Taycan rival – and it's a close rival, since the cars share parts. The RS e-tron GT has 590bhp and can accelerate from 0-62mph in 3.3 seconds, going on to 155mph. Technology such as four-wheel steering and adaptive suspension means it handles well, too. It doesn't lean in corners and has loads of grip, plus it's comfortable over bumps even in the stiffer Dynamic driving mode. It combines all this with a surprisingly practical and luxurious cabin, so it lives up to its name as a GT car – it's comfortable on a long trip, but great to drive on a twisty road. Read our full review here.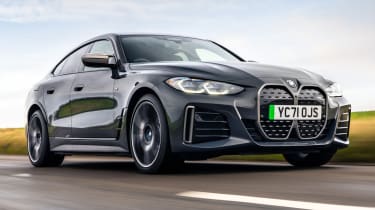 5. BMW i4 M50
The BMW i4 is essentially the electric equivalent of the BMW 3 Series, so there's pressure to deliver in both the performance and usability departments. Fortunately, the i4 meets these demands with ease – especially in range-topping M50 guise. It'll manage up to 318 miles of range from an 81kWh battery and, thanks to a pair of motors producing 527bhp and 795Nm of torque, will sprint from 0-62mph in 3.9 seconds. What's more, it should be easy to live with on a daily basis, thanks to 470 litres of boot space, plenty room for four adult passengers, BMW's iDrive infotainment and a rapid-charging time of just 31 minutes from 10%-80% capacity when connected to a 200kW or faster charging point. Read our full review here.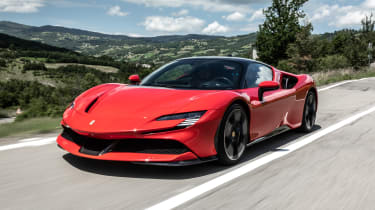 6. Ferrari SF90 Stradale
The SF90 Stradale is the Italian brand's first plug-in hybrid, sitting at the top of the range with staggering performance and a hefty price tag of over £375,000. It uses a 4.0-litre twin-turbo V8 engine and three electric motors, plus an 8kWh battery. Total power is an astonishing 987bhp, all put to the rear wheels via an eight-speed dual-clutch gearbox. As you'd expect, this massive power output equates to serious performance: 0-62mph takes just 2.5 seconds, with 0-124mph taken care of in 6.7 seconds. It's the most powerful V8-engined Ferrari ever, so it's fitting that it's best enjoyed on a race track. Read our full review here.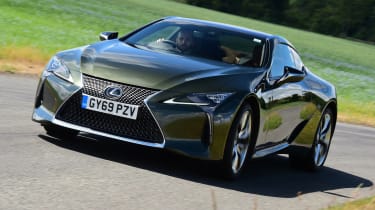 7. Lexus LC 500h
The hybrid version of the Lexus LC is slightly less of a dinosaur than its gas-guzzling, non-hybrid sibling: while the latter return less than 25mpg from its 5.0-litre V8, the former will easily return over 40mpg thanks to its 3.5-litre unit. In conjunction with the electric motor, the LC 500h produces 354bhp, which translates into a 0-62mph time of 4.7 seconds. A cutting-edge platform and low centre of gravity make for superb handling, while the interior is one of the most luxurious and attractive on the market. Read our full review here.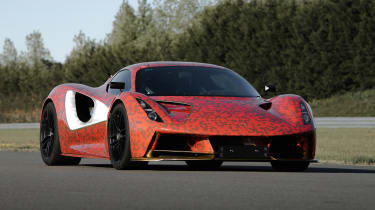 8. Lotus Evija
It wouldn't be a list of the best sports cars without Lotus making an appearance. The Evija is the first electric car from the British brand and looks to make a statement. Firstly, at over £2 million, it costs enough to make the Ferrari above look affordable. Secondly, it has 1,972bhp, a 0-60mph time of less than three seconds and a top speed of over 200mph. While the Evija is far more exclusive than many previous Lotus models, it sets an exciting benchmark for the brand's future electric cars; you can read more about them here.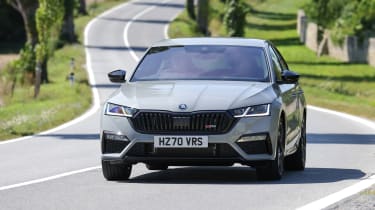 9. Skoda Octavia vRS iV
The Octavia vRS is now in its fourth generation and has made the switch from traditional diesel to a petrol plug-in hybrid (PHEV) setup – signified by the 'iV' badge. Under the bonnet you'll find the same 242bhp petrol-electric combination that powers the Cupra Leon e-Hybrid and Volkswagen Golf GTE. This takes the Octavia from 0-60mph in a respectable 7.3 seconds. While not exactly blistering, that isn't what vRS-badged Skodas are really about. Instead, what they've always done is blend practicality and affordability with just the right amount of sportiness. This means you could easily use the Octavia vRS iV as a daily commuter and take it for enjoyable B-road blasts at the weekend; it'll take both tasks in its stride. Read our full review here.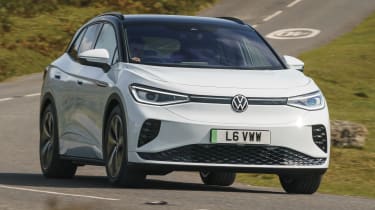 10. Volkswagen ID.4 GTX
The ID.4 GTX is the first electric performance car from Volkswagen and does a fine job of injecting the regular ID.4 with extra fun factor. It's powered by a dual-motor, all-wheel-drive setup that produces 295bhp. These motors are paired to a 77kWh battery – effectively the same powertrain used in the Audi Q4 e-tron 50 quattro. Also similar to the Audi, the VW will sprint from 0-62mph in 6.2 seconds and go on to a top speed of 111mph. Even though it weighs 2.2 tonnes, the ID.4 GTX handles rather well, too, thanks to the smart way in which this weight is distributed. Read our full review here.
Top 10 best luxury electric cars 2023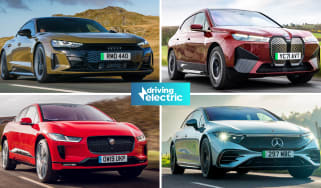 Top 10 best luxury electric cars 2023
Top 10 longest range electric cars 2023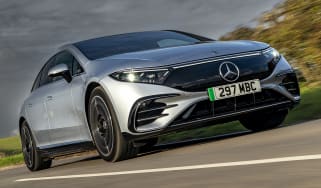 Top 10 longest range electric cars 2023
Polestar 2 now with 395-mile range and faster charging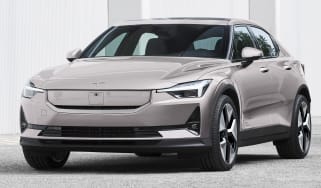 Polestar 2 now with 395-mile range and faster charging
The Tesla Model 3 rival gets major updates for the 2024 model year; order books open now, with prices starting from £44,950
New Peugeot e-3008 electric SUV to offer 435-mile range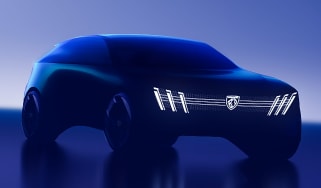 New Peugeot e-3008 electric SUV to offer 435-mile range
Peugeot's first bespoke EV will be available with all-wheel drive and is due to be revealed later this year
First look at new Ford electric SUV ahead of 2023 reveal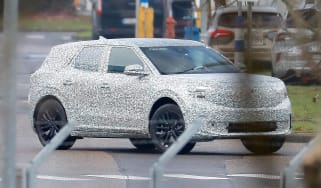 First look at new Ford electric SUV ahead of 2023 reveal
The as-yet-unnamed EV is expected to debut in March and will be built on the same platform as the Volkswagen ID.4 SUV