Top 7 best hybrid and electric sports cars 2021
Bringing thrills and performance with their powerful electric motors, these are the best electric and hybrid performance cars to buy in the UK in 2021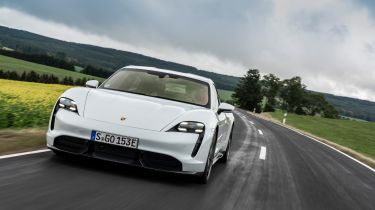 The early days of electric motoring saw a few laughs at the feeble commuter cars and milk floats that – fittingly – couldn't pull the gold top off a bottle of full-fat. Those days are well and truly over, as we're now in the era of electric saloons with 0-62mph times that'll worry any supercar and actual electric supercars with twice the horsepower of any combustion-engined car.
These days even the high-end supercar makers like McLaren and Aston Martin use batteries, electric motors and regenerative braking systems to boost their cars' performance, as well as adding other benefits like lower running costs and better engine response. Hybrid technology means that carmakers can continue to produce fun and exciting sports cars that don't emit nearly as much CO2 as models from just a few years ago.
In this article, we'll take a look at some of our favourite electrified (hybrid and fully electric) sports cars. We've covered models from all-out supercars to performance saloons, so if you're looking for a powerful and exciting car with an electric motor, read on – and don't forget to follow DrivingElectric on Twitter, Facebook, Instagram and YouTube for the very latest.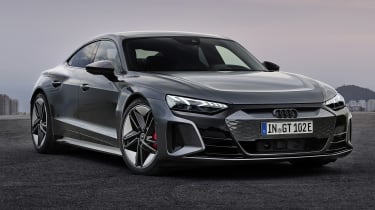 Audi RS e-tron GT
The RS e-tron GT is the top-spec version of Audi's Porsche Taycan rival – and it's a close rival, since the cars share mechanical and electrical parts. The RS e-tron GT has 590bhp and can accelerate from 0-62mph in a blistering 3.3 seconds, going on to 155mph. Technology such as four-wheel steering and adaptive suspension means it handles well, too. It doesn't lean into corners and has loads of grip, plus it's still comfortable over bumps in the road even in the stiffer Dynamic driving mode. It combines all this with a surprisingly practical and luxurious cabin, so it lives up to its name as a GT car – it's comfortable on a long trip but great to drive on a twisty road. Read our full review here.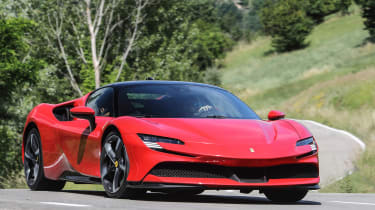 Ferrari SF90 Stradale
The SF90 Stradale is the Italian brand's first-ever plug-in hybrid, sitting at the top of the range as a halo model with staggering performance and a hefty £375,000 price tag. It uses a 4.0-litre twin-turbo V8 engine and three electric motors, plus an 8kWh battery; total power is an astonishing 987bhp, all put to the rear wheels via an eight-speed dual-clutch gearbox. As you'd expect, this massive power output equates to serious performance: 0-62mph takes just 2.5 seconds, with 0-124mph taken care of in 6.7 seconds. It's the most powerful V8-engined Ferrari ever, so it's fitting that it's best enjoyed on a race track. Read our full review here and check out news of the upcoming Spider convertible version.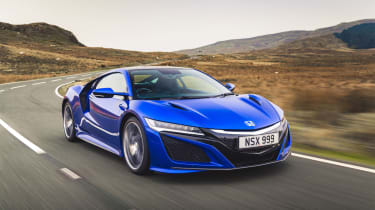 Honda NSX
The hybrid Honda NSX produces 573bhp, the majority of which comes from its 3.5-litre twin-turbocharged V6 petrol engine. The rest is developed by three electric motors: one for each front wheel and a third for the rear axle, giving the NSX four-wheel drive. This helps handling enormously, providing lots of grip and making the NSX extremely fun to drive. It's massively fast too, with a punchy 0-62mph figure of 2.9 seconds and a top speed of 191mph. As a hybrid alternative to the supercar mainstream, it doesn't get much better. Read our full review here.
Lexus LC 500h
The hybrid version of the Lexus LC is slightly less of a dinosaur than its gas-guzzling, non-hybrid sibling: while the latter will return 24.4mpg from its 5.0-litre V8 engine, the former sees a much more reasonable 43.5mpg thanks to its 3.5-litre unit. In conjunction with the electric motor, the LC 500h produces 354bhp, which translates into a 0-62mph time of 4.7 seconds. A cutting-edge platform and low centre of gravity make for superb handling, while the interior is one of the most luxurious and attractive on the market. Read our full review here.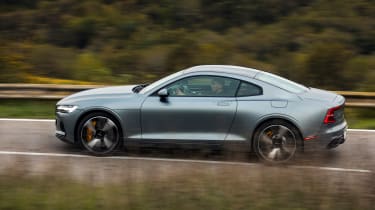 Polestar 1
As Volvo's sporty, upmarket cousin, Polestar is building a reputation for exciting cars. The first of these was the Polestar 1, a plug-in hybrid grand tourer with all the boxes ticked: handsome styling, huge performance and fantastic all-electric range from its 34kWh battery. The 0-62mph sprint is over in just 4.2 seconds thanks to 601bhp and 1,000Nm of torque on tap, while a keen chassis helps to disguise the 1's considerable weight. Polestar claims a 77-mile all-electric range for its first and only hybrid – the most of any plug-in hybrid currently on sale. However, with production numbers limited and prices starting at just under £140,000, you'll have to be pretty lucky to get your hands on one. Read our full review here.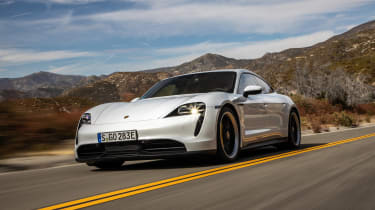 Porsche Taycan
The Porsche Taycan is the German manufacturer's first pure-electric car, and it's fair to say that it's hit the ground running: in its most powerful form – top-spec Turbo S – the Taycan can hit 0-62mph in just 2.8 seconds on its way to a dizzying top speed of 161mph. How? Two motors that combine to produce 751bhp in 'overboost' mode. The performance is especially impressive given that the Taycan weighs in excess of two tonnes. It's so impressive, that in the 2021 Driving Electric Awards, we named the Taycan 'Best Electrified Performance Car'. Read our full review here.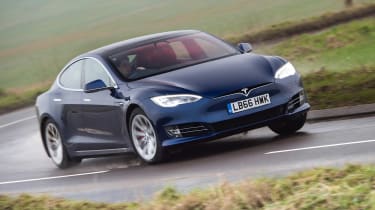 Tesla Model S
The Tesla Model S isn't a true sports car, but it's still about as fast as anything else on the road today. Using Tesla's fabled 'Ludicrous Mode' setting, the Model S is capable of 0-60mph in a savage 2.4 seconds, en route to a top speed of 155mph. Its two electric motors – one of which is a 'high-performance' unit – combine to produce 751bhp; the same as you get in the Taycan and more than you get from most supercars. True, it's not especially agile around a corner, but in a straight it's line nothing short of astonishing. Read our full review here.
Top 10 best plug-in hybrid SUVs 2022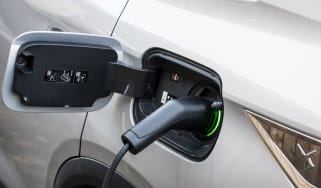 Top 10 best plug-in hybrid SUVs 2022
The finest plug-in hybrid SUVs offer low running costs, enough electric range for daily use and excellent practicality. These are the best plug-in hyb…
Top 10 best plug-in hybrid cars 2022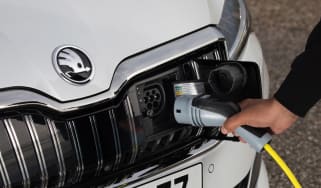 Top 10 best plug-in hybrid cars 2022
Plug-in hybrid cars are great for keeping fuel and company-car tax bills low. Here are the best ones to buy in the UK right now
Top 10 best luxury electric cars 2022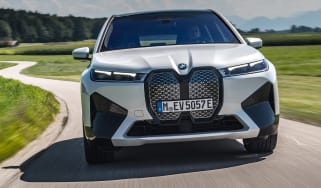 Top 10 best luxury electric cars 2022
From Audi to Tesla, here are our top picks of the most luxurious zero-emissions motoring options on the market right now