Best electric-car deals UK 2023
Looking to buy a new electric car using Personal Contract Purchase (PCP) finance? Here are the best deals on offer from electric-car manufacturers right now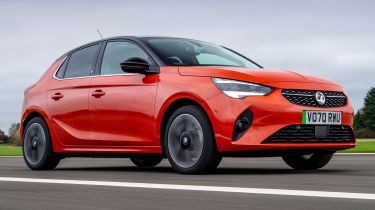 Let's not beat around the bush: electric cars are pretty expensive. Even the cheapest electric car, the BYD Dolphin supermini, costs around the same as a family hatchback like the Volkswagen Golf – and that's for a base model with a range of under 200 miles.
Therefore, unless you're lucky enough to be a company car driver and able to make use of the low Benefit-in-Kind tax ratings offered for EVs, you're likely looking at several finance deals in order to fund your electric car purchase.
We've scoured the internet to find five of the best electric car deals currently out there. These range from 0% APR finance – a rarity in these days of high interest rates – to big discounts and even freebies like inclusive servicing or a free wallbox charger.
One thing we must reiterate is that while some of these monthly offers may look appealing, it's important to commit to a deal you can afford. Your credit rating is at risk if you don't keep up with the necessary payments, though the big advantage of PCP is that you can always hand the car back – possibly with a small penalty to pay – if you find yourself unable or unwilling to see out the contract.
As manufacturers' finance deals change all the time, it's best to consider these as representative examples to give you an idea of what you'll pay for a certain make and model. Dealers can always tweak these offers to suit you, if you want to pay a smaller or larger deposit, or have a lower or higher annual mileage limit. All deals were valid at the time of writing but are subject to change.
If you're just after the best-of-the-best, why not check out our lists of the best small electric cars, the best electric SUVs, or our general roundup of the best electric cars on sale? Keep reading, though, for the best electric car deals as of September 2023.
Renault Megane E-Tech – 0% finance over 24 months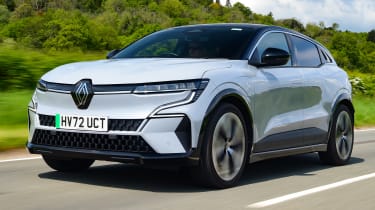 The latest Renault Megane is almost unrecognisable from the car it replaces, going from being an unremarkable family hatch to a fashionable electric crossover almost overnight. With a range of 280 miles, the Megane E-Tech is more than capable as a family car, and boasts what is arguably one of the best infotainment systems in the industry right now. Powered by Google software, the Renault's touchscreen responds just as well as the latest smartphones and even uses Google Maps for the navigation software.
Renault is currently offering two finance deals on the Megane E-Tech right now; the first comprises three years free servicing when you take out a 7.9% APR PCP deal. We think the second option is more compelling, however, as if you can summon up a hefty deposit, Renault is currently offering two-year finance with zero interest on the Megane E-Tech, with payments as low as £124 per month.
Read our full Renault Megane E-Tech review to find out more.
Fiat 500e – £3,000 E-Grant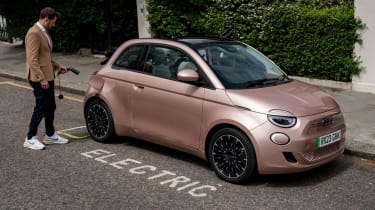 The Fiat 500e is one of our favourite small cars, fixing many common complaints people had with the old petrol-powered model such as its uncomfortable ride and gutless powertrain. Base models have a range of around 120 miles, while those with the larger 42kWh battery pack are capable of roughly 200 miles on a charge, and both models take roughly half an hour to top up at a DC rapid charger, despite their different charging rates.
Partnership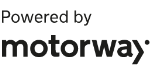 Need to sell your car?
Find your best offer from over 5,000+ dealers. It's that easy.
Perhaps the biggest drawback of the electric 500 (other than its tiny boot) is the fact that it's quite a bit more expensive than the model it replaces. Thankfully, Fiat is currently offering its 'E-Grant' on all 500e models – essentially a £3,000 discount whenever you take out a PCP. That's roughly a 10% discount range-wide, meaning the base models start from just a smidge over £25,000 – cheaper than even the aforementioned BYD Dolphin.
Read our full Fiat 500 review to find out more.
Volkswagen ID.3, ID.4 and ID.5 – 0% PCP finance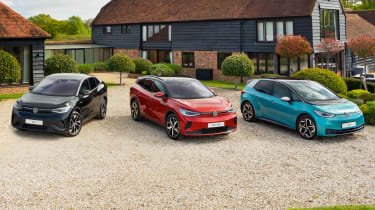 Volkswagen is slowly but surely growing its ID. range of electric cars, the lineup now comprises the ID.3 hatchback, the ID.4 family SUV, the ID.5 coupe-SUV and the ID. Buzz MPV. No matter which one you opt for, all promise lower running costs compared to the petrol equivalent, as well as spacious interiors, strong range figures and punchy powertrains. With all cars sharing similar components and no horror stories to report thus far, they should be pretty reliable, too.
Also standard across the Volkswagen electric range – aside from facelift versions of the ID.3 and the ID. Buzz – is the option for 0% interest PCP finance. With the pre-facelift ID.3, the ID.4 and ID.5 all offering strong residuals in the first place, this is a great option for shrewd EV buyers looking to minimise expenditure in the long run. A minimum deposit of 5% is required and the maximum term is 36 months.
Read our full Volkswagen ID.4 review to find out more.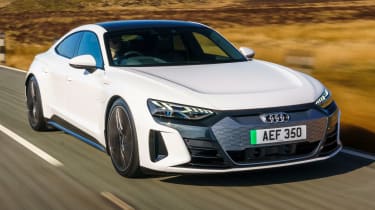 Audi e-tron GT – up to £13,000 off, plus a free charger
Not all electric cars are practical SUVs and boring city cars; the Audi e-tron GT is the German maker's flagship model and an electric sports car that shares its parts with the Porsche Taycan. As you'd expect from an Audi, it's incredibly luxurious, with all cars getting sumptuous leather upholstery and the brand's fantastic Virtual Cockpit digital instrument cluster. What you might not expect, however, is blistering acceleration and a finely tuned chassis that offers a superb blend of comfort and driver engagement.
As you'd expect, the e-tron GT is pretty expensive: prices start from around £86,000. Nonetheless, Audi is currently offering a whopping £11,000 discount on PCP finance, representing a huge 13% reduction. If you combine this with the extra £2,000 you get from the ULEZ scrappage scheme, this results in a £13k saving, plus Audi will also throw in a free Ohme wallbox charge and, if that isn't enough, will cover the installation, too.
Read our full Audi e-tron GT review to find out more.
Vauxhall Corsa, Astra and Mokka Electric – 0% PCP finance/5-year 7.9% APR PCP deal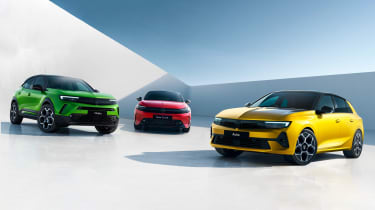 The Vauxhall Corsa was one of the best-selling cars in the UK last year, with its larger Mokka SUV sibling not too far behind. Both are also available with fully-electric powertrains, with ranges of up to 250 miles and 100kW rapid charging for quick top-ups – just like the newly-revealed Astra Electric. Generous equipment lists mean all three cars offer all the creature comforts you expect, while a recent facelift has sharpened up the Corsa's exterior to bring it in line with the Mokka and Astra, and has expanded the lineup to include two electric motor and battery options.
Unfortunately, like several Stellantis (Vauxhall's parent company) products, the Vauxhall Corsa, Astra and Mokka Electric are all rather expensive. Thankfully, the British brand is currently offering all three with 0% APR finance over two years whenever you place a 30% deposit. This means you'll pay the same as you would if you bought the car outright. Vauxhall is also offering five-year PCP finance deals at a competitive 7.9% APR if you'd rather spread the cost for longer.
Read our full Vauxhall Corsa Electric review to find out more.
Cupra Born – 0% APR finance for up to three years
Sporty and stylish, the Cupra Born is one of our favourite electric cars. Despite its sensible family hatchback proportions, it's a hoot to drive thanks to a punchy rear-mounted electric motor and sharp steering. Based on the Volkswagen ID.3, the Cupra in many ways feels more premium than its more expensive VW counterpart; even the base V1 model comes with almost all the kit you could ever need, while the interior feels well-built, spacious and classy – that is, if you can get past all the flashy copper accents.
Just like its Volkswagen competitor, the Cupra Born is now being offered (for a limited time) with 0% APR finance over three years, meaning taking out a finance package won't cost you any more than buying the car outright. After a healthy £7,000 deposit, you could be paying as little as £315 per month to own one of the most attractive EVs out there. To sweeten the deal, Cupra is also throwing in an 'e-Care' package that's supposedly worth £99 and includes your first service.
Read our full Cupra Born review to find out more.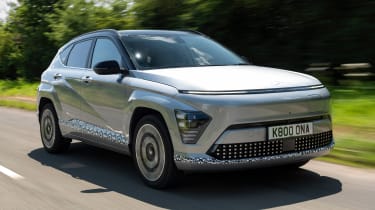 Hyundai Kona Electric – low interest and £1,000 off
We were already impressed by how well-rounded the Kia Niro EV is as a practical family car, but its sister model, the new Hyundai Kona Electric, improves on it in almost every way. The new Kona Electric, while not the most exciting car to drive, feels incredibly comfortable and composed out on the road, with the smooth electric motor enabling quiet and effortless progress. That's not all, as the Kona's cabin feels well-built and ergonomic, with an ideal mix of screens and physical buttons, while there's sufficient space in the rear for most families and their luggage.
If the new Kona Electric wasn't appealing enough already, Hyundai is offering its latest electric family car with a tantalising £1,000 discount, as well as a competitive 6.9% APR when you take out a PCP finance deal. This means the entry-level model with its 234-mile range can be had for just £466 per month after a £5,000 deposit. Need more range? The 300-mile 65kWh model can also be had for £56 extra per month after the same £5,000 deposit.
Read our full Hyundai Kona Electric review to find out more.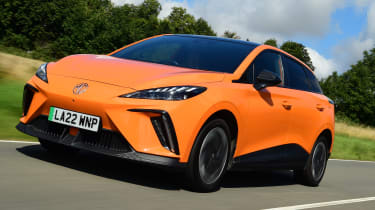 MG4 EV – 0% APR two-year PCP finance
Looking for the cheapest way into a new electric car? Well, this might be it: the MG4 EV is our favourite new electric car and now there's more reason to love it than ever. Despite starting from just under £27,000, the MG4 comes with lots of standard equipment, drives well and offers much greater interior space than other similarly-priced EVs. There are plenty of different models to choose from, too; the Standard Range model with its 218-mile maximum is a great option for cash-conscious city buyers, while the Extended Range model can travel up to 323 miles if you need to go on longer trips and the XPower hot hatchback can reach 62mph in just 3.8 seconds.
That's all well and good, but what makes the MG4 EV so enticing at the moment? Well, MG is currently offering it with zero-interest finance over two years. This means you could be paying as little as £129 per month to finance our 2023 DrivingElectric Car of the Year. The only catch is that a 30% deposit is required to qualify for the deal; however, given how affordable the MG4 is anyway, we don't think this is anything close to a dealbreaker.
New electric cars coming in 2023 and beyond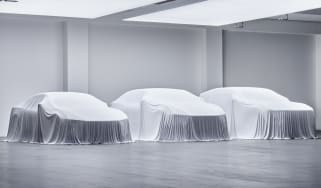 New electric cars coming in 2023 and beyond
With electric cars making up an ever-increasing proportion of sales, the industry is working flat out to launch new models – here's what's on the way …
New Toyota battery tech to deliver 500-mile EVs by 2026; 750-mile ranges to come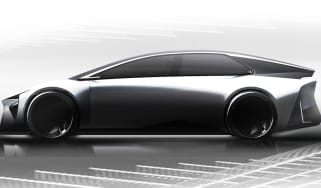 New Toyota battery tech to deliver 500-mile EVs by 2026; 750-mile ranges to come
Toyota has revealed details on its latest battery technology, set to underpin its next generation of EVs
New Fiat 600e SUV prices announced: £3,000 cheaper than a Jeep Avenger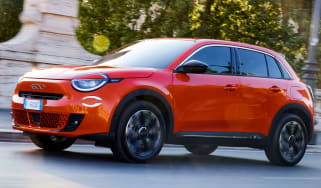 New Fiat 600e SUV prices announced: £3,000 cheaper than a Jeep Avenger
The larger sibling to the Fiat 500e gets a stylish SUV-like design and a 249-mile range