Electric cars with the biggest boots 2023
Looking for an EV with plenty of space? We give a rundown of the electric cars with the biggest boots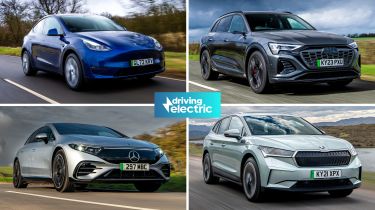 When electric cars were in their infancy, early adopters often had to make compromises in terms of practicality. That was because many were built on platforms originally designed for combustion-engined cars, meaning the electric drive components had to be fitted in where they could, and this often resulted in a loss of luggage space.
These days, however, more and more electric cars are based on purpose-built platforms, so designers have much more control over whereabouts in the car to place all the bits and pieces necessary to make an electric car tick. As you'd hope, this has brought about a serious increase in the practicality of your average electric car. That's great news, but which electric models should you be considering if load-carrying capacity is one of your main priorities? Well, let our handy guide to the electric cars with the biggest boots enlighten you.
A couple of caveats before we begin. Firstly, we've omitted anything that's based on a van. Why? Because there are absolutely loads of them, and it's obvious that these would have the most cargo space, so this list would be absolutely full of them. However, very few people want to buy a van-based car, so we considered this approach to be more helpful. If you are interested in how these models perform, then take a look at the 'Honourable Mentions' section at the bottom of the page.
Secondly, the boot space figures we're quoting are manufacturer-supplied ones, and refer to the car's capacity with five seats in place. So, if the car we're talking about is a seven-seater (which some are), bear in mind that this will be with seats six and seven folded away.
Thirdly, we're going strictly off the manufacturer-supplied numbers here, but beware that these boot capacity figures aren't always what they seem. There are often variations in how different manufacturers measure boot space, because the process isn't 100% standardised (as you'll see), and this can have quite an effect on the final figure quoted. 
For example, Jaguar publishes two figures for the I-Pace, each of which uses a different measuring method, and there's more than 150 litres of difference between them! This being the case, please bear in mind that the comparisons here might not be coming from a completely level playing field.
You'll notice that almost all the cars on this list are – predictably – large and expensive. Again, though, if you're after an electric car with generous boot space at a more affordable price point, check out the 'Honourable Mentions' section at the bottom of the page.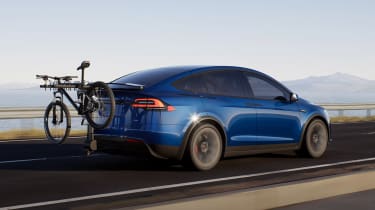 Tesla Model X – 1050 litres
It might be one of the oldest cars on our list, but the Model X – in five-seater form – still takes the prize for the biggest boot in an EV. That's probably because Tesla has never built a combustion-engined car, meaning the Model X gets its own purpose-built EV underpinnings. The car might have had a bit of extra help from a spot of creative accounting, too; Tesla is very cagey about the precise measuring method used to come up with the figure of 1,050 litres (after all, since when has Elon Musk paid any attention to convention?), and the figure is staggeringly high, so we'd be surprised if the formula used is the same as with the other cars on this list. Regardless, you can rest assured, the boot in the Model X is huge – just maybe not quite as huge as the figures suggest.
Partnership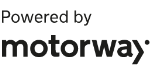 Need to sell your car?
Find your best offer from over 5,000+ dealers. It's that easy.
Read our full Tesla Model X review to find out more.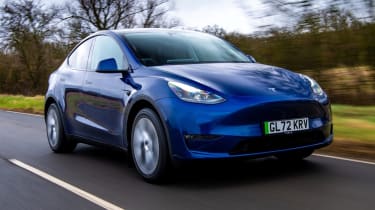 Tesla Model Y – 854 litres
We'd apply the same note of caution to the Tesla Model Y's boot figure of 854 litres, and in addition, we know that this figure includes the space up to the car's sloped rear window and roof, rather than to the parcel shelf, which is how most other manufacturers do it. So again, while the figures may be slightly misleading, there's no doubting that the Model Y's boot is huge. With this in mind, it's no wonder why it's the world's best-selling electric car.
Read our full Tesla Model Y review to find out more.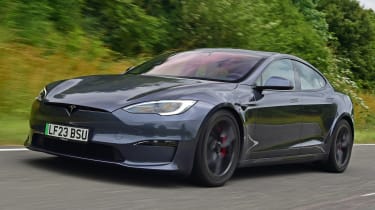 Tesla Model S – 744 litres
Rounding out Tesla's top-three domination of this list – likely for reasons similar to those already mentioned – is the Model S. Tesla's large electric saloon car does have an undeniably large boot, however, and if you go for the range-topping Plaid version, it also happens to be one of the fastest accelerating cars on the planet. Before you run off and order one, though, remember that Tesla only offers the Model S in left-hand-drive form nowadays, so make sure you can live with that compromise.
Read our full Tesla Model S review to find out more.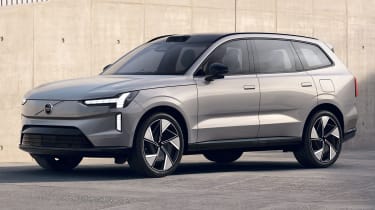 Volvo EX90 – 655 litres
Due on sale before the end of 2023, the new Volvo EX90 can't come fast enough for EV buyers after a huge boot. This super-smart seven-seat SUV has an enormous loadspace of 655 litres with five of its seven seats in place, and even when all the seats are occupied, there's still an impressive 310 litres, which is enough to trouble some superminis. There are a great many reasons why we can see this car appealing to eco-conscious (and deep-pocketed) family car buyers, and this incredible level of practicality is one of the main ones.
Read our full Volvo EX90 breakdown to find out more.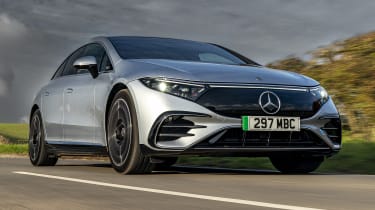 Mercedes EQS – 610 litres
Merc's new all-electric limousine has a huge boot measuring 610 litres, and its hatchback-style opening also makes it easier to access your luggage than in  most luxury saloon rivals. Compare this to the more traditional bootlid and 500-litre capacity of the BMW i7 and the EQS is pretty much untouchable amongst its peers for cargo-carrying ability. It's not quite so generous on passenger space, though, which is arguably more important for most luxury limo customers, its impressive technology and longest range of any electric car more than makes up for that.
Read our full Mercedes EQS review to find out more.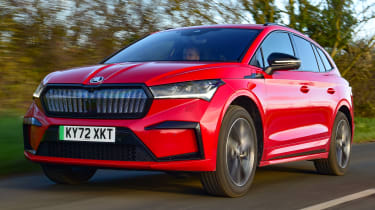 Skoda Enyaq – 585 litres
The Enyaq is by far and away the most affordable car on our list, so it's perhaps even more impressive that it manages to beat out much more expensive options when it comes to load-carrying capacity. The Enyaq's 585-litre boot is huge by any standard, and the passenger space you get is just as cavernous, while a whole host of ingenious touches (umbrellas hidden in the doors, anyone?) make family life that little bit simpler. You'll also appreciate the electric Skoda's impressive quality and grown-up driving manners.
Read our full Skoda Enyaq review to find out more.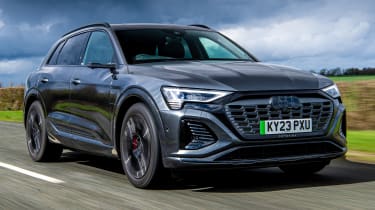 Audi Q8 E-Tron – 569 litres
Remember earlier when we said that these boot volume figures aren't always what they seem? Well, the Q8 e-tron is a great example. Once known as simply the 'Audi e-tron', the Q8 was previously quoted to have a boot capacity of 660 litres, which would've put it much further up this list. Post-facelift and renaming, however, that figure has since dropped to 569 litres. We asked Audi what had changed, and the answer was… absolutely nothing, except the method used to measure it. Even so, the Q8 e-tron still has one of the biggest boots in the class, both on paper and in real life.
Read our full Audi Q8 e-tron review to find out more.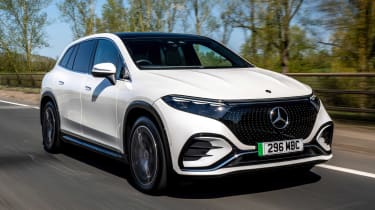 Mercedes EQS SUV – 565 litres
It's perhaps a little surprising that the enormous EQS SUV has a smaller boot than its EQS luxury limousine stablemate, but with 565 litres of cargo space provided in five-seat mode, it's still hardly lacking in that department. What's more, the EQS SUV is arguably the more practical car overall compared with the EQS saloon, with it getting seven seats as standard, and more headroom and legroom in the middle row. You'll also love its effortless comfort and refinement, as well as the stunning optional Hyperscreen infotainment system.
Read our full Mercedes EQS SUV review to find out more.
Honourable Mentions
As we mentioned earlier, we're very aware that this list is full of cars that are very large and very expensive, so what if you need an electric car with a big boot, but have a more modest budget? Well fear not, because you do have options.
Estate cars are always a great place to start when looking for generous boot space, but at present, there aren't many electric estate cars out there. In fact, we can only think of two right now: the MG 5 EV with its 479-litre boot, and the Porsche Taycan Cross Turismo/Sport Turismo with 446 litres, but the latter is hardly an affordable option. However, it won't be long before the electric versions of the Peugeot 308 SW and Vauxhall Astra Estate arrive, and these will have 548 litres and 516 litres, respectively. 
SUVs are the more popular choice, though, and there are plenty of electric ones to choose from. The Volkswagen ID.4 provides 543 litres of cargo space, while the Hyundai Ioniq 5 isn't far behind with 527 litres. Both are more affordable options than the BMW iX3, which gives you 510 litres, while the Kia EV6 also does pretty well with 490 litres.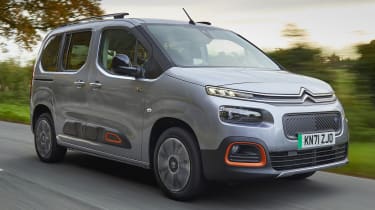 As mentioned, there's also a whole variety of van-based passenger cars on offer if you're one of the few people that doesn't mind their car looking like a commercial vehicle. The Citroen e-Berlingo, Peugeot E-Rifter and Vauxhall Combo Life Electric all provide impressive cargo capacity in a reasonably compact footprint, while the same manufacturers also offer the e-SpaceTourer, E-Traveller and Vivaro Life Electric, respectively, for people who need even more space, plus seating for up to nine. If you're after something a tad posher there's also the Mercedes EQV. The precise amount of cargo space you get with these varies according to a vast variety of factors, but rest assured that they're all enormous.
And then there's the super-cool VW ID. Buzz. We did consider including this on our main list due to the fact that it's based on the same platform as the ID.4 SUV we mentioned earlier, yet it offers a staggering 1,121 litres of boot space. However, given it also comes in van form, it contravened our rules. Nevertheless, the ID. Buzz is still very deserving of a mention here.
DrivingElectric Awards 2024: the winners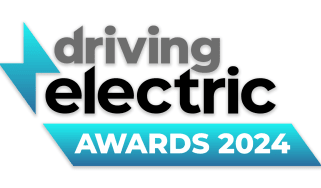 DrivingElectric Awards 2024: the winners
We celebrate the very best products in the EV world
Tesla Cybertruck: pricing and specs for Elon Musk's electric pickup truck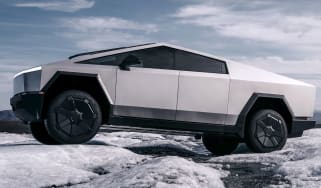 Tesla Cybertruck: pricing and specs for Elon Musk's electric pickup truck
The Tesla pickup truck is now on sale, with a range of up to 340 miles and a starting price of just over $60,000