Top 10 best hybrid cars to own 2023
We've ranked the best hybrid cars to own in 2023... as chosen by YOU!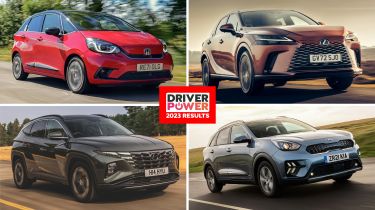 If you're not ready to commit to a fully-electric car, then a hybrid could be your best bet. With rock-bottom running costs, plus a petrol engine for longer trips, they can be the perfect stepping stone to electric living in the future.
But which models should you choose if you're after a pain-free ownership experience? The results from our most recent Driver Power survey reveal all…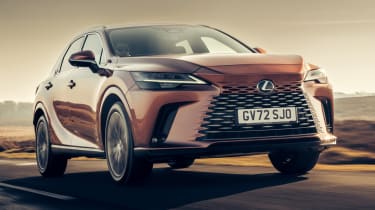 1. Lexus RX
Topping our list for the very best hybrid cars to own is a car from a brand that has long made a strong showing in our Driver Power surveys. Owners say the Lexus RX offers a sumptuous interior, as well as a smooth and comfortable ride. In fact, the RX managed to place either first or second in nine of our 10 scoring categories, only falling down on the section for running costs – it is a big and expensive car, after all. Regardless, if you're looking for a luxurious hybrid that's safe, spacious and features a slick infotainment system, owners say you can't go wrong with the RX.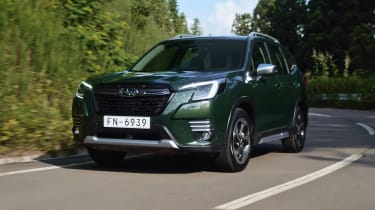 2. Subaru Forester
The Subaru Forester always excels in Driver Power, and the hybrid version keeps up the tradition. Owners ranked the rugged SUV the best in terms of practicality – no wonder, given it has an almost 500-litre boot. Other highlights according to owners include the Subaru's comfortable ride and sturdy build quality, although fuel economy was criticised; we could only manage around 30mpg during our time with the car. Forester owners were happy with the level of safety kit in their cars, though, which should bring peace of mind for prospective owners.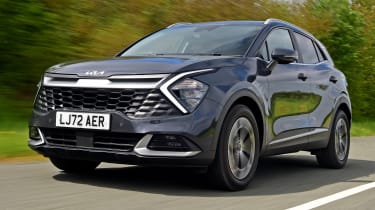 3. Kia Sportage
The Kia Sportage is one of our favourite hybrid SUVs and it appears it's one of yours, too. The South Korean SUV's striking exterior was a favourite among owners, while Kia's infotainment system was particularly noted for its good balance between touchscreen and physical controls. One big criticism some owners had was with the Sportage's six-speed automatic gearbox which, in our experience, can be a little sluggish to respond. Owners praised the Kia's front seats, though, as well as the multitude of interior storage.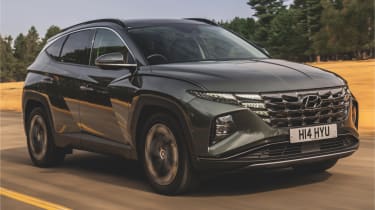 4. Hyundai Tucson
Only just beaten by its mechanically identical sibling, the Kia Sportage, the Hyundai Tucson impressed owners in this year's Driver Power with its hybrid powertrain, topping the class thanks to its smooth and brisk acceleration. Tucson drivers were also impressed with the design of their car's interior, as well as the functionality of the sat-nav and air-conditioning systems. It's not the most fun car to drive, though; owners felt the Tucson's steering could do with some work, as could the responsiveness of the brakes.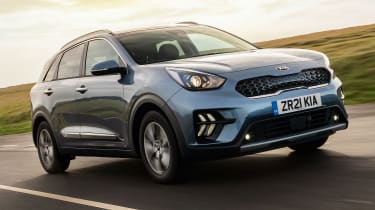 5. Kia Niro Mk1
As is the case with our list of the best electric cars to own, owners seem to prefer the first-generation Kia Niro to the new one. Owners ranked the Kia SUV as the best-value hybrid car there is, while it was also praised for offering rock-bottom running costs. Thanks to plenty of physical knobs and dials, owners found the Kia's infotainment a doddle to use. Like the Tucson, the Niro wasn't lauded for being the most exciting car on the road; owners felt the hybrid Niro could be faster and smoother to accelerate, while its subtle styling didn't knock any socks off, either.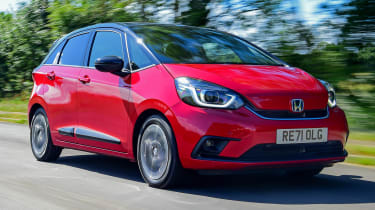 6. Honda Jazz
The Honda Jazz might be one of the cheapest hybrid cars you can buy, but it's managed to impress owners nonetheless. The Jazz's infotainment system was our respondents' favourite, with the built-in sat-nav being of particular note. Honda's nifty fold-up 'Magic Seats' helped the Jazz score well in the practicality section, while its dinky 1.5-litre hybrid engine returns good fuel economy. Owners didn't exactly have a glowing report for the Jazz's rather simplistic interior, though; however, they did say all-round visibility is good.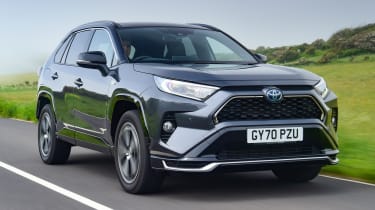 7. Toyota RAV4
Moving up from tenth-place in 2022 is the Toyota RAV4. Owners say it makes for a fine family car, with high rankings for its practicality and boot space, including particular praise for its rear-seat legroom. Despite being a big and heavy SUV, owners found the RAV4 offers reasonable running costs and punchy acceleration. Toyota's infotainment system was criticised, however; users found it difficult to operate and lacking in terms of smartphone connectivity.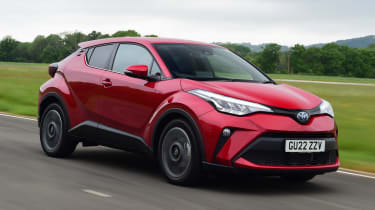 8. Toyota C-HR
Toyota's bold-looking C-HR has plenty to recommend it, say owners. Amongst the highlights are top-10 rankings for the exterior styling, interior quality and safety features. Owners also found the C-HR fun to drive, with responsive steering and overall sharp handling. The only real complaint owners had was that they felt the Toyota could do with a few more safety features, and that visibility could be a bit better.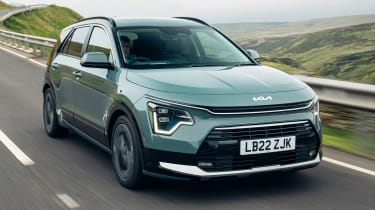 9. Kia Niro Mk2
It may not rank quite as high as its predecessor, but the Mk2 Kia Niro has still impressed in this year's Driver Power survey. Owners much prefer the contemporary styling of the new Niro compared to the subtle looks of the old one, but despite the flashy new dual-screen infotainment set-up, our respondents found it more difficult to use. The new hybrid Niro ranked second-place for rear-seat legroom, though, and owners also praised its supple ride.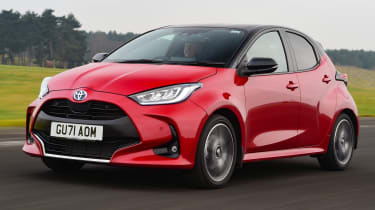 10. Toyota Yaris
The third and final Toyota in our list of the best electric cars to own is the small but mighty Toyota Yaris. The tiny Toyota ranked fourth-place in our MPG and running costs section, which is no wonder as the Japanese brand claims the Yaris will return up to 68.8mpg. Owners said the Toyota Yaris drives well, however they felt the interior finish isn't quite up to scratch and rear legroom is a bit tight.
Partnership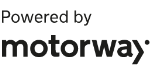 Need to sell your car?
Find your best offer from over 5,000+ dealers. It's that easy.
Click here to read our list of the best electric cars to own...
BMW i4 facelift to topple Tesla with huge range and tech upgrades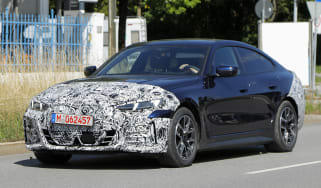 BMW i4 facelift to topple Tesla with huge range and tech upgrades
An updated version of the BMW i4 has been spotted testing, likely sporting a longer range and the latest technology
We've had a ride in the new electric MG Cyberster and it's NOT what we first thought…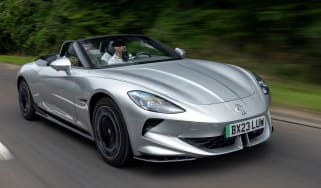 We've had a ride in the new electric MG Cyberster and it's NOT what we first thought…
The MG Cyberster is due to go on sale next year with up to 536bhp and scissor doors – and we've already had a ride in it