New Fiat 500 leads DrivingElectric's 2021 award winners
Volkswagen, Tesla, SEAT, Skoda, BMW, Honda, Toyota and Lexus also take home gongs as DrivingElectric recognises the best electric and hybrid cars you can buy today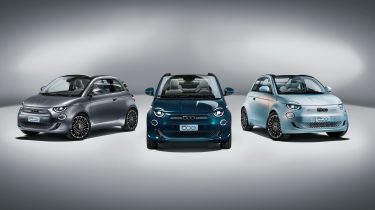 It's that time of year again, as we reveal the latest and greatest electric and hybrid cars on sale across 17 categories – from small cars to SUVs. Our annual awards ceremony is now into its third year, and it's bigger and better than ever. So, whether you're after an electric family car to ferry the kids or a premium plug-in for the commute, our full rundown has you covered. 
We've also announced a trio of used-car awards – in association with our sister site BuyaCar.co.uk – as well as, for the first time, a celebration of the best charging-point providers, apps and electric motoring innovations. So if you're in the market for an electrified car, or already own one, look no further than the 2021 DrivingElectric Awards.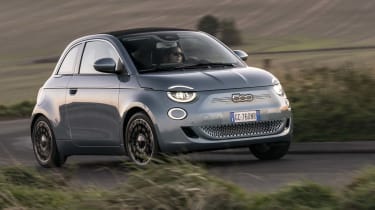 Best small electric car & DrivingElectric Car of the Year 2021: Fiat 500
The winner of our Car of the Year title has to be more than just a good electric car: it needs to move the game on in a big way and really stand out from the competition. The brand new, electric-only Fiat 500 does just that, starting with its tastefully updated take on the iconic model's charming looks. That theme continues inside, where the 500 offers users an environment that's stylish and high-tech but one that avoids being overly complex or excessively minimalist.
On the road, the Fiat drives sweetly, with a better seating position and smoother ride than its sometimes-uncomfortable petrol-engined predecessor. The icing on this very impressive cake is a satisfyingly affordable price: the entry-level Action grabs attention at less than £20,000 and will be ideal for those who can live with its 115-mile range, but we think the £23,495 Passion is the real value buy, adding extra kit, more power and a larger battery for a range of 199 miles – making the 500 more than just a city car. And if you want to splash out, there are luxurious range-toppers and a convertible. Read our full review here.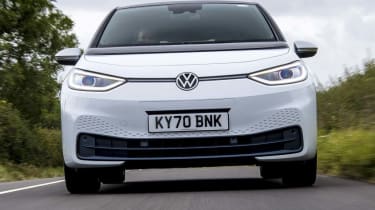 Best electric family car: Volkswagen ID.3
While sporty, luxurious models grabbed early headlines and clever city cars point the way to the future of urban mobility, there's still a place for the do-it-all family hatchback as motoring goes electric. And the new Volkswagen ID.3, which finally rolled into UK showrooms in 2020 after years of anticipation, is one of the best electric family cars yet seen.
While it's not radical or in-your-face futuristic, it does fulfill its 'electric Golf' brief very well, with plenty of space for passengers and their luggage, as well as a comfortable driving experience and nippier acceleration than you'd experience in an equivalent petrol or diesel model. Best of all, it's available for less than £30,000 in entry-level Life specification, which still comes with most of the kit anyone would want, as well as a 260-mile range and 100kW rapid-charging capability for quick top-ups from public points. Even more affordable versions are on the way too, further bolstering the ID.3's claim to be the 'people's electric car'. Read our full review here.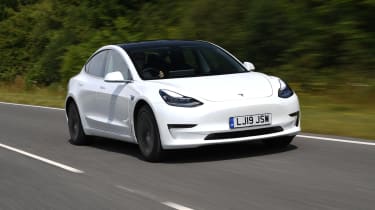 Best premium electric car: Tesla Model 3
Although it still has a fairly small range of cars, Tesla can't be accused of standing still. The Model 3 brought the Californian company's cutting-edge tech and superior charging network within range of many more buyers than before but even since the first examples arrived in the UK, Tesla has been rolling out updates to make the BMW 3 Series rival even more appealing.
Partnership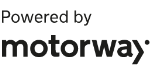 Need to sell your car?
Find your best offer from over 5,000+ dealers. It's that easy.
The Long Range version will now keep going for up to 360 miles between charges but the entry-level Standard Range Plus remains the best value, with its useful 267-mile range and swift 5.3-second 0-60mph time for a shade more than £40,000. And, as has always been the case with the Model 3, you get a practical four-door and five-seat layout, plenty of luggage space, the trademark huge infotainment screen and more involving handling than Tesla's more expensive offerings. It remains one of the most compelling electric-car packages on the market. Read our full review here.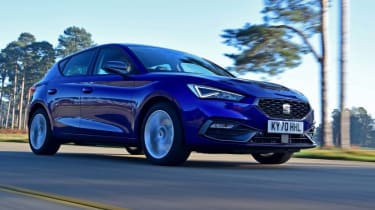 Best small plug-in hybrid: SEAT Leon e-Hybrid
Competition in the plug-in hybrid market has intensified in 2020, with many new cars joining the fray. The SEAT Leon has long given its VW Group cousin the Golf a hard time, promising much of the same technology in a stylish package, often for a lower price. And that's still the case now both are offered as plug-ins. The Leon e-Hybrid's 1.4-litre petrol engine and electric-motor pairing makes 201bhp, while the 13.1kWh battery holds enough electricity to power the car for up to 40 miles in zero-emissions mode.
The days of plug-in hybrids solely as expensive standalone models are largely gone; this powertrain is available across nearly the entire Leon range, with the exception of SE and SE Dynamic trim. A 6% company-car tax rating for some models, plus the availability of a practical ST estate, great in-car technology and a satisfying driving experience combine to make this a real company-car star – and worth considering for private buyers, too. Read our full review here.
Best family plug-in hybrid: Skoda Superb iV
The Skoda Superb is an impressive and accomplished car in all respects, so it's no surprise that the recently introduced petrol-electric plug-in hybrid version has scooped this award. The Superb's existing plus points, such as acres of interior space, a cavernous boot, smart yet understated looks and a smooth ride, become even more appealing when they're combined with the ultra-low running costs of a plug-in.
Company-car users will appreciate the Superb's 10% Benefit-in-Kind (BiK) rating for the 2020/21 financial year, but the electrified Superb is also a great choice for private buyers looking for a practical family car that's particularly efficient if you mostly do shorter local journeys. Another factor counting in the Superb's favour is the availability of the even more spacious estate version, which offers the sort of luggage space you'd normally associate with a large van, as well as all the above plus-points of the hatchback. Read our full review here.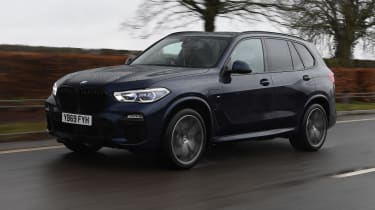 Best premium plug-in hybrid: BMW X5 xDrive45e
Previously, large SUVs went hand-in-hand with large fuel and tax bills for their drivers, but the latest breed of plug-in hybrids, such as BMW's X5 xDrive45e, puts paid to that compromise. What sets the X5 apart from its rivals is that as well as offering a blend of comfort, ride quality, space and in-car technology that wouldn't be out of place in a luxury limousine, it's also very nearly as entertaining to drive as one of BMW's smaller saloons.
It's quick, too: the 0-62mph sprint is over and done with in a hot-hatch-like 5.6 seconds and it'll happily get close to 150mph on a stretch of derestricted German autobahn. Yet as long as you don't use that performance in full too often, the X5 will be remarkably cheap to run thanks to its lengthy electric range of more than 50 miles. The big battery needed to offer that kind of range means the X5 does take a little longer to charge than some plug-in rivals, but it's a small price to pay for what is otherwise a fantastic all-rounder. Read our full review here.
Best small hybrid: Honda Jazz
Hybrid engines have taken longer to appear in small cars than in the rest of the market, as brands work out how to incorporate the fuel-saving tech without increasing costs too much in this price-sensitive category. Honda has experimented with a hybrid version of the Jazz before, of course, but this latest generation really nails the formula, ensuring the model can continue to offer its signature blend of practicality and efficiency while remaining relatively affordable. The high roofline, flexible seating and simple, unpretentious styling that buyers have appreciated in the past are still here but improvements have been made in key areas in an effort to bring the Jazz up to date. Another notable change is the addition of the rugged-looking Crosstar version for those who like a bit of SUV flavour for their hatchback.
The most significant changes are under the metal: this Jazz is exclusively powered by Honda's e:HEV drivetrain, made up of a 1.5-litre engine and a pair of electric motors. It's a sophisticated system that's very well implemented – as you'd expect from the engineering powerhouse that is Honda. It delivers CO2 emissions of just over 100g/km and an official fuel economy figure of more than 60mpg, which are impressive numbers for a non-plug-in hybrid model such as this. In the end, it's a close-run thing with the latest Toyota Yaris Hybrid (also new for 2020), but the Jazz is a great choice for those who prioritise space, flexibility and efficiency in a small car. True hybrid superminis remain hard to come by but this category should be even more competitive in years to come. Read our full review here.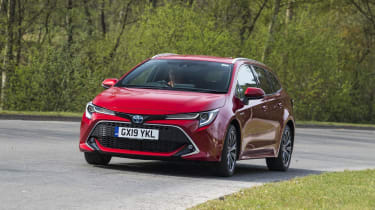 Best family hybrid: Toyota Corolla Touring Sports
Topping the family hybrid category in our awards for the second year in a row, the Corolla Touring Sports hit the ground running when it launched in early 2019 and hasn't looked back since. Moving things up a level from its Auris predecessor, the latest Corolla is extremely practical in estate form, as well as being efficient – particularly with the cheaper 1.8-litre engine. It also looks absolutely fantastic from the outside, and you get the peace of mind of Toyota's excellent reliability record, as well as its five-year/100,000-mile guarantee.
In common with other Toyota hybrid models, the Corolla has recently been updated for 2021, gaining Apple CarPlay and Android Auto smartphone connectivity for the first time. There's also a GR Sport trim level with more aggressive styling and an off-road-inspired Trek variant to choose from these days, further broadening the appeal of what was already a highly accomplished and efficient hybrid family car. Read our full review here.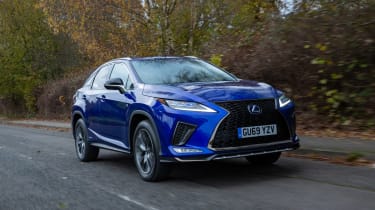 Best premium hybrid: Lexus RX
Lexus' flagship SUV has been a DrivingElectric award winner for three years running now; there's no sign of a challenger emerging to take its crown as the best premium-badged full-hybrid car you can buy in the UK. Lexus gets the basics of car ownership right, with a great reputation for reliability and dealer customer service, shored up time and again by top-notch results in owner surveys. It also draws on parent company Toyota's many years of hybrid experience.
The RX itself offers one of the smoothest and quietest drives of any new car, while inside and out it embodies Lexus' distinctive angular design language to set it apart from the crowd. Recent improvements to the big SUV's infotainment system (which added Apple CarPlay and Android Auto connectivity) and styling made it an even better choice for those after something different than a sporty German SUV, while the presence of the seven-seater 'L' version means larger families are catered for too. The RX certainly isn't cheap, but it's definitely worth the money. Read our full review here.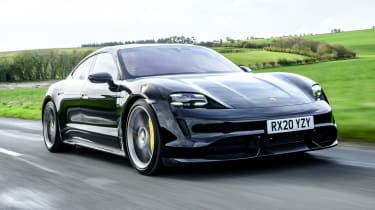 Best electrified performance car: Porsche Taycan
Even relatively modest electric cars can be surprisingly fast thanks to the way that electric motors deliver their power from standstill. But a great performance car has to be so much more than quick in a straight line: the driver needs to feel fully engaged and the car has to respond perfectly to their inputs. It's that sort of engagement that has seen Porsche's Taycan clinch our electrified performance car title for 2021.
It goes a long way to easing enthusiasts' concerns that electric cars will all be dull and characterless to drive – the same sharp handling and beautiful balance familiar to anyone who's driven a 911, Boxster or Cayman is present and correct here, allied to truly ballistic straight-line pace, particularly from the range-topping Turbo S. But we think the entry-level 4S is actually the sweet spot, offering as it does more than enough power for public roads. Read our full review here.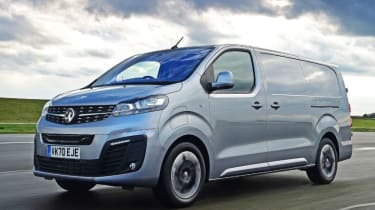 Best electrified commercial vehicle: Vauxhall Vivaro-e
Looking back, 2020 was the year electric vans came of age, with a raft of new models either going on sale or about to do so. But one stands clearly above the rest: the Vauxhall Vivaro-e. It's the first of four near-identical sister models (the others wearing Peugeot, Citroen and Toyota badges) to go on sale here and benefits from being designed as an electric van from the ground up, as opposed to being adapted from a diesel model like some rivals.
Key to its victory in this class is the combination of a much longer range than many of its rivals (143 or 205 miles depending on which battery size you go for) and a highly competitive price. It's versatile too, with two body lengths offered (called L1 and L2) and cargo volume unchanged compared to the diesel Vivaro, at 5.3 cubic metres in the L1 and 6.1 cubic metres in the L2. It's much more refined than its diesel counterpart on the road, and if you do deplete the battery, 100kW charge speed means it won't take long to replenish. Read our full review here.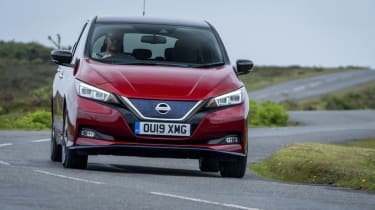 Best used electric car: Nissan Leaf
Just under a decade ago, the original Nissan Leaf made its appearance on UK roads as one of the first truly affordable and usable electric cars that you could buy. Fast forward to 2020 and in the intervening years we've seen that first-generation car make way for the second-generation version, as well as the addition of a longer-range 'e+' variant. It's still competitive with most of its rivals but all that time on sale means there's now a healthy supply of secondhand Nissan Leafs on the market – and at prices that should suit almost any budget. If you're looking for a very affordable route into pure-electric car ownership, you'll struggle to do better than an early Mk1 Nissan Leaf, available from circa £5,500 in the classifieds or from £150 a month from our sister website BuyaCar.
While the range of these early cars means they're probably more suited to life as a household's second vehicle, for shopping and school runs, they can still bring huge savings compared to petrol or diesel. The Mk2 Leaf arrived in 2018 and you can now buy early examples of this car for around £17,000 – or get one on finance from BuyaCar.co.uk, with deals starting at around £250 per month. That gets you a thoroughly modern electric car, with plenty of interior space, decent range on a single charge and plenty of life left in it. So don't be put off by stories of electric cars being too expensive – with models like the Leaf available used, there's now a zero-emissions option around for almost everyone. Read our full review here.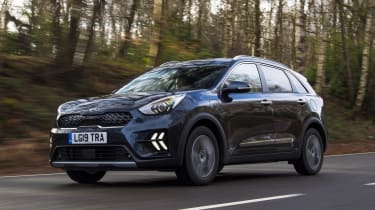 Best used plug-in hybrid: Kia Niro PHEV
Kias often make great secondhand purchases for the simple reason that they all come with seven-year manufacturer warranties from new, so as long as the 100,000-mile limit hasn't been exceeded, it's likely the second or third owner will be able to enjoy a period of worry-free motoring after purchasing one. But there's more to the Niro PHEV (plug-in hybrid) than just its warranty. That petrol-electric drivetrain promises ongoing running-costs savings to add to the money you're saving by not having to fork out for repairs if something goes wrong.
And the Niro (whether in hybrid, plug-in hybrid or pure-electric e-Niro form) is a spacious, comfortable and practical family car, with plenty of room for up to five occupants and their luggage. At the time of writing, used Kia Niro PHEVs could be found in the classifieds from around the £17,000 mark, while on our sister website BuyaCar.co.uk you can choose from a selection from around £250 per month, delivered straight to your door. Read our full review here.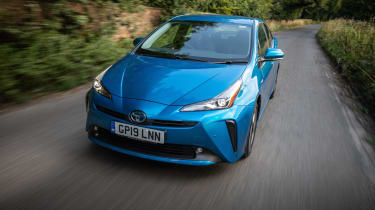 Best used hybrid: Toyota Prius
The Toyota Prius was the original mass-market hybrid and in our view is still one of the best – especially if you're in the market for a used example. The latest and greatest Mk4 version of the car hit showrooms in 2016, so there's now a wide selection of examples to choose from on the secondhand market, many with a good deal of their five-year manufacturer warranty still to run. Prices in the classifieds start at around the £10,000 mark, while our sister website BuyaCar.co.uk has a wide selection of low-mileage examples available for under £150 per month on finance.
Combine those prices with the Prius' excellent fuel economy and low CO2 emissions and you have a recipe for very cost-effective family motoring. But just because you're not spending much doesn't mean you'll get a sub-par car: the latest generation of the Prius boasts sleek, spaceship-like styling, a smooth drive, plenty of interior space and a very good level of standard equipment across all of the available trim levels. As a very affordable route into electrified motoring, the Prius is pretty hard to beat. Read our full review here.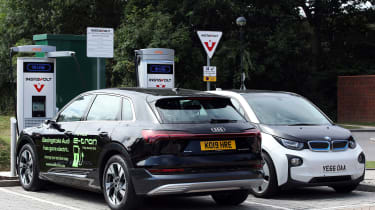 Best universal charging provider: InstaVolt
The annual Driver Power survey has long been a yardstick for how satisfied the UK's drivers are with their cars, and for 2020 it featured electric-car charging points for the very first time. Although the extensive Tesla Supercharger network was the overall winner when it came to customer satisfaction, we've given our award to what UK users says is the best charging-point provider that's open to all makes models of electric car – not just Teslas. Electric-car users responding to the Driver Power survey noted that InstaVolt wasn't the cheapest way to charge your electric car – you pay a flat rate of 35p per kWh, so a full charge of something like a Nissan Leaf will set you back about £14.
However, they definitely felt it was worth paying for: InstaVolt was ranked the best of all the UK's 'universal' providers when it came to charging speed, ease of use and reliability, giving it an overall satisfaction score of 85.11%. Although InstaVolt's network isn't the largest in the UK right now, it does have big expansion plans in mind, having confirmed a partnership with McDonald's and opened several new 'hub' sites during the course of 2020. Read more about the InstaVolt network here.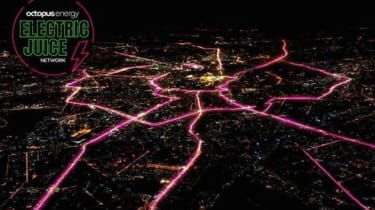 Best EV innovation: Octopus Energy: Electric Juice
While the recent advent of contactless payment at chargers means using different networks isn't as complicated as it used to be, it's helpful to keep track of exactly how much you're spending on top-ups – whether for work purposes or just to get an idea of how much you're saving compared to running a petrol or diesel car.
The Electric Juice network from energy provider Octopus lets users charge at over 1,000 points from various networks around the UK (as well as at home if they're an Octopus Energy electricity customer) and have all costs appear on a single bill charged to a single account. Partners include Char.gy, which operates charge points built into lamp posts, as well as Osprey (formerly known as Engenie). Read more about Octopus Energy's Electric Juice here.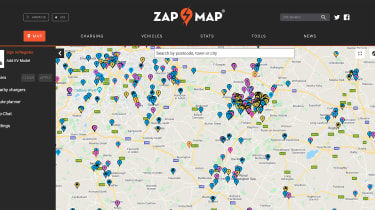 Best EV app: Zap-Map
"Where will I charge it?" still ranks among the most common concerns of those wondering about making the switch to fully electric motoring. It's true that electric-car charging points aren't as immediately obvious as brightly coloured fuel-station forecourts, but there are plenty out there if you're in the know – and Zap-Map's app has long been the best way of doing that.
It's comprehensive and informative, showing you not just where charging points are but also what speed they'll charge your car at and whether they're available. Plus, the desktop version can be used for route planning before you set off. All this means Zap-Map really is an essential download for the UK's electric-car drivers. Read more about Zap-Map here.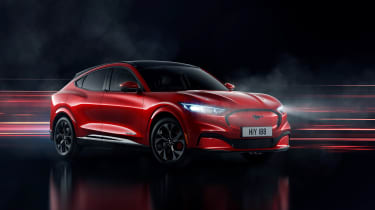 Future electric car (reader award): Ford Mustang MACH-E
Ford's Mustang MACH-E electric SUV was officially unveiled at the Los Angeles Motor Show in November 2019 and should have been in UK showrooms by now  but production delays due to Covid have pushed that back to 2021. Judging by our reader poll, however, the delay has done nothing to diminish anticipation for the car in the UK, and it seems Ford's decision to use the famous Mustang sports-car name on an SUV hasn't put potential buyers off either.
The MACH-E's electric drivetrain probably helps, giving the car the stats to live up to its name, with 0-62mph coming up in under five seconds in the upcoming GT performance version. Read more about the Mustang MACH-E here.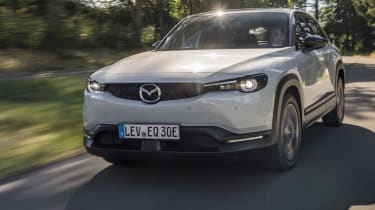 Favourite electric car (reader award): Mazda MX-30
Mazda's compact SUV was the clear winner in our poll to find the readers' favourite among the new electric cars launched this year. The Japanese brand has taken a slightly different direction to rivals, focusing on stylish design, a satisfying driving experience and sustainable interior materials rather than the biggest battery for the longest range possible. This approach clearly resonates with all those who voted for the MX-30, as does its relatively affordable starting price of just over £25,000. The MX-30 is available to order now, with the first UK cars expected to arrive in showrooms and be delivered to their new owners early in 2021. Read our full review here.
First contact: facelifted Kia EV6 will look even more like a UFO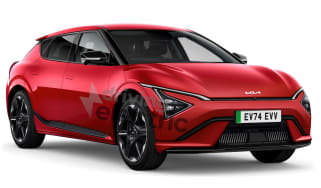 First contact: facelifted Kia EV6 will look even more like a UFO
Kia is readying an update for the EV6 crossover, which is set to include a new face and tech from the larger EV9
New Fisker Ocean Sport washes up in the UK: £36k for a 288-mile range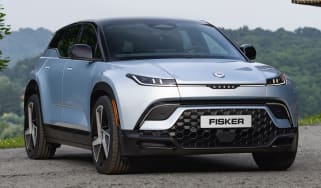 New Fisker Ocean Sport washes up in the UK: £36k for a 288-mile range
American EV startup Fisker has just launched its entry-level Ocean SUV in the UK, with a range of up to 288 miles
Electric Renault Twingo revealed as £17k rival to Citroen e-C3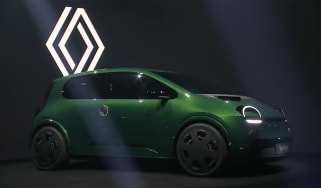 Electric Renault Twingo revealed as £17k rival to Citroen e-C3
Renault has unveiled its smallest EV yet; a sub £20k city car with a claimed high level of efficiency