Complete guide to the Swarco E.Connect charging network
Here's what you need to know before charging your electric car on the Swarco E.Connect network...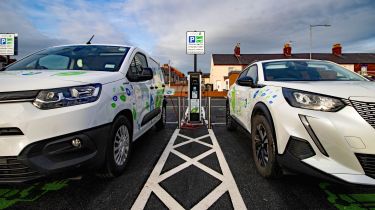 The Swarco E.Connect charging network has been growing steadily in the UK since its introduction in 2018. Backed by Swarco eVolt, a company that supplies charging stations, the network also has a number of partnerships that have helped increase its size. One such partnership is with ChargePlace Scotland.
It isn't the biggest network of public charging points in the UK, but more are being added regularly across the country and you can find clusters of chargers on the E.Connect network in Birmingham, Stoke-On-Trent, Manchester, Cardiff and Cambridge, as well as in London.
In 2022, Swarco worked with Denbighshire County Council to open Wales' largest charging hub in Rhyl (below). It's also the second largest charging hub in the UK with a maximum capacity of 36 EVs. The site features a mixture of 50kW rapid chargers and 7kW fast chargers, and has three bays and chargers allocated for disabled drivers.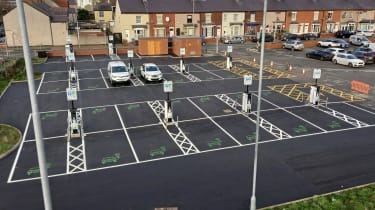 You can access the network's charging stations using the Swarco E.Connect app, an RFID card, or by pay-as-you-go. There's no membership or subscription to get you lower charging prices, but if you sign up you can order your RFID card for easier connections, especially in areas with poor phone signal. Set up your payment details or direct debit on the app, and you'll be billed for your usage at the end of the month.
If you need to find a charging point close to you, Swarco's chargers can be found on Zap-Map or the Bonnet charging app – DrivingElectric's Best Electric-Car App for 2023.
How much does it cost to charge on the Swarco E.Connect network?
There's no established pricing for the E.Connect network, so the cost to charge an EV will differ from site to site. Some are completely free to use, while others will charge you a connection fee on top of the price of energy consumed. However, pricing information for each charger is listed on the network's app, and should be visible on the front of each unit. 
To access a charger in the app, enter the charger location number and, if there's more than one chargepoint, select the one you'll be plugging into.
If you don't have the app there's also a webpay site which requires you to input payment details before you can start charging. Like many networks, it'll take a pre-authorisation payment which is then updated to reflect your actual charging session. If problems occur with the charger, there's a 24/7 helpline.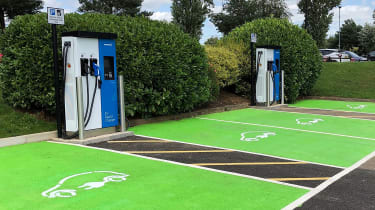 How fast can I charge on the Swarco E.Connect network?
The majority of chargers on the Swarco E.Connect network are 7kW or 22kW fast chargers that you'll need to bring your own Type 2 charging cable to use, but there are also a selection of 50kW DC rapid chargers that feature both CCS or CHAdeMO connectors. Plug into one of the latter and you'll typically add 100 miles of range in under an hour. There are some 150kW chargers on the E.Connect network too – all of which are currently in Wales.
First contact: facelifted Kia EV6 will look even more like a UFO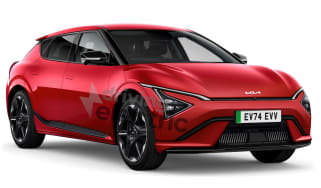 First contact: facelifted Kia EV6 will look even more like a UFO
Kia is readying an update for the EV6 crossover, which is set to include a new face and tech from the larger EV9
New Fisker Ocean Sport washes up in the UK: £36k for a 288-mile range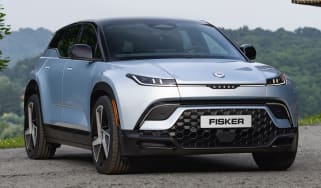 New Fisker Ocean Sport washes up in the UK: £36k for a 288-mile range
American EV startup Fisker has just launched its entry-level Ocean SUV in the UK, with a range of up to 288 miles
Electric Renault Twingo revealed as £17k rival to Citroen e-C3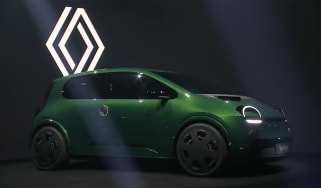 Electric Renault Twingo revealed as £17k rival to Citroen e-C3
Renault has unveiled its smallest EV yet; a sub £20k city car with a claimed high level of efficiency