Electric van lease deals explained
Thinking about leasing an electric van? Here's a starter guide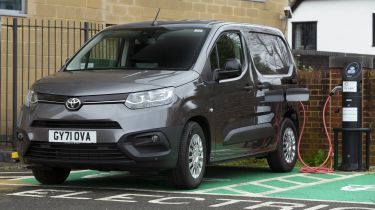 Electric vans have exploded in popularity in recent years, thanks to improvements in battery technology and cities beginning to charge commercial vehicles for entering certain clean-air zones. Electric van lease and Business Contract Hire (BCH) plans are also starting to grow in popularity, and can prove an affordable alternative to outright ownership.
Diesel has been the default choice for commercial vehicles for decades, as these engines are fuel-efficient, torquey and are often reliable. While a diesel van will still be the preferred choice if users are going to be covering a high daily mileage, they're not very well suited to city driving or regular stopping and starting. Additionally, many businesses are now considering their environmental impact, and diesel vehicles typically emit a lot of carbon dioxide and nitrogen dioxide. Electric vans, of course, produce no local emissions.
Electric vans remove local emissions from the equation, produce much less noise than their oil-burning counterparts and their lack of moving parts means that there's less to go wrong. There's no DPF (diesel particulate filter) to worry about and no costly repairs around soot build up, either. These traits mean that electric vans make a lot of sense, especially in urban areas. But how do you go about making the switch? Read on to find out if an electric van lease is right for you.
What are the benefits of electric vans?
Modern electric vans still aren't quite a match for diesel models when it comes to performing some heavier-duty or longer-distance jobs. However, one major benefit of today's crop of electric vans is their innate suitability for 'last-mile' delivery – largely the sort that courier services and small businesses do most of. Here, outright range is not as important as reliability, low running costs, and exemption from fees like the Congestion Charge and Ultra Low Emission Zone.
Electric vans don't produce any local emissions and are near-silent, so the benefits for multi-drop use are clear: no diesel clatter and no fumes. The lack of engine noise makes for a quieter and more refined driving experience, too.
Technology is improving all the time, especially now that electric vans are becoming more popular. Large fleets like British Gas and Royal Mail are transitioning to EVs before new petrol and diesel vans are phased out entirely. Development overlapping with electric cars means that batteries are getting bigger, range is getting longer, charging times are reducing and the variety of available models is broadening.
As well as saving on clean-air zone fees, an electric van could help you save on other everyday costs like fuel and maintenance – fewer moving parts should mean you'll experience fewer mechanical issues, while a full charge of electricity will cost much less than an equivalent tank of diesel. If your business doesn't already have EV chargers installed, you may need to factor that cost in.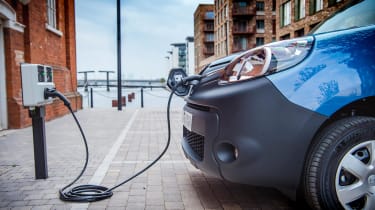 Do electric vans cost more to insure?
Generally speaking, yes – electric vans use expensive-to-replace components like lithium-ion batteries and, due largely to a smaller number of available qualified technicians in independent garages, can be expensive to have fixed. However, it's worth weighing up the other savings on offer – and rest assured that as the industry grows to accommodate an increasing number of electric vehicles on the road, premiums will fall.
How much would it cost to lease an electric van?
Business-specific Contract Hire is usually offered on vans – it's worth considering if such a leasing plan will help you save money. Initial rental costs tend to be cheaper than when buying outright, while concerns like depreciation are taken out of the equation. Tax breaks are another benefit, with half of the VAT paid on the van's finance eligible to be claimed back.
Partnership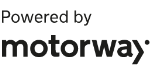 Need to sell your car?
Find your best offer from over 5,000+ dealers. It's that easy.
Remember, as with all Contract Hire deals, you don't own your van, rather paying a monthly rate and then returning it after the rental period is over. Remember, too, that the UK Government's Plug-in Van Grant (PiVG) applies to the vast majority of electric vans, chopping a couple of thousand pounds off the asking price. This is usually applied to the on-the-road price you'll see on manufacturer websites.
What are the best electric vans to lease?
Deciding which van is best for you will depend largely on payload, size, range and cost. If you're looking for a smaller van, some of our favourites are the Renault Kangoo, Vauxhall Combo-e, Peugeot e-Partner and Citroen e-Berlingo. The latter three share a platform and can travel up to 171 miles on a charge. Most other small electric vans still offer over 100 miles of range, too. Even taken with a pinch of salt, these figures should be more than enough for most urban applications.
If you're in need of a larger van, the choice is growing. Once again, Vauxhall, Peugeot and Citroen find themselves leading the pack with the Vivaro-e, e-Expert and e-Dispatch. All three are available with the choice of a 50kWh or 75kWh battery, offering 143 and 205 miles of range respectively – with the ever-expanding network of chargers on UK roads, the larger-battery could even prove a viable choice for longer distances, too.
These are some of the best examples of electric vans that are currently on sale, but there are even more options on sale and available for lease than you may have first thought. For a full list of all the electric vans to look out for, click here.
Electric Renault 5: prices, 2024 launch date and teaser images of the MINI Cooper rival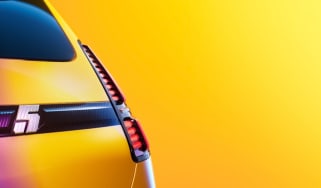 Electric Renault 5: prices, 2024 launch date and teaser images of the MINI Cooper rival
New official teaser pictures for Renault's electric supermini confirm the 5's reveal in February 2024
Big price cut: Electric Renault Megane prices slashed in time for Christmas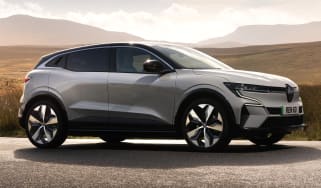 Big price cut: Electric Renault Megane prices slashed in time for Christmas
Renault Megane E-Tech gets a price drop of up to £3,500, bringing the starting price to just £34,495