BMW 530e vs Audi A6 TFSI e vs Volvo S90 Recharge: performance and handling
The Volvo is the most powerful car here, but the BMW is the clear winner when it comes to driver satisfaction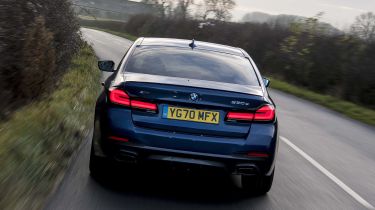 Although BMW is the sportiest brand here, the 530e is actually the least powerful contender, making 288bhp from its 2.0-litre, four-cylinder petrol engine and electric motor combined. That's 7bhp less than the Audi (although the 530e is lighter than the A6) but nearly 100bhp down on the Volvo's punchy total of 385bhp. Going from 0-62mph takes 5.9 seconds in the 530e – four tenths and eight tenths slower than the Audi and Volvo respectively.
But as always, the driving experience is about more than sheer power and acceleration numbers. In the real world, the 530e drives as well as any other 5 Series – even with the extra weight of the hybrid system's batteries. If you drove it back-to-back with a 520i petrol or 520d diesel, you might notice its reactions are a little slower, but in reality the difference is marginal.
Precise steering and a fluid ride, even over quite poor road surfaces, make even a routine journey enjoyable in the 530e. The Audi A6 is maybe fractionally smoother over bumps (at least on the smaller wheels of our test car), but it's not as satisfying to drive overall, and while the Volvo V90 has both licked in a straight-line drag race, it can't hold a candle to the 530e's handling or ride quality.
All three cars are unsurprisingly quiet and relaxing in electric mode, but when the engines do fire up, the BMW's sounds the most pleasant – especially compared to the droney Volvo. The Audi's engine is the quietest runner of the three, however.
That's part of what makes the A6 the smoothest and most refined car here – although its transition from electric to petrol power can sometimes give rise to some small jerks. As mentioned above, it's not as sharp as the BMW on a twisty road and leans a bit more in corners. Overall, though, it's very relaxing, so if whiling away motorway miles is your chief concern, it could be the one to go for – just stick to the smaller 18-inch wheels of our test car if you want the best ride quality.
In the sporty R-Design spec of our test car, which adds lowered suspension and 19-inch wheels, ride quality suffers in the S90, and there isn't really sufficient handling prowess to make up for it. The one thing it has going for it – thanks to that power advantage – is sheer speed, with 0-62mph taking a shade over five seconds. But it has to give second best to the BMW for handling and the Audi for comfort, so it ends up feeling compromised.