BMW 530e vs Audi A6 TFSI e vs Volvo S90 Recharge: range, charging and fuel economy
Volvo has the best electric range on paper, but there's not much to choose between the three when it comes to real-world fuel economy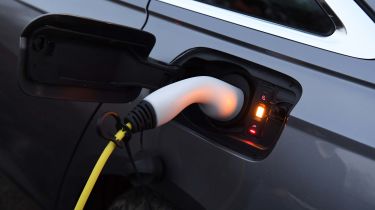 The Volvo is the clear winner when it comes to electric range – on paper at least. According to official testing, its larger battery allows it to go for 37 miles without the petrol engine being called on, versus 34 for both the Audi and BMW. All three cars can attain motorway speeds on their electric motors alone, but are unlikely to continue for 30+ miles in that fashion; the claimed electric ranges are more likely to be achieved with gentle driving around urban and suburban roads.
When it comes to fuel economy, the claimed numbers are even less relevant. As official testing assumes you'll be starting every journey with a full battery and using the electric range to the maximum, it frequently throws up very impressive miles-per-gallon numbers for cars of this type: 149, 177 and 188mpg for the Volvo, BMW and Audi, in this case.
It's more representative of everyday driving to consider what happens when you leave the cars in their default 'hybrid' mode and let them work out the best combination of electric and petrol power to use – as well as doing some driving on the petrol engines alone after the battery has been completely depleted. Under those conditions, our testers saw figures of around 33mpg for all three cars looked at here.
Charging
Charging speed isn't as vital for plug-in hybrids as it is for pure-electric cars: the typical use case sees a car being plugged in top up overnight from a home wallbox, so whether it takes two, four or six hours is largely immaterial. Manufacturers generally don't want to add the extra expense of rapid-charging capability to models like these, so generally around 7kW is the fastest you'll get.
Out of this trio, only the Audi manages that, meaning its battery can be topped up in just two and a half hours from a wallbox. Both the BMW and Volvo are pegged at 3.7kW, but as all three cars' batteries are relatively small in the grand scheme of things, replenishing them will take between three and four hours.
One thing to note is that with the Volvo, you have to pay extra for the 'Type 2' charging cable needed to use wallboxes and public charging points – the standard cable has a three-pin plug only. It'll only set you back £50, but it seems a slightly petty move on Volvo's part for a car at this price point.