BMW 530e vs Audi A6 TFSI e vs Volvo S90 Recharge: interior and infotainment
All three models impress here, but the Volvo's Scandinavian influence means it feels that bit different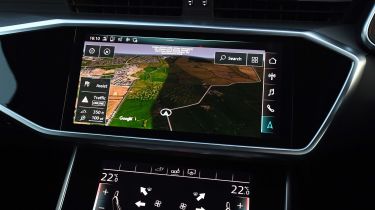 Interior design and quality are important considerations in the executive market; many typical buyers will be spending quite a lot of time in these cars, so a pleasant environment with useful and easy-to-operate technology is a must.
The BMW 530e's cabin follows the same well-structured, conventional dashboard layout that the German brand has honed over many decades. One niggle we have is with the infotainment screen fixed to the top of the dash; it looks a little like an afterthought despite being the most critical part of the interior after the dials. Otherwise, the 5 Series' interior is made of plush-feeling materials, with a combination of textures that look and feel great. Picking one of the lighter upholstery colours also helps to brighten things up.
Audi usually hits back with the quality of its cabins, but while our car's interior was well built and featured some nice materials, this lower-spec Sport model didn't feel as upmarket. as either of its test rivals, lacking some interior flourishes. That said, with an overall design borrowed from the larger A8 and also found on some of Audi's SUVs, the A6's dashboard reflects the brand's cool and slick image nicely. It's dominated by two central touchscreens and a set of full-width air vents, along with a wide centre console that houses the equally essential gear selector and cupholders. A large digital driver's display completes the thoroughly modern look.
In the Volvo, all of the car's features are nicely integrated in what's also a very slick interior, featuring high-quality materials that set the S90 apart from the others. It feels different to its German rivals, with cool Scandinavian design touches that give it a subtle alternative feel. On balance, it's very difficult to split these three for quality; all are sound.