BMW 530e vs Audi A6 TFSI e vs Volvo S90 Recharge: verdict and specifications
The BMW's sheer breadth of talents can't be challenged by the either the Audi or Volvo, but all three cars make fine and cost-effective choices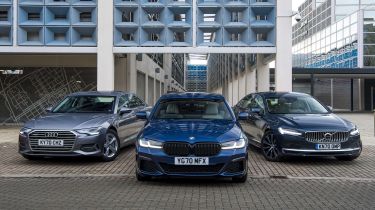 In the end, picking a winner in this test wasn't difficult. While it's no shock to have a BMW be the best car to drive in any comparison test, the 5 Series makes the decision easy by also being efficient and well priced. It's not perfect, but it's not far off.
Both the Audi and Volvo have significant drawbacks, with the A6 feeling a little anonymous to be considered truly premium, as well as lacking driver engagement. The Volvo is an impressive package, but neither handling or comfort are as good as the BMW's and it's on the pricey side. It's a beautiful piece of design, though, as well as being the most practical car here.
1st: BMW 530e – 4.5 stars
It's hard to look past the BMW in this comparison: it's the most affordable, most efficient and best-to-drive car here, so it's a clear winner. It's second best to the Volvo for practicality, but still pretty spacious and versatile as four-door saloons go. Great on-board technology seals the deal, even if we'd prefer to see a little more safety kit thrown in as standard rather than being optional.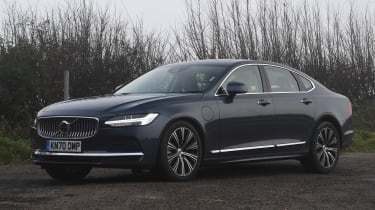 2nd: Volvo S90 Recharge – 3.5 stars
Volvo has gone all-in on plug-in hybrid technology, recently discontinuing the petrol and diesel version of this car. What's left is an impressive offering, with great interior and boot space, classy design inside and out, and a grin-inducing amount of power on tap for rapid acceleration. But it lacks the handling finesse of the BMW and sheer refinement of the Audi, as well as being a bit pricier than the German duo.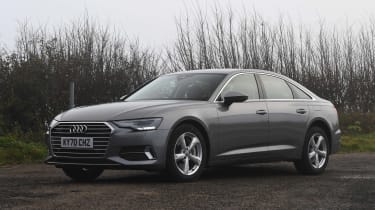 3rd: Audi A6 TFSI e – 3.5 stars
It's tough to split the Audi and Volvo – the German car is the more up-to-date design and boasts fantastic in-car technology, as well as being the quietest and most refined of the bunch. But it's a bit dull to drive, and the Volvo just feels like the more interesting and upmarket choice – as well as being more practical, with a significantly bigger boot. The Audi is far from a bad car – it just feels a little unremarkable in this company.
Specifications
Car
BMW 530e xDrive M Sport
Volvo S90 T8 Recharge R-Design
Audi A6 50 TFSI e quattro
S tronic Sport
On-the-road price/total as tested
£53,535 / £65,010
£55,305 / £56,805
£52,790 / £53,475
Residual value (after 3yrs/36,000 miles)
£21,698 / 40.5%
£23,748 / 42.9%
£22,119 / 41.9%
Engine
2.0-litre four-cylinder petrol + electric motor
2.0-litre four-cylinder petrol + electric motor
2.0-litre four-cylinder petrol + electric motor
Transmission
Eight-speed auto, 4WD
Eight-speed auto, 4WD
Eight-speed dual-
clutch auto, 4WD
Battery capacity
12kWh
11.6kWh
14kWh
Power / torque
288bhp / 420Nm
385bhp / 400Nm
295bhp / 450Nm
0-60 / top speed
5.9s / 143mph
5.1s / 112mph
5.5s / 152mph
100% charge cost at 14p/kWh
£1.96
£1.89
£2.30
Charge time
3hrs 36mins (3.7kW)
3hrs (7kW)
2hrs 30mins (7kW)
Official MPG / CO2 / electric range
135-177mpg / 38g/km / 34 miles
105-149mpg / 44g/km / 37 miles
188mpg / 35g/km / 34 miles
On-test MPG
33.7mpg
33mpg
32.9mpg
Road tax / BiK rate 
£465 / 11%
£465 / 11%
£465 / 11%
Length / height / width
4,963 / 1,483/ 1,868mm
4,963 / 1,443 / 1,895mm
4,939 / 1,457 / 1,886mm
Boot capacity
410 Iitres
461 Iitres
360 Iitres