Triple test: BMW 530e vs Audi A6 TFSI e vs Volvo S90 Recharge
Company-car big hitters from BMW, Audi and Volvo go head-to-head in our executive plug-in hybrid comparison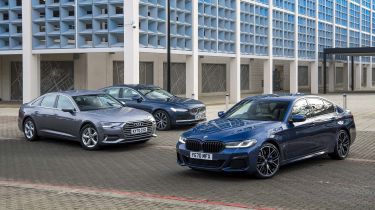 Coming out of 2020 and heading into 2021, electrification has well and truly arrived in the company-car market. With Benefit-in-Kind (BiK) tax rates stacked heavily in favour of low-emissions cars that can manage in the region of 30 or 40 miles on electric power alone, the traditional choice of a modestly powered but well-specced diesel no longer looks like the smart move.
Manufacturers have been quick to respond, and a wide variety of executive-car favourites now come with a charging port and battery. But does the old pecking order still hold up in this new electrified world, or has the transition to low emissions shaken things up a bit? Here, we bring BMW, Audi and Volvo's contenders together in an attempt to answer that question.
BMW 530e xDrive M Sport
Pros: Luxurious and refined, sporty handling
Cons: Reduced boot size, some safety kit costs extra
BMW updated the whole 5 Series range during 2020, and as part of that a four-wheel-drive version of the well received 530e plug-in hybrid was added to the range. The exterior and interior were mildly refreshed, too, but the fundamental mixture of comfort and luxury with low running costs and sporty handling wasn't messed with, so the 5 Series goes into this test as the car to beat.
Audi A6 50 TFSI e quattro S tronic Sport
Pros: Refined and comfortable, superb interior
Cons: Not much fun to drive, battery eats into boot space
The Audi is the most recent arrival in this class, having come to the market only towards the end of 2020. The A6 is already a very accomplished executive saloon, if perhaps lacking the sporty edge of some competitors. But it has the traditional Audi strengths of superb comfort and a great interior. Now we find out how it stacks up as a plug-in.
Volvo S90 Recharge
Pros: Cool design inside and out, power and refinement
Cons: Quite expensive, low-speed ride could be better
Volvo's big executive cars have long had a dedicated following, but were always seen somewhat as 'also rans' next to their German counterparts. That all changed with the arrival of the S90 in 2016, boasting classy interior and exterior design, a refined driving experience and some great engines.
The plug-in version has been updated since it first went on sale, and it boasts both the most power and longest claimed electric driving range of this trio. But will that be enough to clinch victory? Let's find out...