BMW 530e vs Audi A6 TFSI e vs Volvo S90 Recharge: running costs and warranty
Running costs should be broadly similar for all three cars, and they all have similar warranty cover, too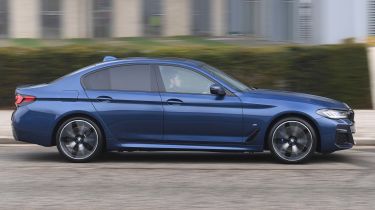 Possibly due to its lower power output and it being the lightest of the three cars here, the 530e returned the best on-test fuel economy of the trio, at 33.7mpg. There's not much in it, though, as the A6 recorded 32.9mpg and the S90 33mpg exactly. Those figures serve to emphasise that (in the case of the BMW and Audi at least), diesel could still be a better option in terms of fuel costs for those regularly doing long distances – however the costs have to be calculated carefully, as diesels are in a much higher band for company-car tax than hybrids.
If you're doing mostly shorter journeys and can charge up after each commute at home or at work (or both), choosing a plug-in hybrid becomes something of a 'no-brainer', as each car here will only cost about £2 to charge up overnight at typical domestic electricity rates, giving you 30+ miles of petrol-free motoring in the process.
For the 12 months from April 2021, all three of these models are in the 11% band for Benefit-in-Kind tax, so you have to look to the list prices to find out which one will result in the smallest monthly bill. The difference is marginal, though, and both the BMW and Audi's company-car tax bills will easily be half what you'd pay for a petrol or diesel version of the same car.
Regular road tax is higher than you may expect for all three – largely because they all far exceed the £40,000 threshold at which a £325 premium has to be paid the first five times the tax is renewed. That means an annual bill of £465, taking into account the £10 discount applied to all hybrid models.
When it comes to servicing, the Audi is cheapest, at £22 per month for two years on its maintenance plan. This works out at £264 per year, whereas the BMW's three-year £25-per-month plan will cost you £300 per year. The Volvo's average annual maintenance costs for the first three years of ownership come in at £317.
Finally, predicted residual values could have a bearing on running costs for cash purchasers as well as those buying privately on finance. The Volvo is expected to retain the most, at 42.9%, while in monetary terms the S90 will depreciate by £31,557 over three years or 36,000 miles. This compares with 41.9% for the A6 (£30,671) and 40.5% for the BMW (£31,837).