BMW 530e vs Audi A6 TFSI e vs Volvo S90 Recharge: space and practicality
All three cars suffer a reduction in boot space due to their batteries, but the Volvo is the most practical overall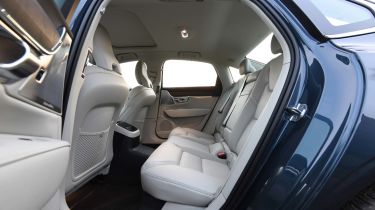 Reduced boot space compared to purely internal-combustion-driven versions is a fact of life with most plug-in hybrids, so in this instance it comes down to which car loses the least capacity, and which has the most practical boot shape.
In the BMW 530e, the battery is located underneath the back seats and boot. Although there is dedicated cable storage, and no awkward step or hump in the boot floor, total volume drops from 530 litres in the 520i petrol model to 410 litres here. The Audi A6 fares even worse in this respect, with a family-hatchback-like boot capacity of 360 litres, which is 205 litres less than you get in a petrol or diesel A6.
You can no longer buy a purely petrol or diesel-engined Volvo S90 new, but when you could, the difference in boot space between them and the hybrid model was less pronounced: 500 litres versus 461. This is because the Volvo's batteries are located in the 'spine' of the car along the floor rather than under the boot. The Volvo also benefits from standard power-closing and keyless operation; features that are optional on the other cars.
Turning away from luggage to passenger space and the news is better across the board. The 5 Series is the roomiest of the trio, with masses of space on offer, including excellent head and legroom for all occupants. The A6 runs it very close, especially in the back seats, while there's not quite as much room in the rear of the Volvo as in its rivals here, although it's far from cramped and there's still plenty of space for adults to get comfortable. Storage is fine, with plenty of bins, cubbies and trays, but then, this isn't a problem in either of its rivals, either.